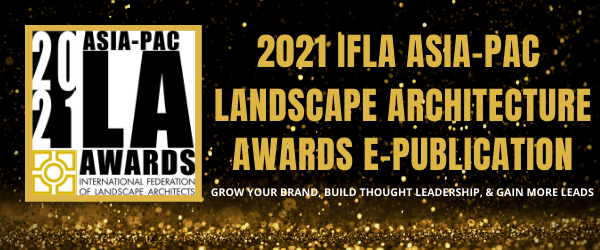 The e-Publication showcases the exceptional works of our landscape architects in the Asia Pacific region from the 2021 IFLA ASIA-PAC LA Awards. With this year's edition garnering 397 entries, view the top landscape architecture projects in the Asia-Pacific region and explore new ideas and best practices of the industry.
View the low resolution e-Publication here.
Download the full resolution e-Publication here.
---
About the IFLA ASIA-PAC LA Awards
The IFLA Asia-Pacific region Landscape Architecture Awards, also known as the IFLA ASIA-PAC LA Awards, provide an international platform to showcase and promote the achievements and work of landscape architects in the Asia-Pacific region. These prestigious awards aim to create a continuous awareness and recognition of landscape architecture together with like-minded partners and professions that have played a key role in shaping our cities and environment towards a better future.
IFLA ASIA-PAC LA Awards Categories:
1. * Landscape Architecture Category: Built and Unbuilt Projects
Built Projects
Unbuilt Projects
2. Open Category – Built Projects
*for Landscape Architecture Firms submission only
TWO STAGE JUDGING PROCESS
1st Stage Judging - Assess and select the entries that demonstrated rigor in planning, design, best practices and quality for 2nd stage judging among all participating entries.
2nd Stage Judging - Make a deeper evaluation of the shortlisted entries to Outstanding Award, Award of Excellence and Honourable Mention award categories.
LEVEL OF AWARDS
Outstanding Award
Outstanding Award is the highest award honoured for IFLA Asia-Pac LA Awards 2021 where the project exceeds all areas of expectation in terms of quality, standards and thought leadership of design and practice, making it an exemplary project and benchmark for others.
Award of Excellence
Award of Excellence is the prestigious recognition for excellence in overall planning, design quality and practice, strongly demonstrated in the process and execution of the works under its category.
Honourable Mention
Honourable Mention is a deserving honour and recognition for the good quality and high standards shown in the landscape architecture project for its planning, design and practice under its category.