Date: August 31 - September 2 2022
Venue: Kimdaejung Convention Center, Gwangju, Korea
Event Website:https://www.ifla2022korea.com
The 58th IFLA WORLD CONGRESS
GWANGJU 2022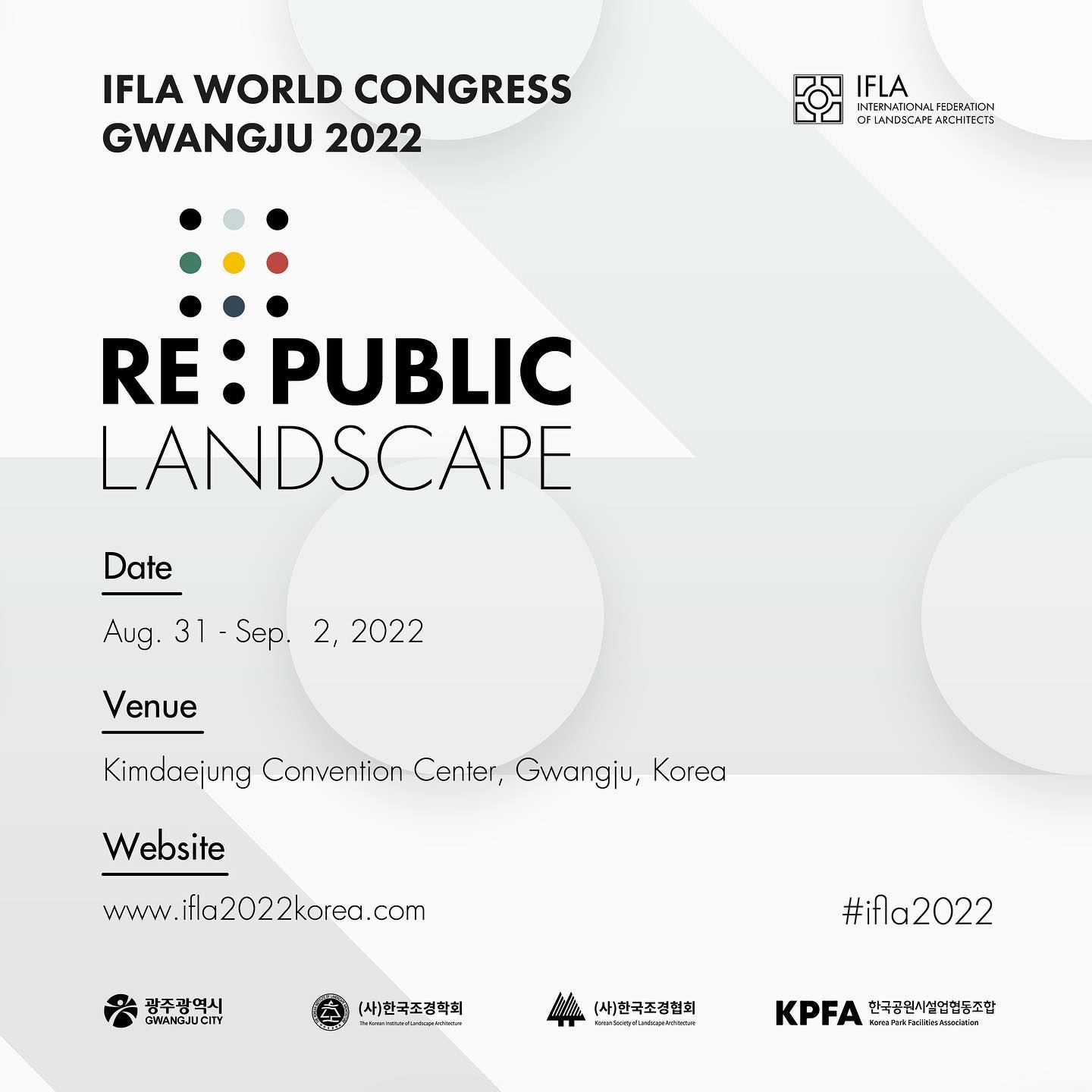 Update :
The registration period is extended as follows
Early-Bird Registrations by Aug 16, 2022, 11.59pm
Registrations by Aug 22, 2022, 11:59pm
(Korean Standard Time, GMT+9)
The world has witnessed rapid changes with the spread of the pandemic, technological revolution, and political conflicts. We the professionals now have the mission to provide healthy, happy, and beautiful vision. For this, we will gather to discuss issues of landscape with the scale ranging from local to global.

Through this event, we will reclaim public leadership in landscape architecture as we re:visit professional and academic achievements to date, re:shape the earth through emerging discourse and technologies, re:vive everyday lives to healthier and more vibrant ways, and finally re:connect to nature.
Theme: RE:PUBLIC LANDSCAPE
RE:VISIT        
History and theory of modern landscape architecture
Critical review of contemporary landscape architecture and urbanism
Public leadership and stewardship of the landscape architecture profession
RE:SHAPE     
Resiliency by design
Climate-sensitive landscape design and planning
Smart city and landscape architecture
RE:VIVE
Millennials and the creative class
New urban lifestyles and everyday aesthetics
Adaptation to pandemic urbanism and healthier landscapes
RE:CONNECT
Relationship between the city and nature
Cultural diversity and social inclusiveness
Urban economic revitalization
---
IFLA 2022 STUDENT DESIGN COMPETITION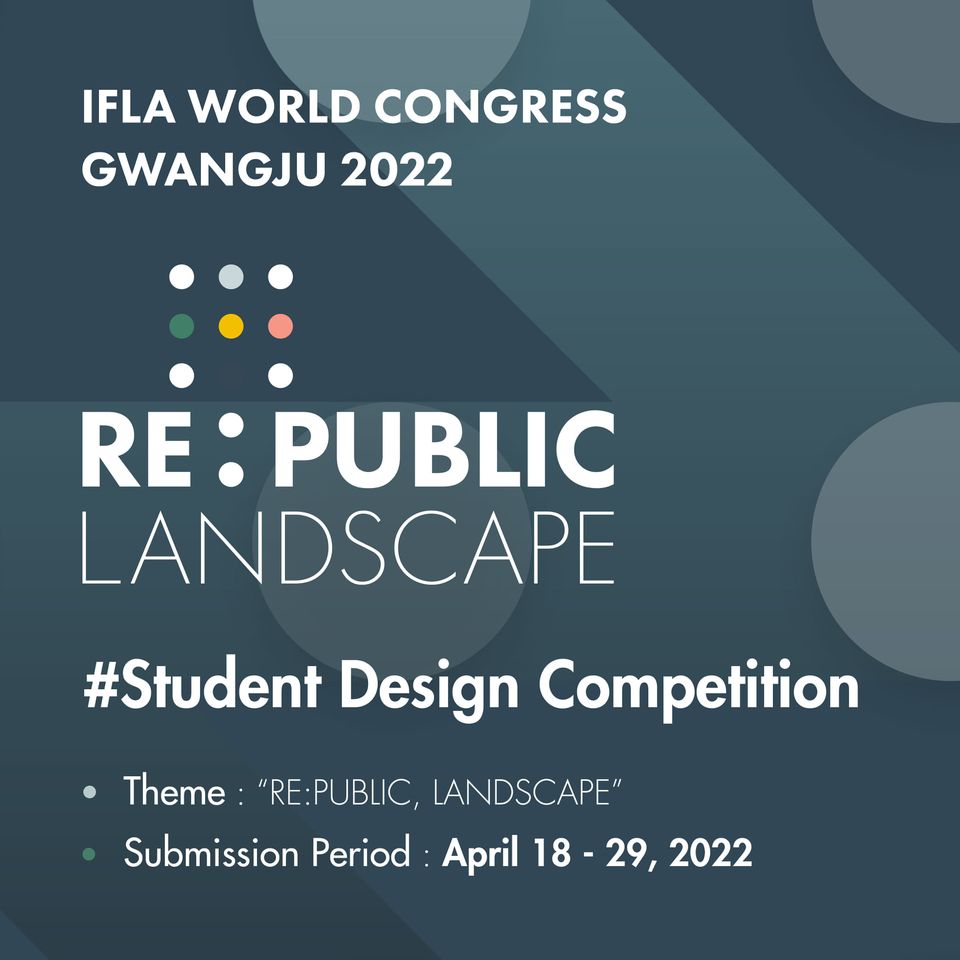 Categories:
Category 1 : ANALYSIS AND PLANNING
Rapid urbanisation, unprecedented climate changes, fast-changing social scenarios, evolving human-nature relations, and other parameters are guiding how landscape architects have a changed perspective towards analysing the site context. Under this competition category, students can submit analysis and planning work related to the competition theme. This award will distinguish works that stand out in their innovative methods and depth of analysing a problem statement.
Category 2 : LANDSCAPE DESIGN
Under this category, students can submit their individual/teamwork for site-specific Landscape Architecture projects and address relevant questions in the Landscape field. This category emphasizes design formulation techniques, narratives, methodologies, and detailed studies of the associated subject matter for better-curated experiences and taking relevant sensitive approaches.
Category 3 : APPLIED RESEARCH
The landscape architecture profession is constantly evolving and challenging how we design and investigate any landscape issue. Landscape design can both inform or be informed (pre-occupancy research) by research. Research topics can range from life sciences, ecology, sociology, human behaviour, socio-psychology, etc. There is a great scope for applying proven research theories into scientific-based and/or evidence-based designs. Under this competition category, students can submit scientific-based and/or evidence-based design projects related to the competition theme. This award will distinguish works that translate recognized research from the landscape architecture field into creative design solutions.
Eligibility:
The competition is open to all diploma, undergraduate, and graduate students of Landscape Architecture. Both individual and group submissions will be accepted, and for each student or group, only one entry is permitted. Broad interdisciplinary submissions are welcomed; however, the team must be headed by a landscape architecture student. The number of members in each participating group shall not exceed five (5).
Schedule:
Announcement: from January 28, 2022
Questions: February 14 – 28, 2022
Answers for Questions: The end of March, 2022
Submission: April 18 – 29, 2022
Award: September 2, 2022
* The results of the review are individually notified of the winners and announced on the website
    (scheduled for August, 2022)

---