Landscape Architects in the Conversation of...Ideas on Outdoor Social Distancing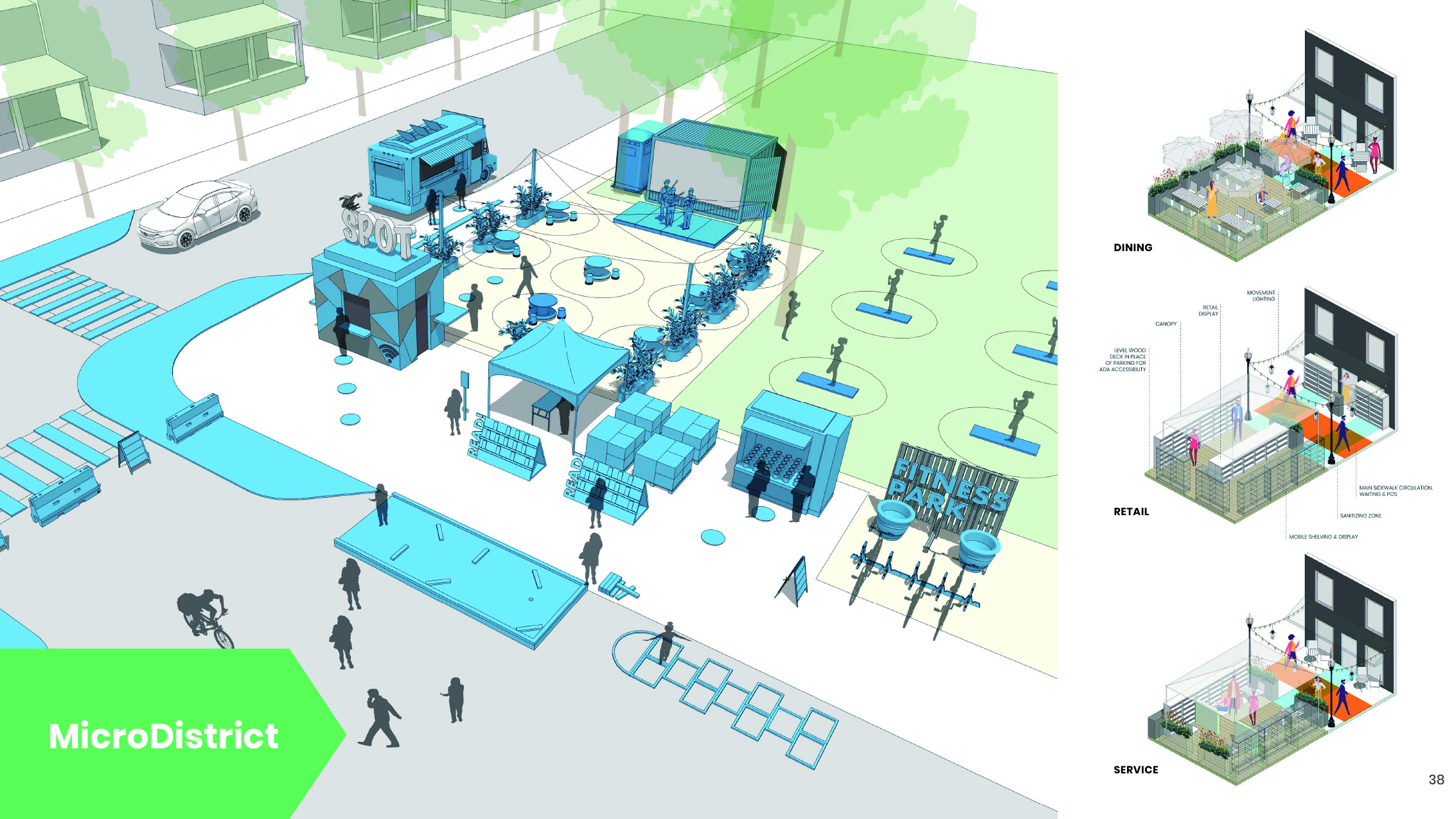 Baltimore city has released a collection of design ideas of outdoor public spaces, in the face of the Covid-19 pandemic. As social distancing becomes a part of our daily lives, it is time to rethink the way we occupy public spaces and start preparing for the new norm. Including some design ideas proposed by landscape and architectural practitioners, this guidebook clearly illustrates how we can use "design" to facilitate new ways of social gathering in our cities.
The design brief called for customizable designs (which implies easy installation and removal), hence most proposals have adopted modular systems - flexible in size and shape and targeted to various land typologies throughout the city -, individual vacant lots, parking spaces to parks, and streetscapes.
To advance this initiative more rigorously, it might be valid to argue how can we use "design" to restructure our cities, which not only serve as a countermeasure against Covid-19 but also to address other larger and more complex urban problems. To name a few:
Social inequity has come to light in U.S. and Indian cities, for instance, telling us how space, services, and social safety nets are not evenly distributed throughout the city, causing vulnerable situations for the large urban poor.
Our lifestyle demands a lot of resources. During the lock-down period, there was a 22% increase in energy consumption, and 11% more waste generated from households in Singapore. Many should realize that

打包

(dǎbāo)-ing every meal from vendors in a plastic bag/container and asking for private delivery, are also contributors to this increase. 
NHK documentary, "A Fight on Two Fronts: Floods and the Coronavirus" reports the challenges in the current evacuation system in Japanese cities. Before the typhoon season arrives, municipalities are looking for solutions to secure people's life from both natural disasters and Covid-19.
I think landscape architects should (and can) play a big role in co-tackling these urban issues revealed by the Covid-19 pandemic. As the Eco-business article states, it is important to break silos and to collaborate with other experts to better the post-COVID society together. What can you do as a landscape architect?
---
About the Author
| | |
| --- | --- |
| | Kenya Endo is a landscape architect and educator at the National University of Singapore, Department of Architecture. He is interested in designs interrelated with landscape infrastructure and urban hydrology. During his 6 years of practice in Singapore, Kenya has worked on several interdisciplinary projects in South-East Asia, with the focus on creating livable spaces that integrate infrastructural, ecological, and social values. |