LAWB's A Conversation With: HKILA's Paul Y K Chan
Hong Kong | Paul Y K Chan
Vice President
Hong Kong Institute of Landscape Architects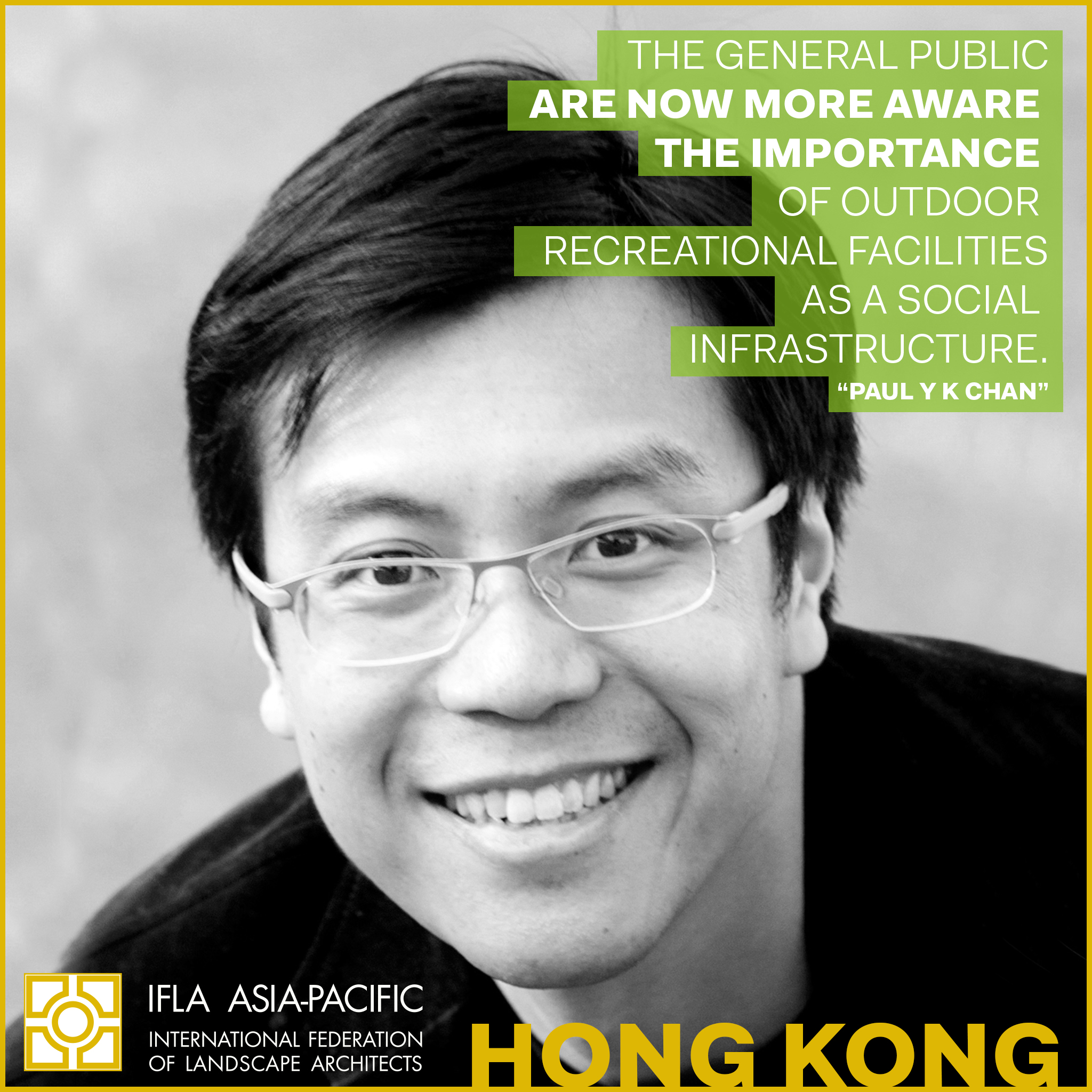 "Under the pandemic, we need to know how much more time do people spend outdoors per day, and the types of things they do, in order to understand a change of demand to open space in cities, quantitatively and qualitatively" 

 

The threat of the pandemic brought also opportunities for the landscape architectural profession taking the lead to study and to incorporate measures in city development that address global issues. Landscape architects should take a more proactive role in addressing global issues by landscape planning/ design - pandemic, extreme climate, etc. The goal should be to facilitate cities being socially and environmentally more resilient.
How would you describe the COVID-19 pandemic situation in your country?
Hong Kong's COVID-19 cases have dropped to single digits since mid-April and stay low since then. However, there are still restrictions on mass activities. People here are very cautious and conduct less social/ business interactions other than the ones online. What are some of the hardest-hitting impacts of COVID-19 for the community of design professionals in your country? At first, COVID-19 affected substantially project progress as our field requires a large number of meetings/ workshops/ engagement activities. 
However, as online interactive tools became a necessity to organizations, most including the government and clients have now adopted the practice and it seems we won't be turning back (at least not in full). I do see projects' operation becoming more efficient that way. The general public is now more aware of the importance (and reliance) of outdoor recreational facilities as a social infrastructure. I think it may lead to a new insight into the typical model of Hong Kong that has been successful for many years - super high-density developments connected by shopping malls and railway networks.
Who is the most vulnerable population in your country affected by this aftermath? And what can we as landscape architects do to provide help?
I would say it is young children, especially those in low-income families without domestic helpers. It is because since February and until recently there has been no school and all the playgrounds have been closed, many of the social services have also stopped. Many children have lost their playtime. Landscape architects in Hong Kong could help by formulating a strategic plan on playable space provision within the city, identify deficient areas, and provide improvement proposals.
For Hong Kong: - facilitate more attractions outside the traditional tourism spots to reduce the over-congestion of those areas - apart from increasing the amount of open space for new development area from 2 sq.m. per person to 2.5 sq.m., there should also be an intervention in built-up areas to address the deficiency. The provision of open space should also be strategically laid out instead of allocated to the "leftover" space - encourage street ecology by improving the streetscape and facilitate shops and communal activities on the street, instead of the currently dominated shopping-mall type of development model.
*Please join us in shaping our post-pandemic world and landscape architecture profession, by sharing your thoughts and idea aspirations for the new world you envision. We will be collecting everyone's ideas and sharing them with our Landscape Without Borders Community. It is time, we look forward to hearing from you. https://forms.gle/PEP8nFia17WBAkvK7
---
Produced by: IFLA APR Landscape without Border, Kotchakorn Voraakhom, TALA, and IFLA Secretary team
Text editor: Assoc. Prof. Mike Barthelmeh NZILA
Graphic: IFLA APR Landscape without Border, Watcharapon Nimwatanagul, TALA
Communication: Bosco, So Ho Lung, HKILA
---