Date: Every Thursday, running from 16th June to 21st July 2022
Organiser: IFLA Climate Change Working Group
Venue: Live on IFLA Facebook page
 
Building Resilience
"From Commitment to Climate Action"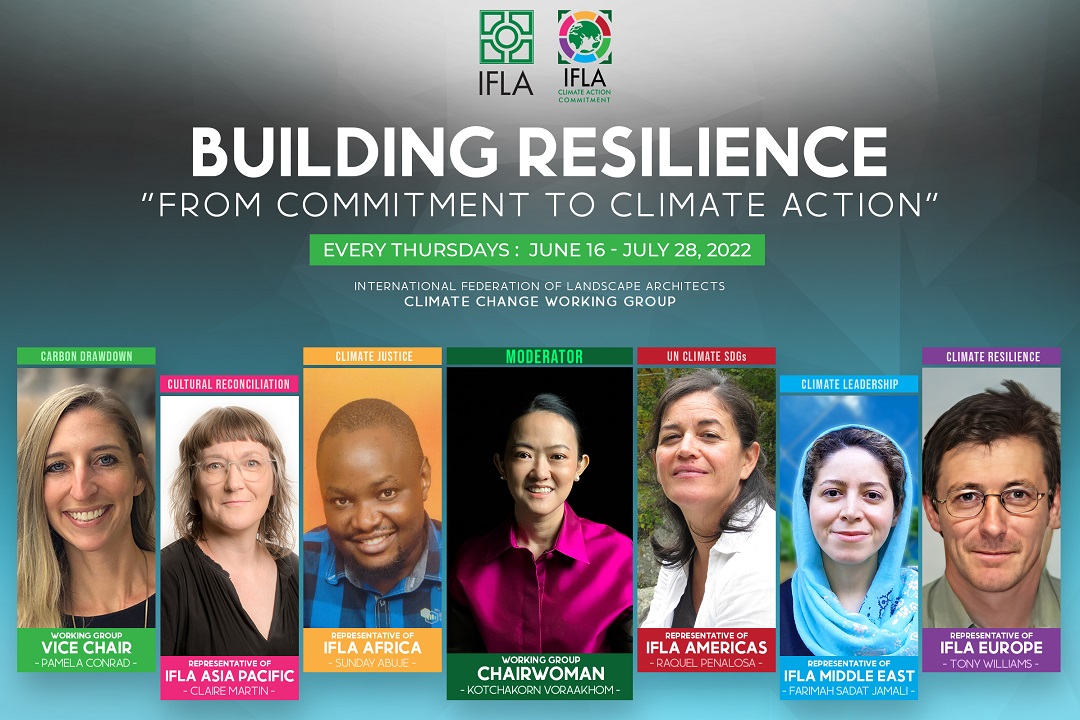 The International Federation of Landscape Architects (IFLA) proposed climate action commitment last year through the IFLA Climate Change WG which was introduced by IFLA regions to the National Associations globally; a commitment which we are proud to announce that has been ratified by most of our regional and national member associations supported by 70,000 members globally.
The commitment calls for Landscape professionals to commit towards nature-based solutions in combating climate change. Even as we continue to make lasting impacts through various climate action efforts globally, with the guidance provided by the IFLA Climate Action commitment, a lot more can be achieved, not only by us but also by our allied professions. You may catch up on the same here, https://www.iflaworld.com/ifla-climate-action-commitment....
You're hereby invited to attend the upcoming IFLA's Building Resilience: From Commitment to Climate Action online educational series. This is a series of educational sessions, running from 16th June to 21st July 2022, in which IFLA experts from our regions and Climate Change professionals will demonstrate how the six components of the Climate Action commitment could be turned into tangible actions. 
The sessions are tailored around the six key principles of the IFLA Climate Action Commitment, which are: UN Climate SDGs, Carbon Drawdown, Climate Resilience, Climate justice, Cultural Reconciliation and Galvanizing Climate Leadership. These principles consist the basis of the new approaches adopted by over 70,000 Landscape Architects members of IFLA world.
Session 1

16 June 2022,

4PM UTC

Session 2

23 June 2022,

12AM UTC

Session 3

30 June 2022,

2PM UTC

Session 4

7 July 2022,

2PM UTC

Session 5

14 July 2022,

7AM UTC

Session 6

21 July 2022,

1PM UTC