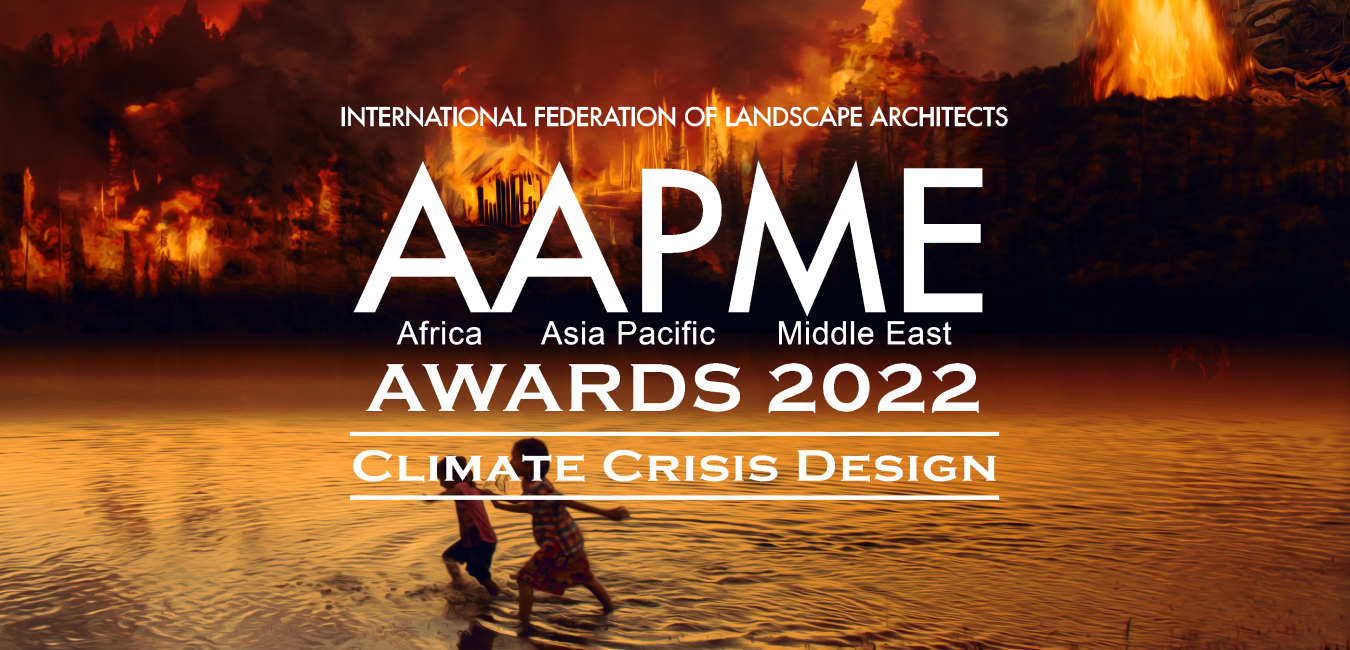 We are delighted to announce the e-Publication for the IFLA AAPME Awards 2022! The e-Publication showcases the exceptional works of our landscape architects in the Africa, Asia Pacific and Middle East regions from the IFLA AAPME Awards 2022. This year has the highest number of submissions ever received for the IFLA AAPME Awards at a total of 318 submissions, with 204 being awarded across 10 categories. 
Thank you to Graham Young, President of IFLA Africa, Armin Parhizi Rad, President of IFLA Middle East and Monica Kuo, President of IFLA Asia Pacific who collaborated on this initiative for the IFLA regions.
View the members of the Honorary Jury Panel and their thorough judging process and criteria; and of course, view the award-winning projects and learn from the best!
View the low resolution e-Publication here.
Download the full resolution e-Publication here.
The IFLA AAPME Awards is a bi-annual event alternating yearly with the IFLA LA Awards. For advertising enquiries in the Awards e-publications, contact the Secretariat at ifla.apr@mci-group.com.
Watch our for the upcoming IFLA LA Awards in 2023!
Please note: For projects that have already requested for changes in their certificates, these changes are not reflected in this e-Publication as it had already been produced.
---
---
About the IFLA AAPME Awards 2022
IFLA AAPME Awards 2022 - "CLIMATE CRISIS DESIGN" is an international design award organised by the International Federation of Landscape Architects (IFLA) Asia Pacific region (APR), in collaboration with IFLA Africa and Middle East regions. This year the award continues to call for climate actions and our response in climate crisis design. This award program directly references to the IFLA Climate Action Commitment, ratified by IFLA APR and many other associations across the regions. It is also our commitment to demonstrate where landscape architects are delivering on our commitment and achieving tangible actions through the program.
This prestigious award aims to recognise and showcase excellent multidisciplinary projects grounded in the environment and social realm, with the intention of strengthening resilience and climate adaptation in our urban, natural and social systems. The 2022 AAPME Award seeks to showcase works of landscape architects in our commitment to design sensitively, demonstrate responsible practices and to pursue collective efforts in order to address complex issues and challenges of our world today and tomorrow.
This award is open to all IFLA regions and practitioners around the world for projects within the Africa, Asia Pacific and Middle East regions.
AWARD CATEGORIES
A. BUILT Category

Culture and Traditions
Economic Viability
Flood and Water Management
Food Security and Production Systems
Heat Islands and Fire Resistance
Natural Disasters and Weather Extremes
Energy and Carbon Reduction
Social and Community Health
Wildlife, Biodiversity, Habitat Enhancement or Creation

B. UNBUILT Category

.