Corporate Member Feature: Archive Landscape Co. Ltd
Archive Landscape co., ltd is a landscape architectural design firm based in Bangkok, Thailand, founded in 2016 by Pananvit Khotavivattna. We focus on landscape architecture, various scales of projects ranging from residential, commercial, hospitality, public and urban space. We research & explore the best design through different contextual qualities, which reflect through our design outcomes.
To meet the best result, our design practice is always to respond to every related aspect, site context marketing, owner, and the most important users. @AL Studio, we pursue simplicity in design strategies and approaches that carefully respond to the complexity and diversity of nature, human ecology which composed of climate, topography, culture and social phenomenon.
The designs emerge from this content of each sites, thus a unique characteristic of each project is revealed. We firmly engage to design process and work closely to our clients as well as actual users to deliver the optimal needs and solutions toward our projects. It allows us a collective consideration of all significant performance. This greater view has become our determination to provide a successful and sustainable project to our community.
Central Plaza Chonburi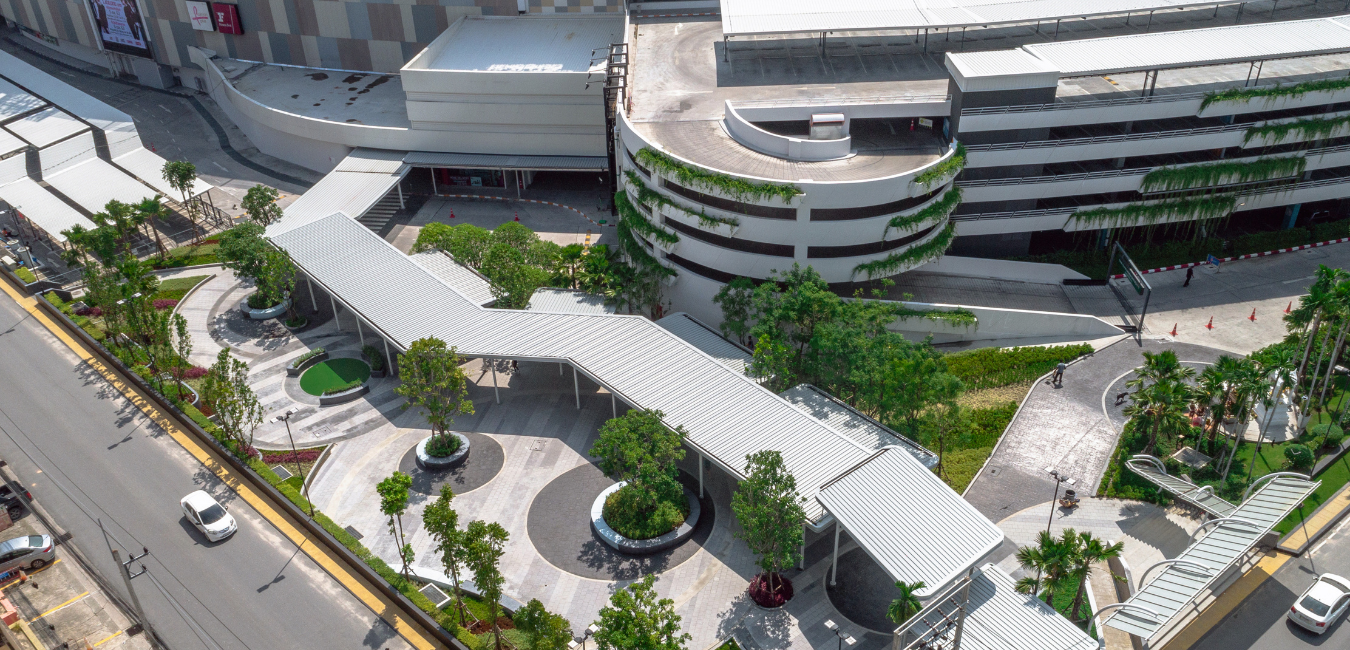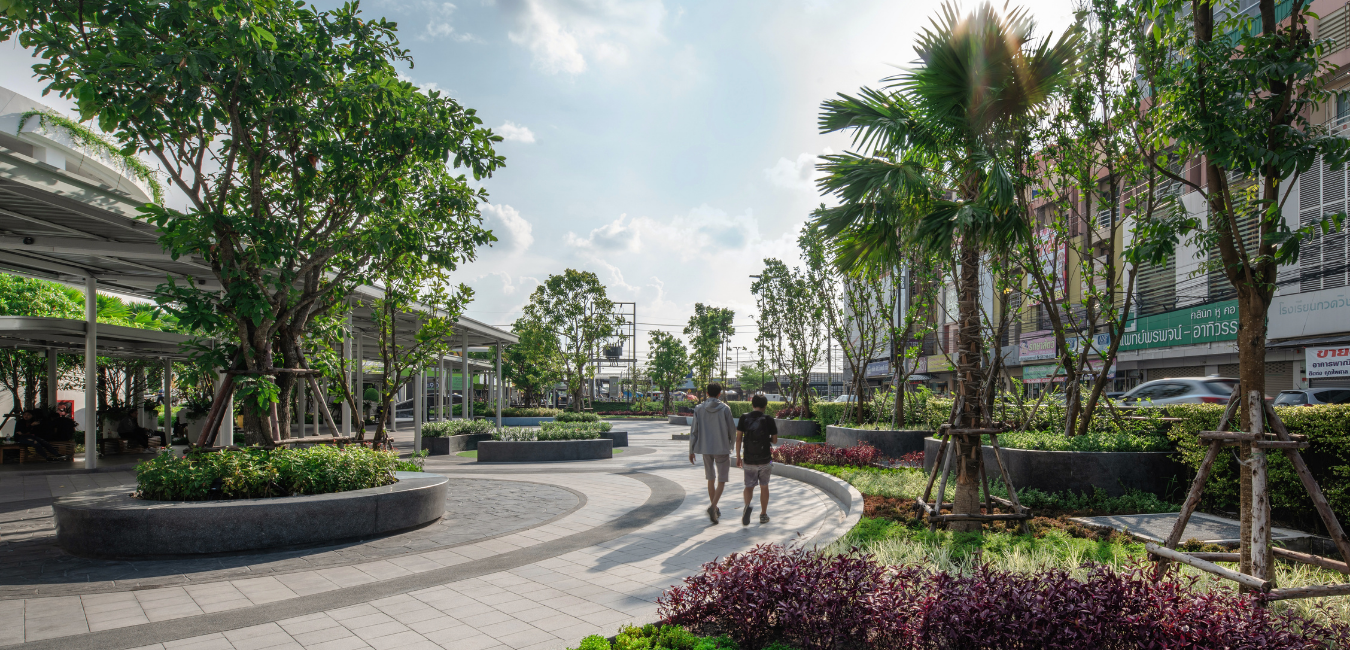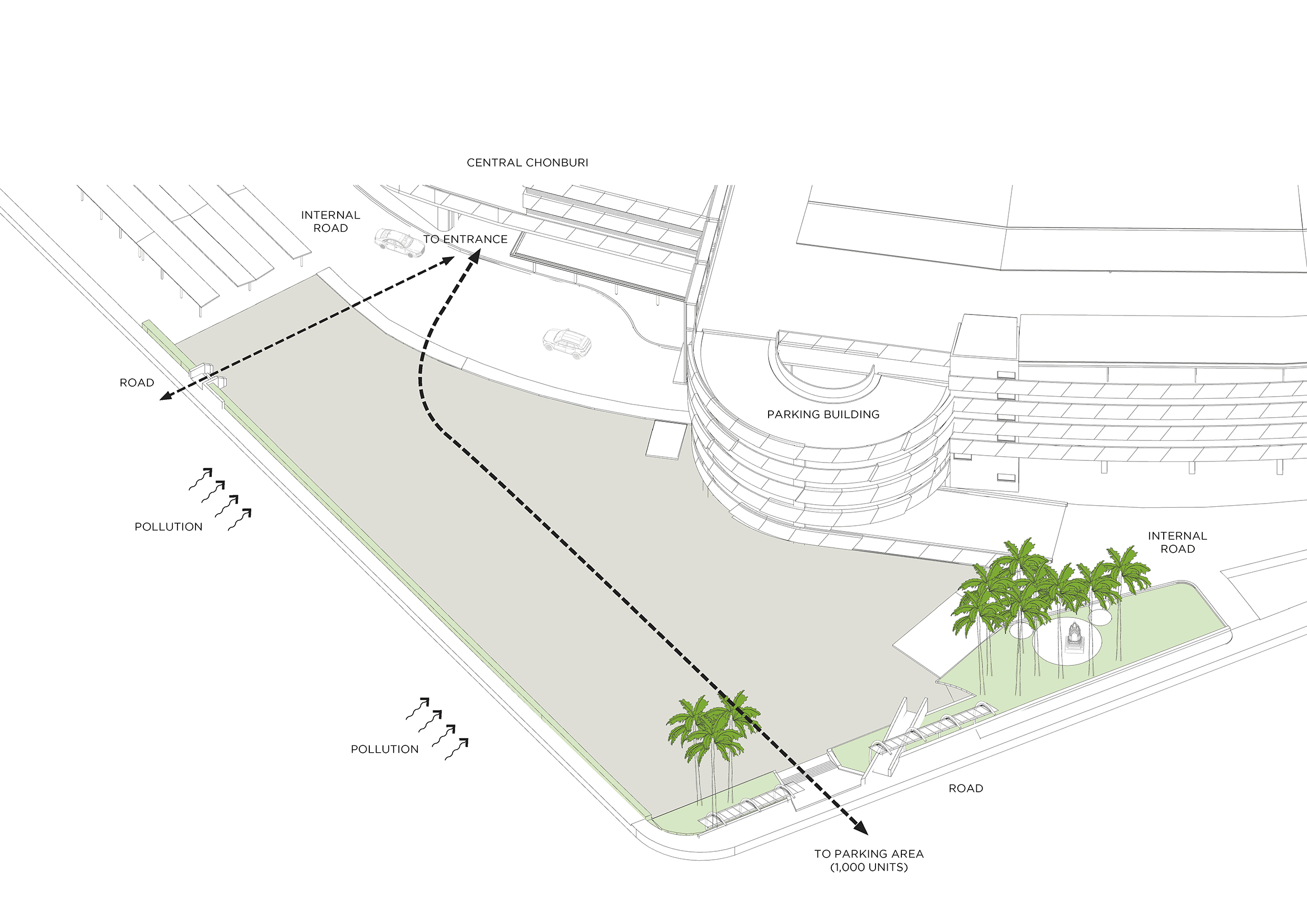 AL was appointed by "Central Pattana (CPN)" to revitalise an outdoor space of the Central Plaza Chonburi, Thailand, the best urban shopping mall of "City by the Sea" among the year 2019 redevelopment project plans.
The scope of design were set in two significant areas:
Entrance Plaza at street level (400 sq. m.)




We carefully keep the current hardscape structure, prior to the first design by  landscape designer ,T.R.O.P (Terrains + Open Space) in 2013, and complement the existing condition with a set of greenery softscape. Local trees and sea side shrubs were placed, thus these distinct series of regional plantations became an invitation to the mall and creating the shady outdoor activities area. 


 

Covered Walkways ''Recreation Plaza'' (2,700 sq. m.)




The idea was given by CPN to transform the existing vast concrete parking lot at the back of the mall into a plaza intersection.

A long covered walkway were introduced, however, not only for sun protection purpose, but also to improve accessibility from public street to the mall. Circle shapes, derived from element at the front plaza, street feature elements: tree planters, benches, were introduced to animate a loose multipurpose zone which allows a variety of function that serves public commercial events: city gardens, meeting points, market place alike. This former uncover parking lot had ultimately turned into all-day recreation space and, delivering a

"Walking Experience" to welcome all visitors.
Chalermnit 53
AL was commissioned a temporary entrance space for Areeya Property Public Company Limited to design a hoarding & temporary entrance of exhibition area in Bangkok, Thailand.
The exterior facade of Chalermnit 53 uses a series of vertical screen to create a transparency semi-enclosed street space. The installation were, however, represented a perception of tranquilness and well-built, in other words, light but sturdy. 
"The First Gate", taking the tree as the visual center, a concave and convex semi-enclosed space is formed. When night falls, the strip-shaped light reflects an artistic sensibilities of design.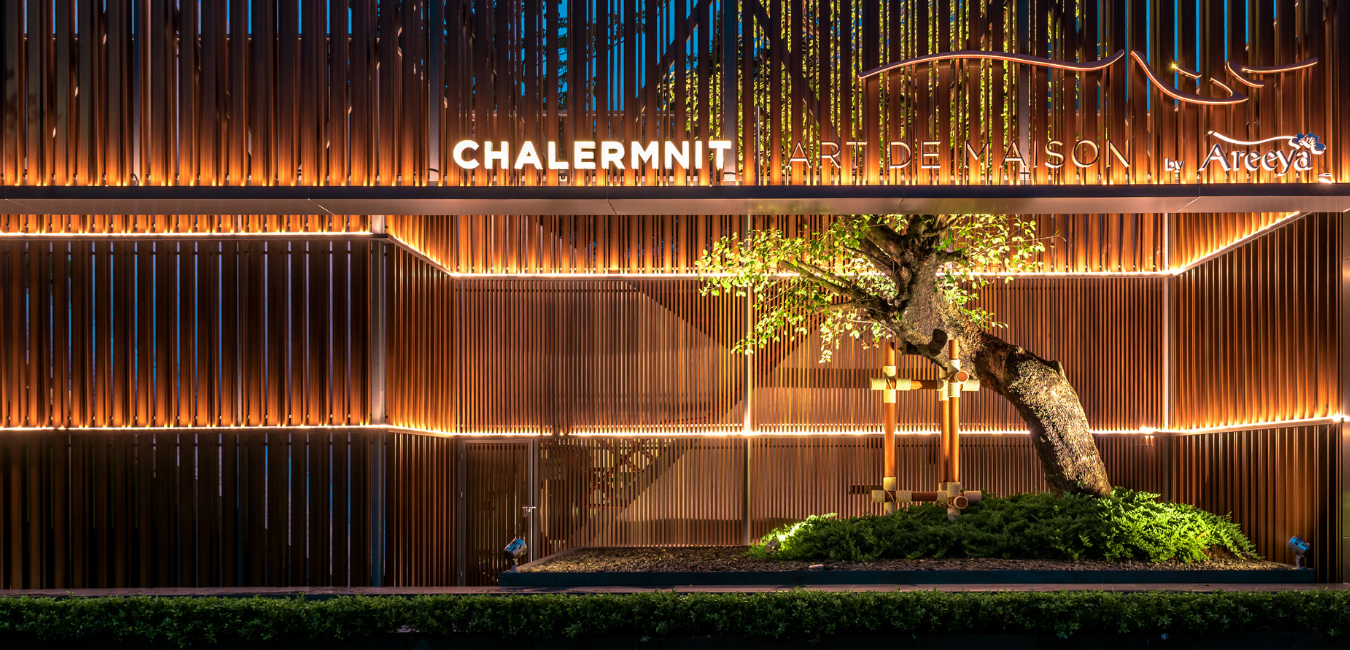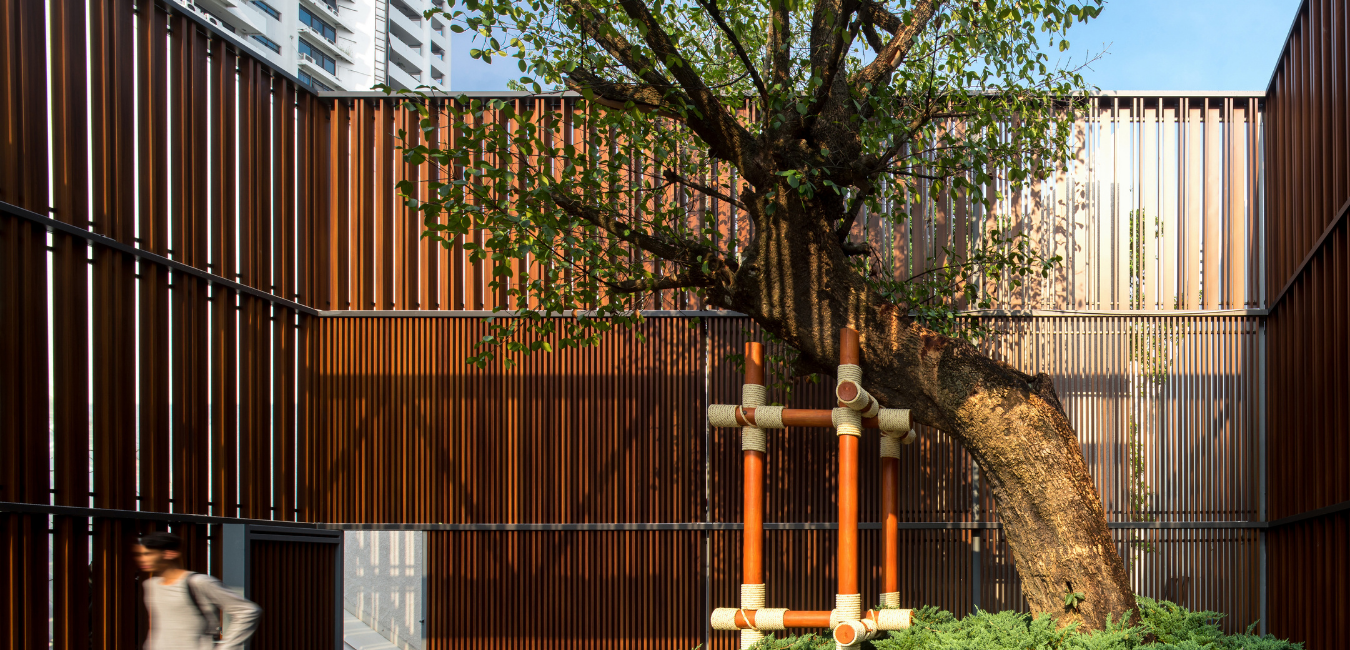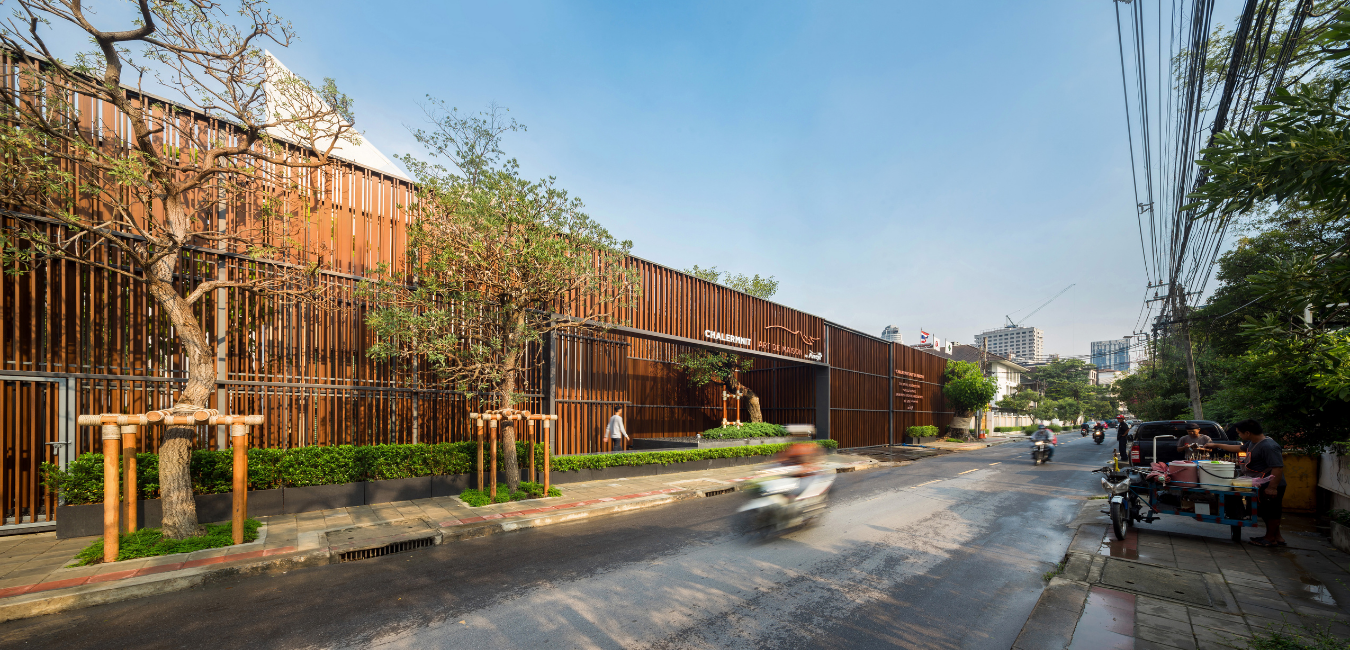 Central Plaza Rama 3
Central Plaza Rama 3 is a shopping center located to the Rama 3 district, the recent CBD of Bangkok, Thailand. The mall successfully became a new icon of the neighborhood.
In 2018 Archive Landscape Studio was commissioned by "Central Pattana (CPN)" to renovate the four landscape areas: 2,000 s.q.m. of main arrival plaza, 200  s.q.m. of sky-lounge outdoor terrace towards to the mall canteen, indoor planting and façade planting design. Our design proposal were a determined effort to CPN Business Development's primary requirement with the site context itself. We worked effectively with architectural and interior planners to revitalize a new image of the mall after two decades of the grand opening in 1998.
Creating a dramatic vision for a new building's shell, the idea was developed together with an architect, Vaslab Studio, resulting in "solid" and "soft" element, i.e., 'Streamscape", of trellis façade and lush greenery vine. Tropical plantings and a rich amount of big trees were placed to create shady seating areas in order to clarify a clear territory between traffic road and pedestrians. The variety of selected planting species, color and texture promoting playful and energetic for the space, and also accent the lively atmosphere.
Integrating "green area" is not only to state the building's character but most importantly to foster environment as well as to replenish nature in the both context, city and community.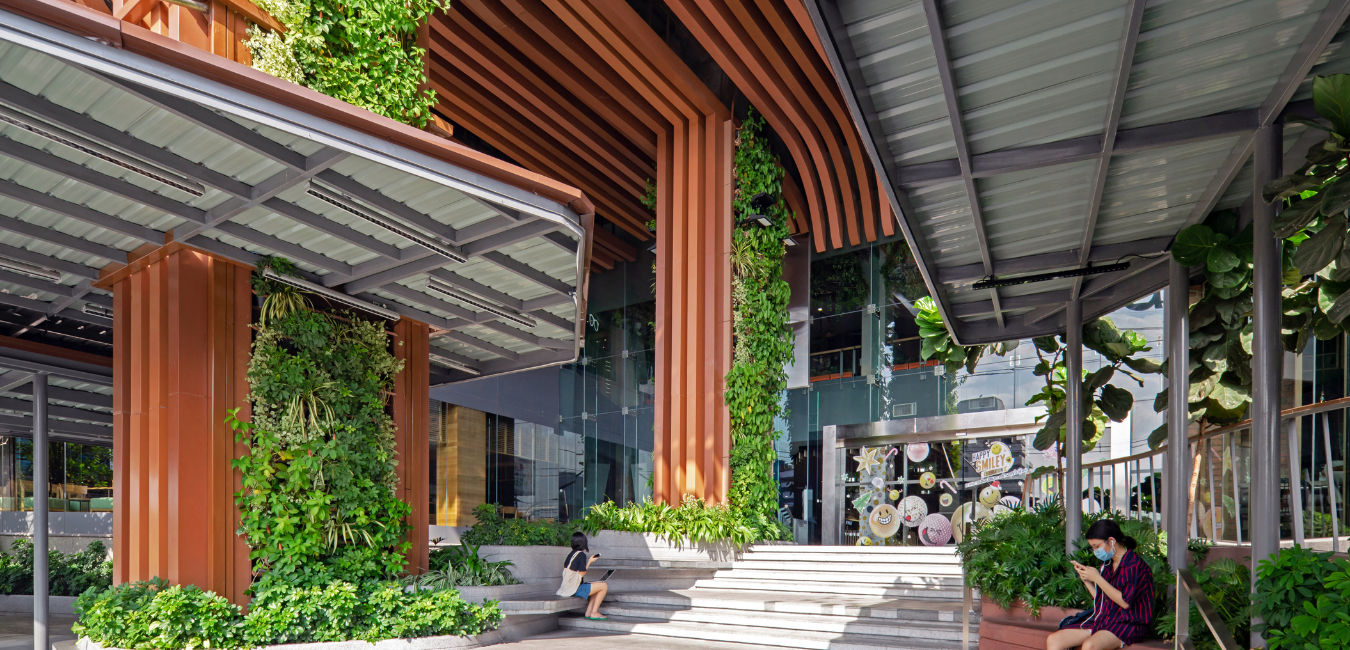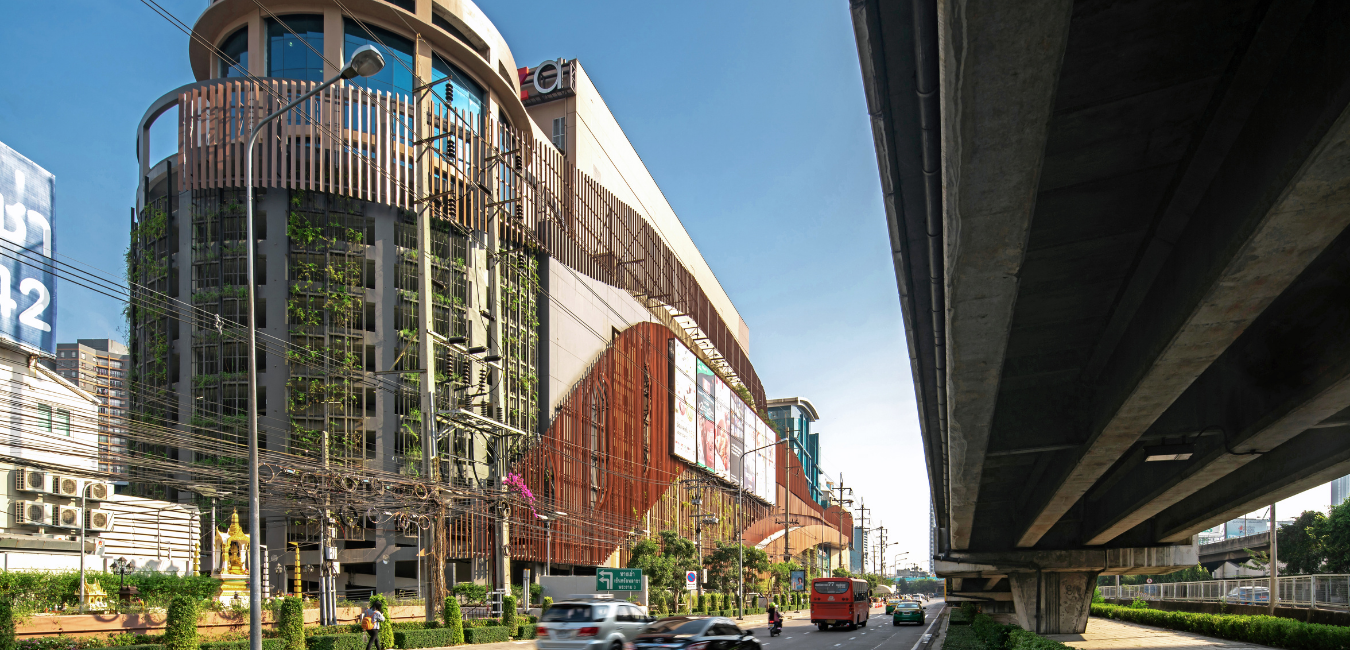 W Residence
W Residence is a two-story house situated in Phetchaburi, Thailand. The private residence for a family of four was inspired by the desire to apply natural landscaping elements with design strategy.
The house itself is located in the center of the site, the vast area of over 4,000 s.q.m., separating the land into two equal but contradicting spaces: a long narrow space covered by 20-year-old cork trees and an open space at the backyards with a stunning river view. This existing site's condition is clearly became our great interest.
We therefore proposed to harmonize the two contradicting lands and to define intimate space, while keeping the touch of a grandness. A varied level of stepping grass, berms with covering greenery, natural materials such as mountain stones and Rain tree that creates a sensational atmosphere to the waterfront pavilion and its outdoor dining plaza were delicately provided. These very selected landscape features aim to shape not only a dimensional panorama but also a meaningful quality of living, which made this residence as a humble place to settle, the place to be called "home".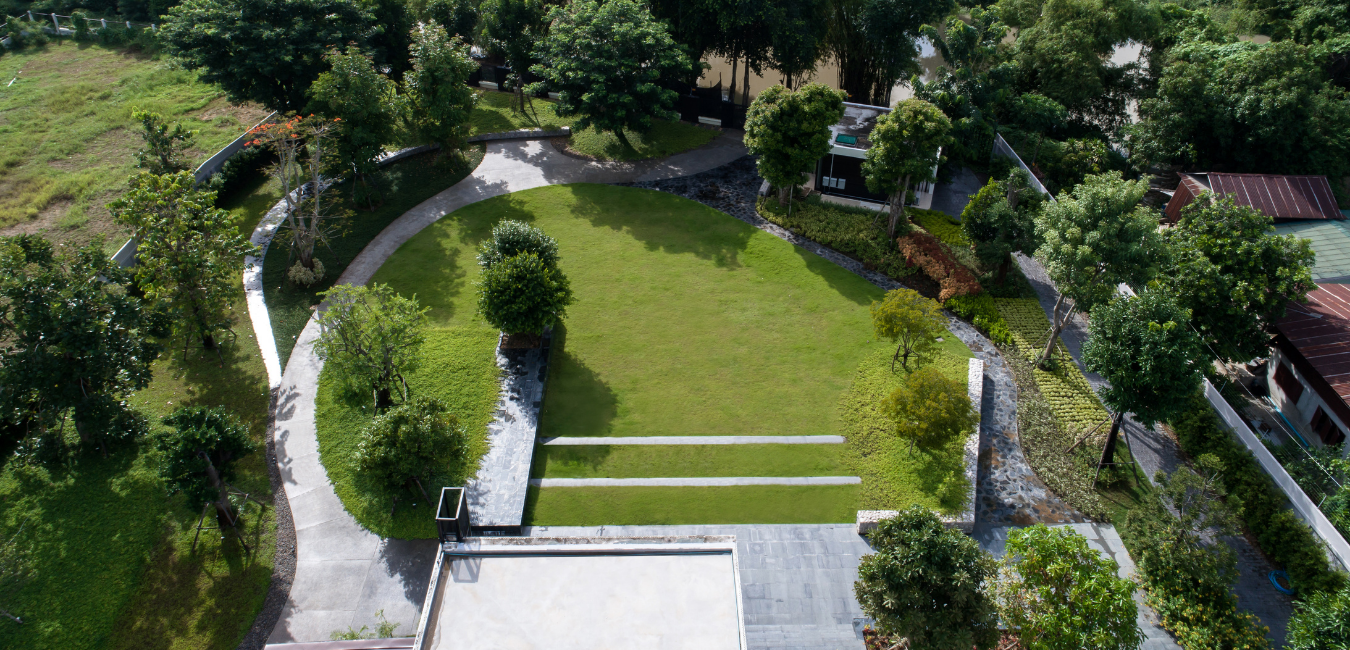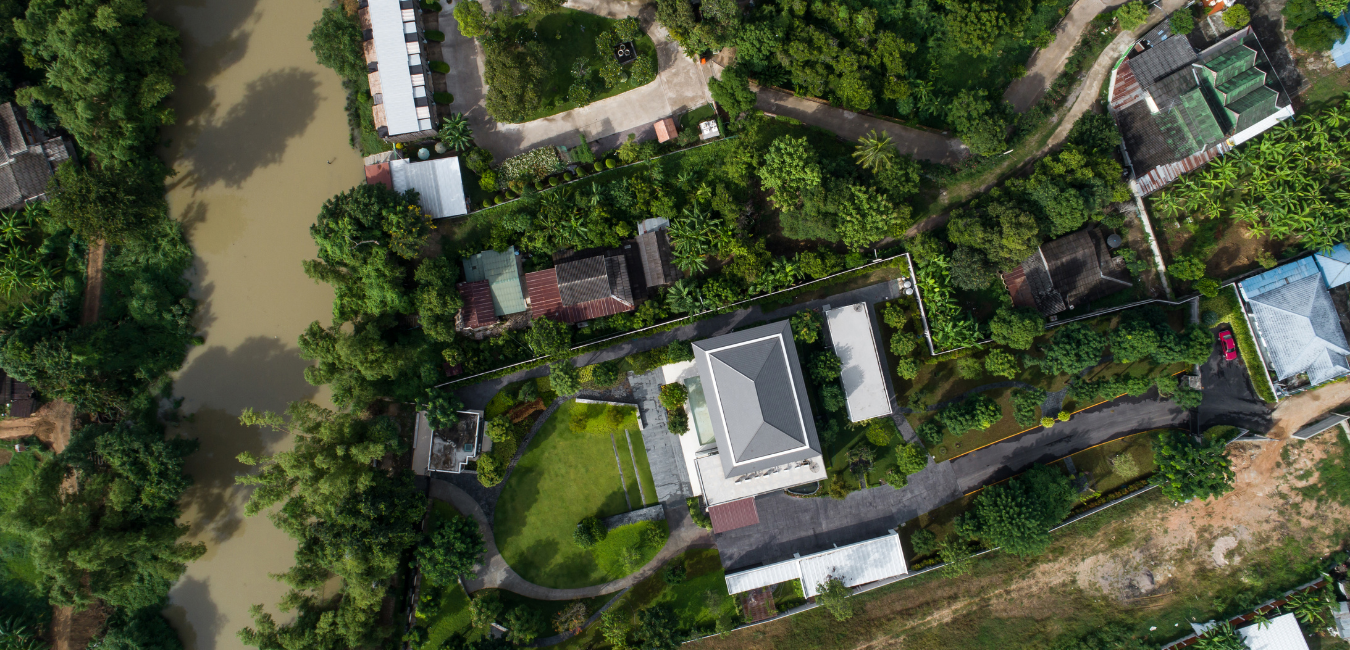 Chewa Home
Our fundamental design for the residential project of 386 units townhome is to enable a daily great quality of urban context in suburban district of Bangkok - Pathumthatni, Thailand.
As an appointed landscape planner, a small-scale of greenery area and public garden became our prior interest. The following challenging fact for the Archive Landscape Studio is to nominate pragmatic strategies to carry out our commission to arrive at its best result under a limited financial plan.
Pursuing our goal, opting for minimizing hardscape surface in order to invest more on a natural elements: a variety of shady trees, vivid vegetation, tranquil lawn, of which effortlessly creating a restful sanctuary for the residents. The showcase is the communal park that rendering "active" and "passive" activities. Here, dual round geometric forms were inserted separately yet visually connected, thank to "the infinity walkway" that define two varying movements: "relaxing park" and "play park". A number of selected pastel color highlighted a playground and children play facilities to welcome and encourage kids and parents to spend a joyful family time together.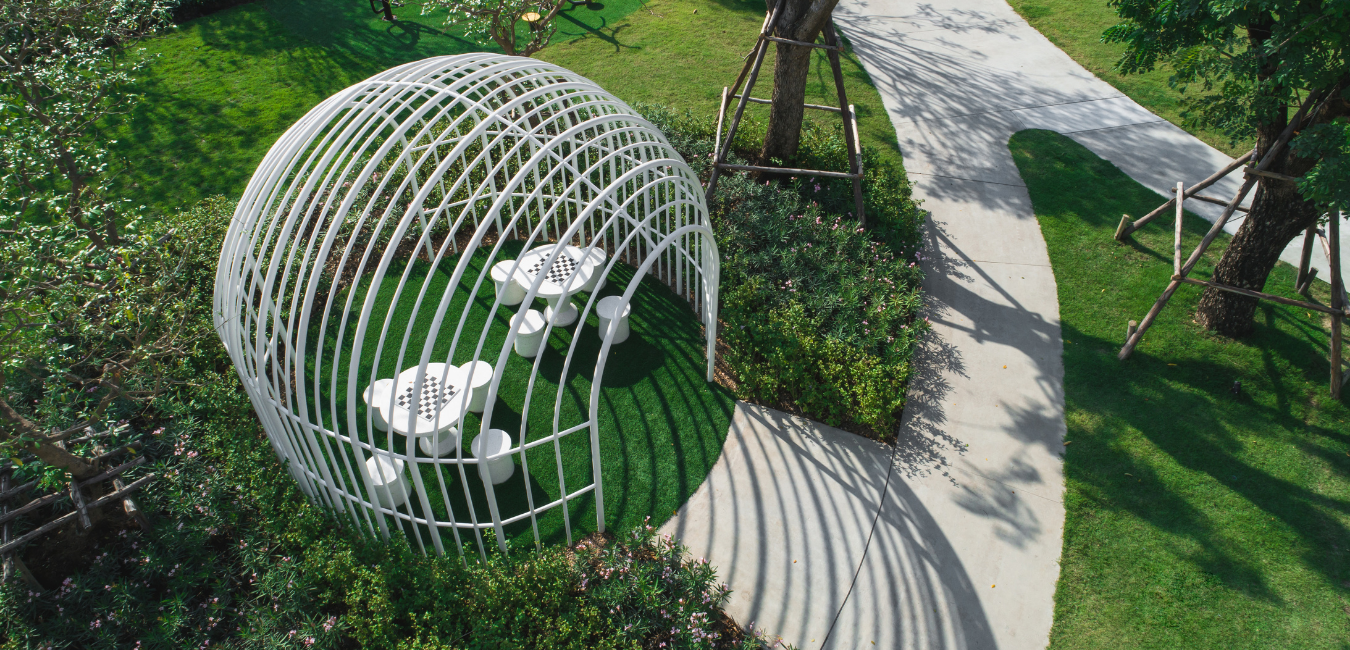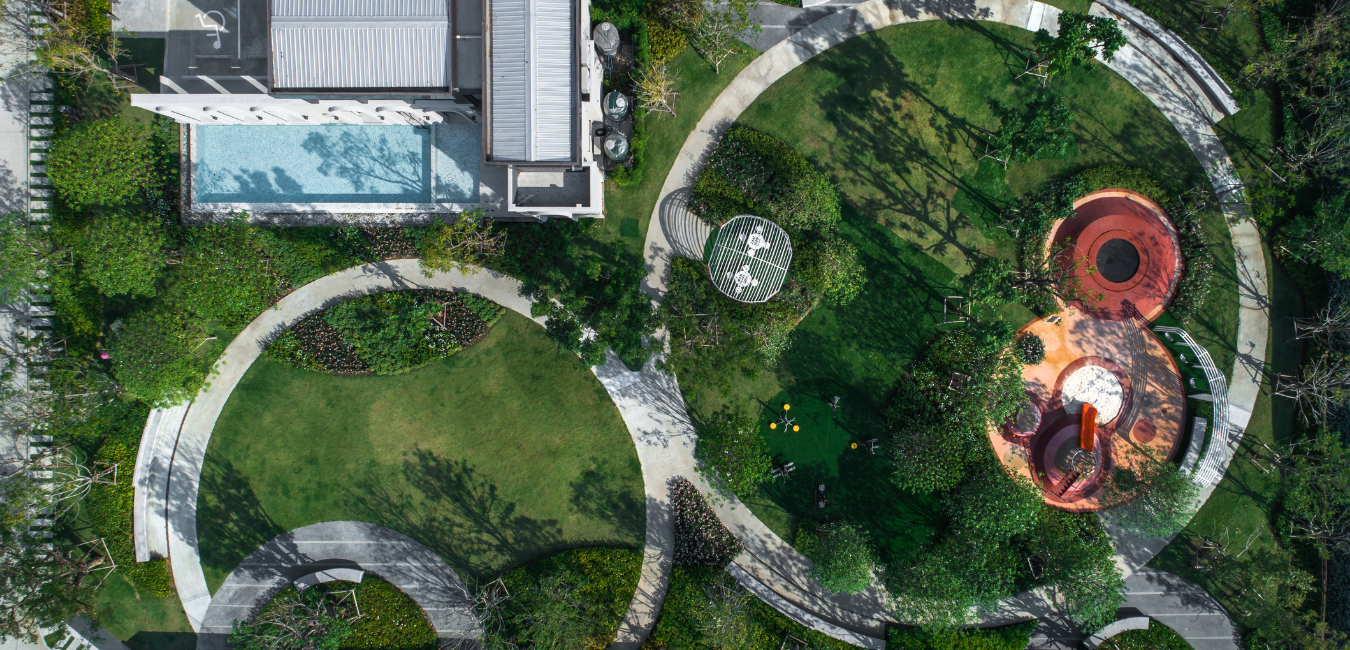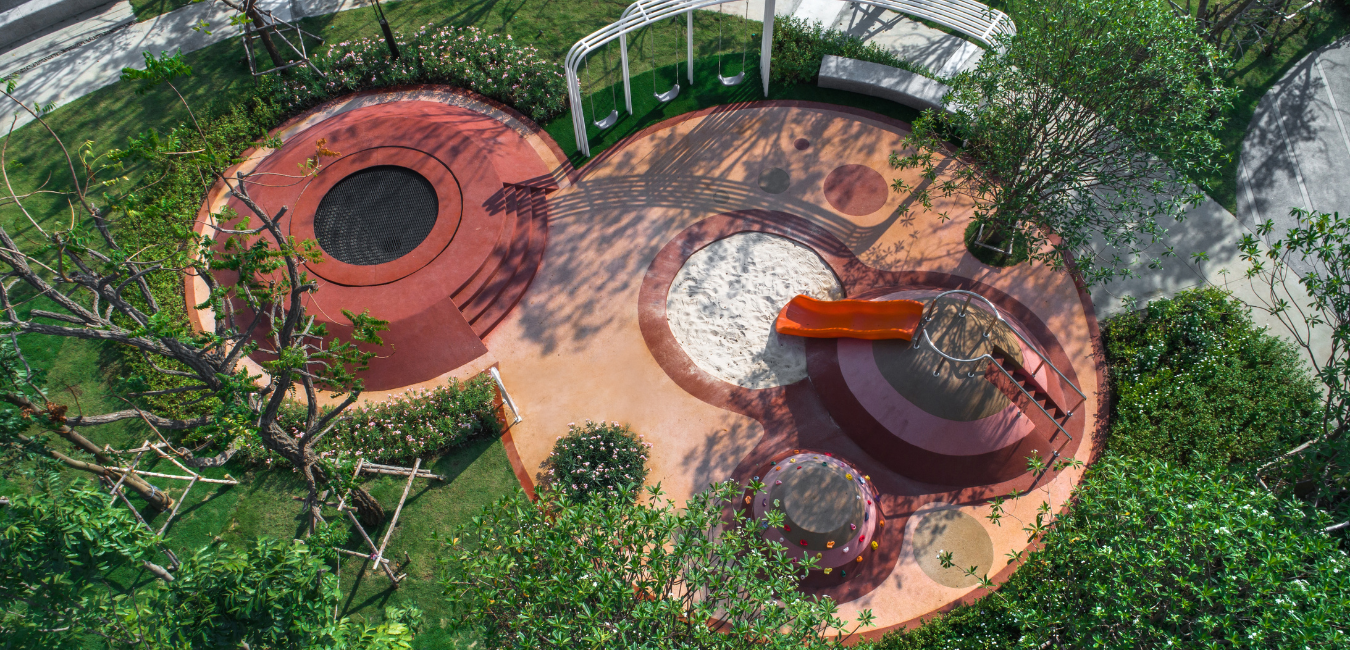 ---