Corporate Member Feature: overlap

Who is overlap?
Overlap is a new and small practice that Miki Mitsuta founded in Tokyo and works solo. She undertakes all works from project inception, design, technical coordination, through to graphic (either photoshop or 3D rendering) / documentation delivery. She previously worked in Australia for over 10 years.
Work concept
Environment
Everyone would agree that this is the overarching urgent topic in designing cities and this is the field where landscape architects should take initiatives. Overlap believes that landscape architecture can greatly contribute to re-imagine living environment and re-connect it into natural surroundings. A city does not exist by itself, it is set in and connected to the expanse of natural environments.
Traditionally, Japanese people respected nature and believed gods in every natural item for a long time. This is the country with constant natural disasters, and people have learned calm resilience and developed skills and customs to negotiate with the environments.
As a way of negotiation, we prayed for gods and offered spiritual ceremonies at sacred places where the original form of Japanese garden evolved. Having worked in such a country, Overlap commits to translate and incorporate the historical belief and attitude into today's modern design processes.
Time and Culture
Overlap carefully investigates 'time', both the past and future of the site, and its unique 'culture'. Unlike architecture, physical proof of landscape is vague and transient. Moreover, our design concept often spans over decades, and stretches across physical boundaries that is hard to grasp. However, this intangible field is the one where our profession excels. Landscape architecture has an ability to reconnect and tie the physical places into local narratives consisting of area history, environmental contexts and human associations. Landscape is capable to turn intangible aspects into tangible assets.
Future of landscape
Our future lies in the ability of imagining and experimenting landscape. Overlap is keen to find an opportunity to test and apply new technology, experimental design, and inspiring collaboration.
Project overview
Overlap is fortunate to work on different types of challenging projects to start with. The projects shown here include a public space project in a suburb of Tokyo, a large urban redevelopment, and an experimental field test proposal in the central Tokyo. As is often the case with business start-ups, there are almost no chance to select preferred projects, but Overlap believes that our focus and methodology have got clearer through following projects.
Project 01 Roadside Station 'Shonan'
– New marketplace embedded in the local narrative
Roadside stations are rest areas along arterial roads in Japan providing 24 hours accessible parking and toilets. They often have traffic and tourist information centres together with market buildings for fresh local produce.
The project, roadside station 'Shonan', is one of them and has a large communal lawn field in addition, to serve visitors as well as the surrounding communities upon completion. The area has an abundance of nature, located only a 40 minutes-train ride from central Tokyo and the project sits right on the edge of a large swamp lake, surrounded by rice fields and farmland under the big sky.
This is a project where local environmental narratives are re-engaged and re-connected to. We aimed that our design would fit into the site as if a missing piece to this environmental puzzle. From our research and interviews, a desirable design and a set of planting species including native tree, wild grass, and flowering species have gradually emerged. Besides the plant selection, our landscape design assured providing a variety of spaces from a small picnic lawn, shaded resting benches, a native tree forest, to a large sunny lawn field where users feel comfort and protection, especially from strong prevailing winds.
The project is currently under construction and will be completed in November 2021.
Landscape Architect: overlap
Project owner: City of Kashiwa
Architect: NASCA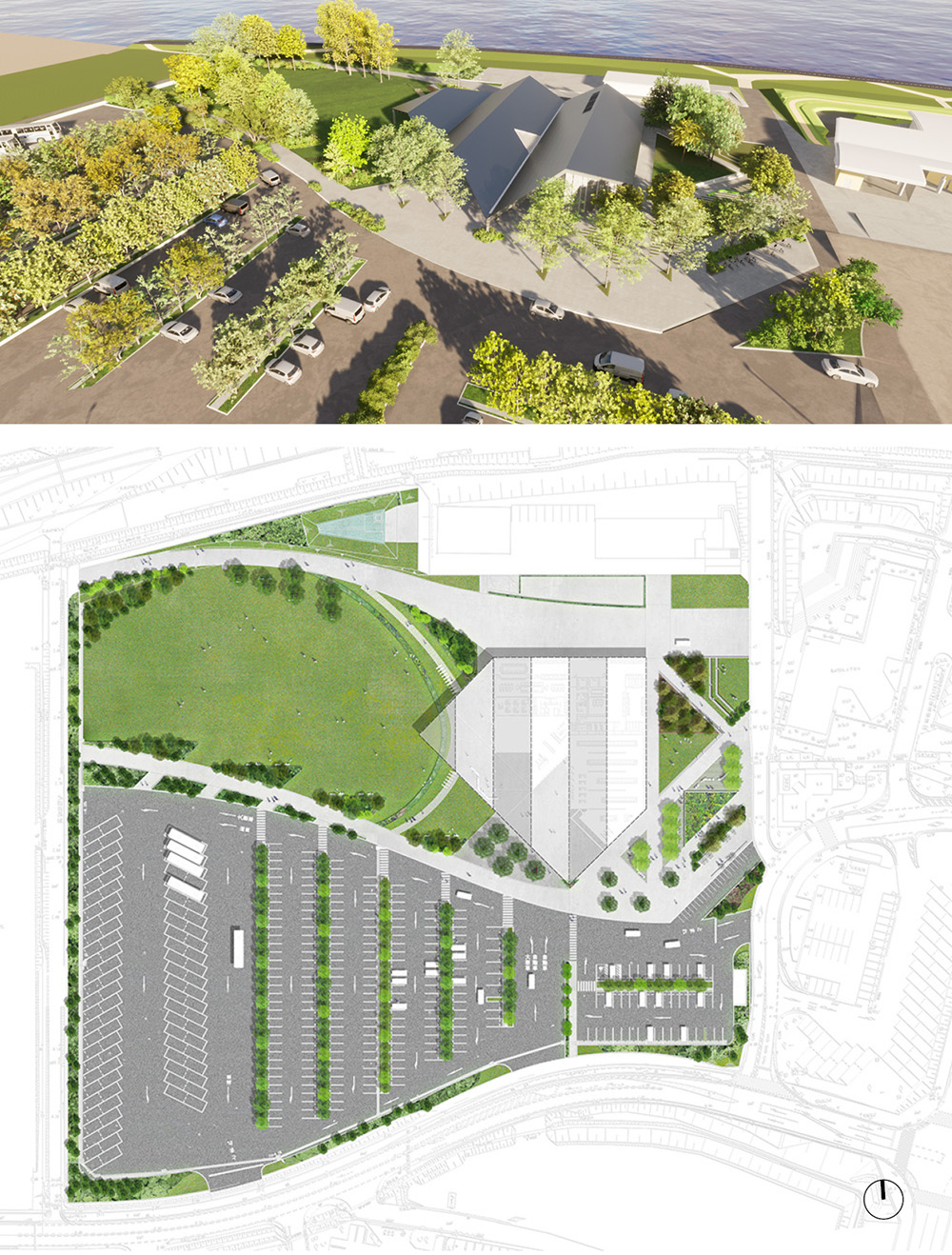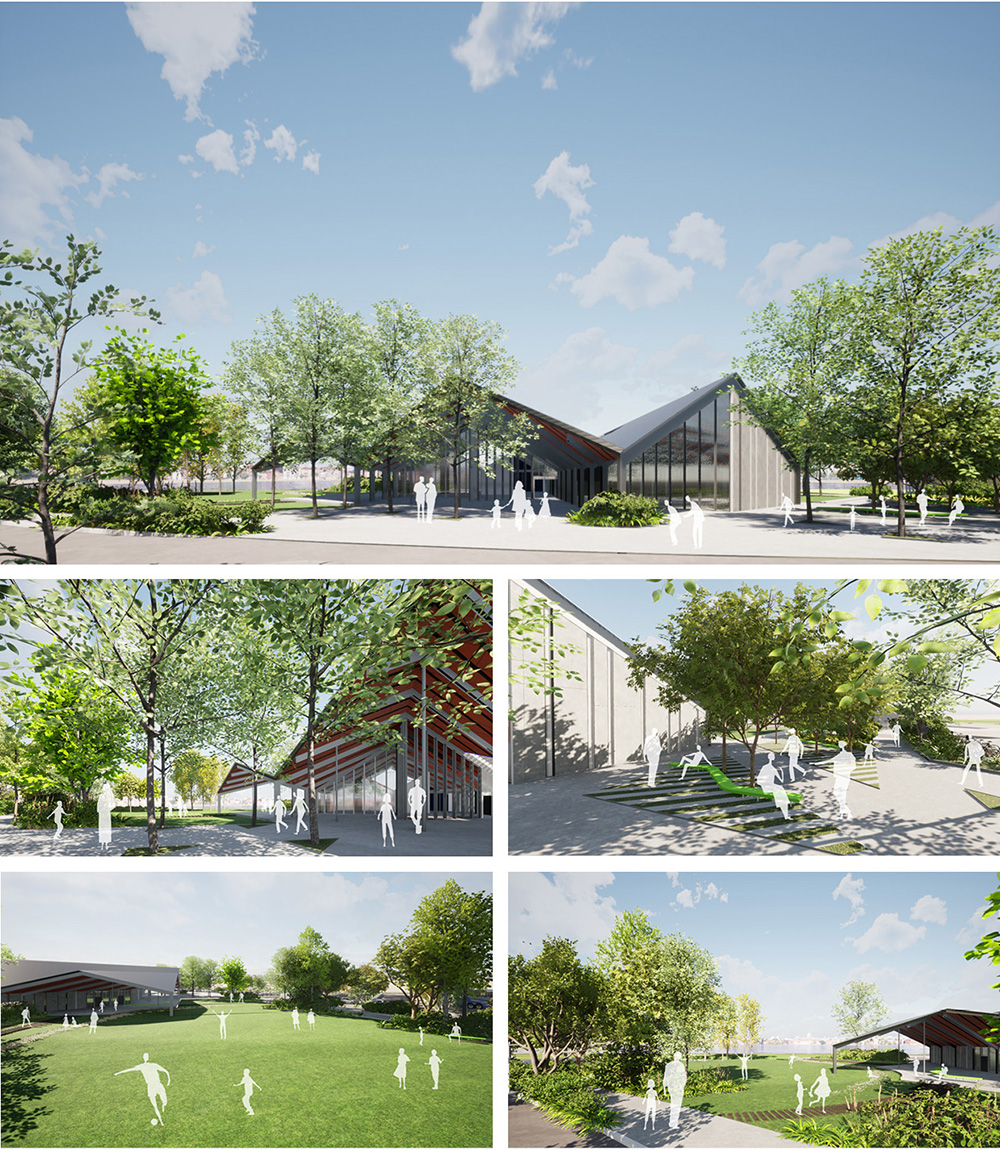 Project 02 Shibuya-Sakuragaoka Redevelopment
– Urban green as a commercial magnet and residential respite between towers
Shibuya has been a popular town for young generations with fashion buildings, music shops, and cultural facilities. The town is currently under construction with several large redevelopments to reinstate its trendy commercial status. Among them, there is the Sakuragaoka project consisting of commercial and residential towers directly connected to one of the station's exits. Overlap served as a client consultant for the public space design as well as a designer for the residential forecourt of the project.
The public space within the commercial precinct is expected to work as a magnet attracting people and withdrawing them from the station into the development. Design challenges for landscape architects in such a project lie in finding a delicate balance between dynamic flashy hardscape illusions and sustainable long-lasting softscape agenda while dealing with complex and often contradicting regulations and municipal requirements. Thus, the design process was not straight forward but the consultant team patiently exchanged ideas and discussed issues to bring the project forward, together with clients and all the stakeholders.
Next to the public space is a semi-public area that has an approach to the service apartment, residential tower's forecourt, and a public footpath connecting to adjacent streets. The precise functional design was required to ensure different elements can co-exist in the limited space. On top of it, the accurate floor load distributions were necessary due to pre-set column locations of the floor below where the hotel entry and vehicular drop-off are. The proposed design achieved functional and welcoming settings by applying a stunning exotic floral palette for visitor's interests and accurate placements of hedges and stone-cladding walls for navigations and restrictions of optical and physical access from one space to another. Distinctive landscape characters were created to each of three spaces including the modern dry garden-style forecourt dealing with complex floor load requirements.
The project is currently under construction and will be completed in 2023.
Client Consultant & Landscape Architect: overlap
Developer: Tokyu Land Corporation
Architect: Nikken Sekkei, NASCA
Builder: KAJIMA Corporation, TODA Corporation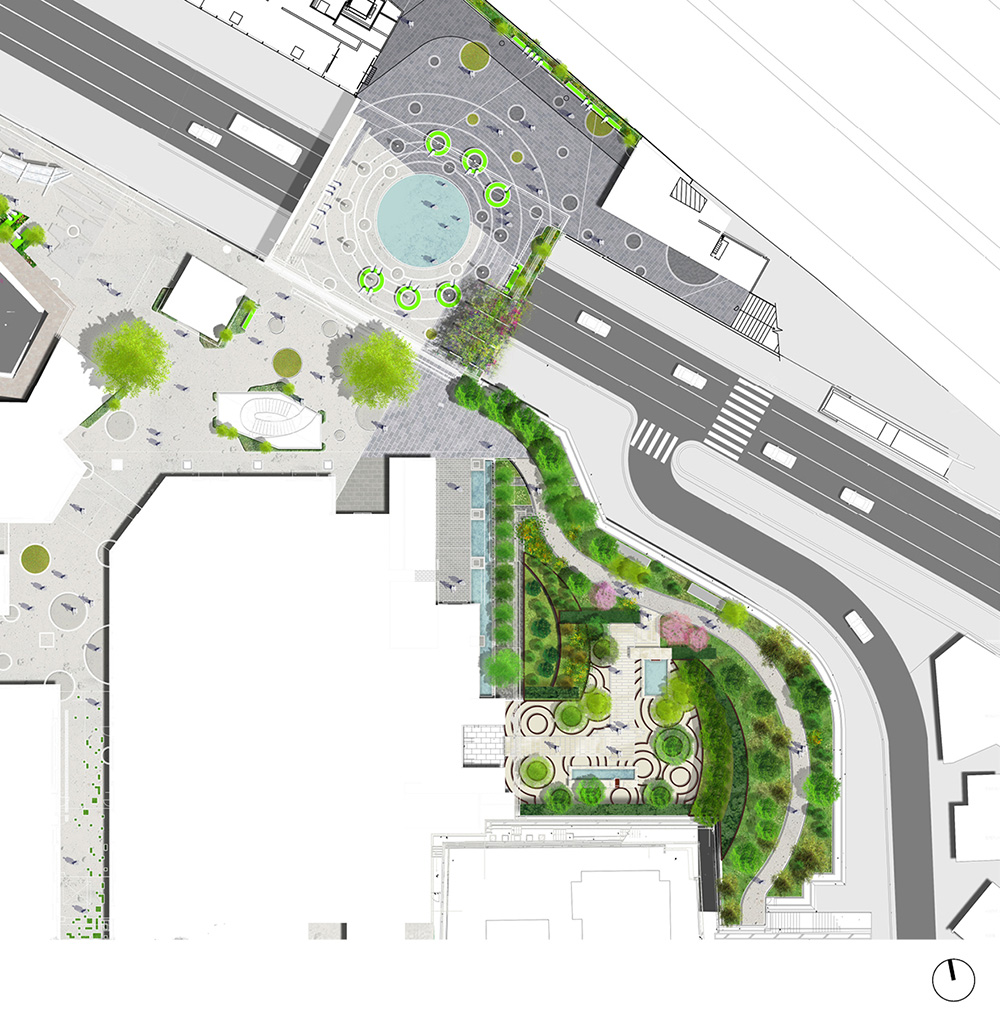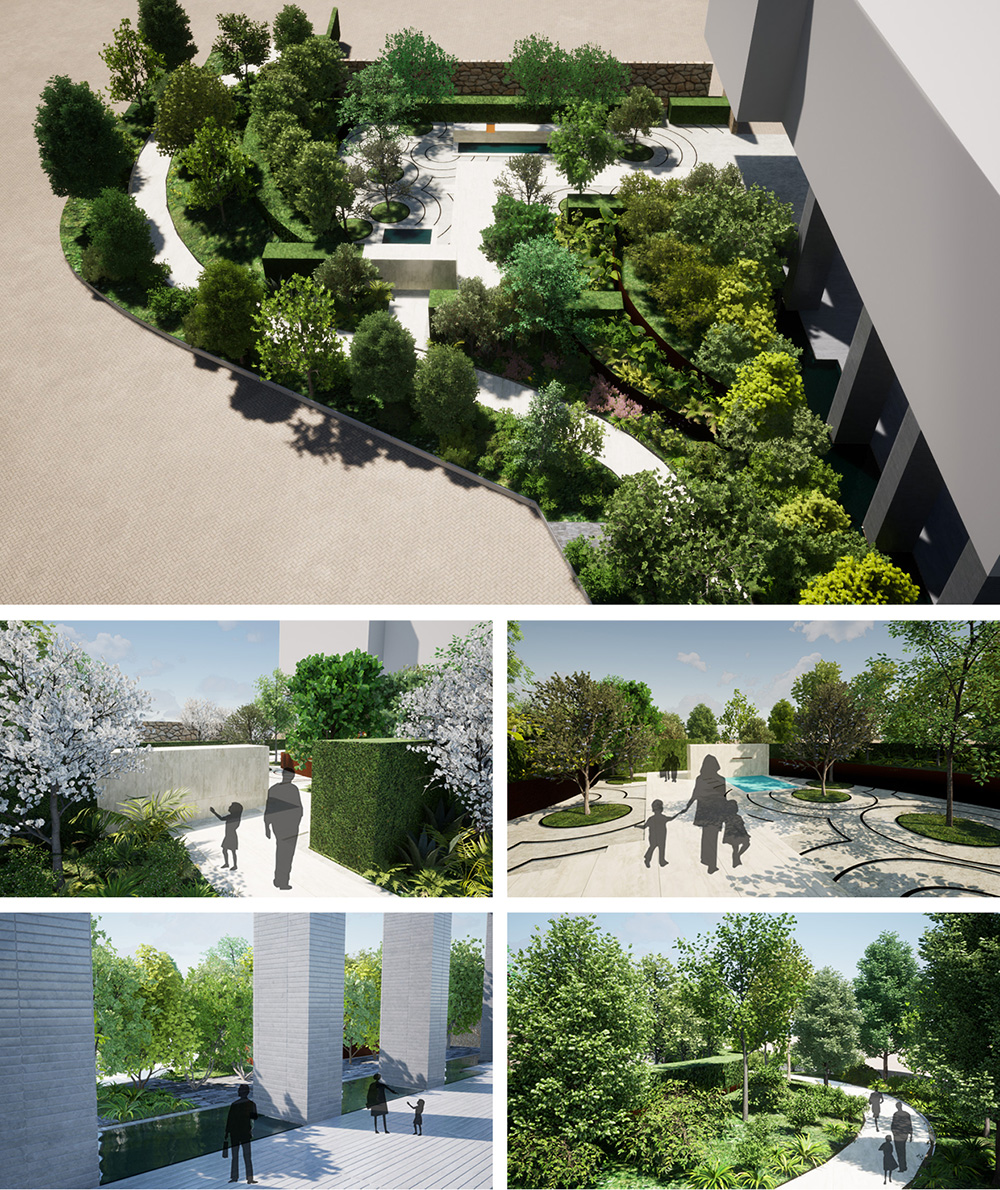 Project 03 Midori Unit
- Re-connecting town to the urban canal
This is the project where Overlap experimented and tested landscape ideas. It originates from our competition entry that re-imagined Nihonbashi River, flowing through central Tokyo and out to Tokyo Bay, organised by the Architectural Institute of Japan. Overlap was awarded a commendation and the design was further developed to apply for a grant, later.
Nihonbashi River, a stretch of the city canal, represents both great and disappointing urban design stories of the water city, Tokyo. Once Tokyo, Edo in its historical name, was a beautiful and ecological city with numerous urban canals meandering where goods and people were transported. However, Tokyo Olympics in the 1960s changed the town unprecedentedly by constructing highway viaducts over the canals including the Nihonbashi River. Since then, the town has forgotten the waterways and built its backdoors to them.
The proposal was to install floating vegetated islands to Nihonbashi River, aiming to redraw people's attentions back to the canal that was once forgotten, and creates microenvironments and habitat for birds and insects, while cleansing the canal water and providing visual amenity for residents and passers-by. The expected total areas of vegetation created by them will be around 9,000m2 when they are placed at a density shown in the perspectives.
The second stage of the project towards a field test brought us a series of technical issues from manufacturing, installation, operation, to maintenance to be discussed and solved. Therefore, we teamed up with marine civil engineers and a landscape contractor. As a result, a modular system (Midori Unit), unit fixing details, unit level changing system to follow tide changes, planting palettes to survive in brackish water were developed and a wider section of the canal was selected as a field test site for its easy access.
The project was shortlisted for the 'Omotenashi no Niwa (Welcome Garden)' Award, organised by the Organization for Landscape and Urban Green Infrastructure.
Landscape Architect: overlap
Project Team: Penta-Ocean Construction, Zeniya Ocean Service Engineering, Hakone Ueki Landscape Construction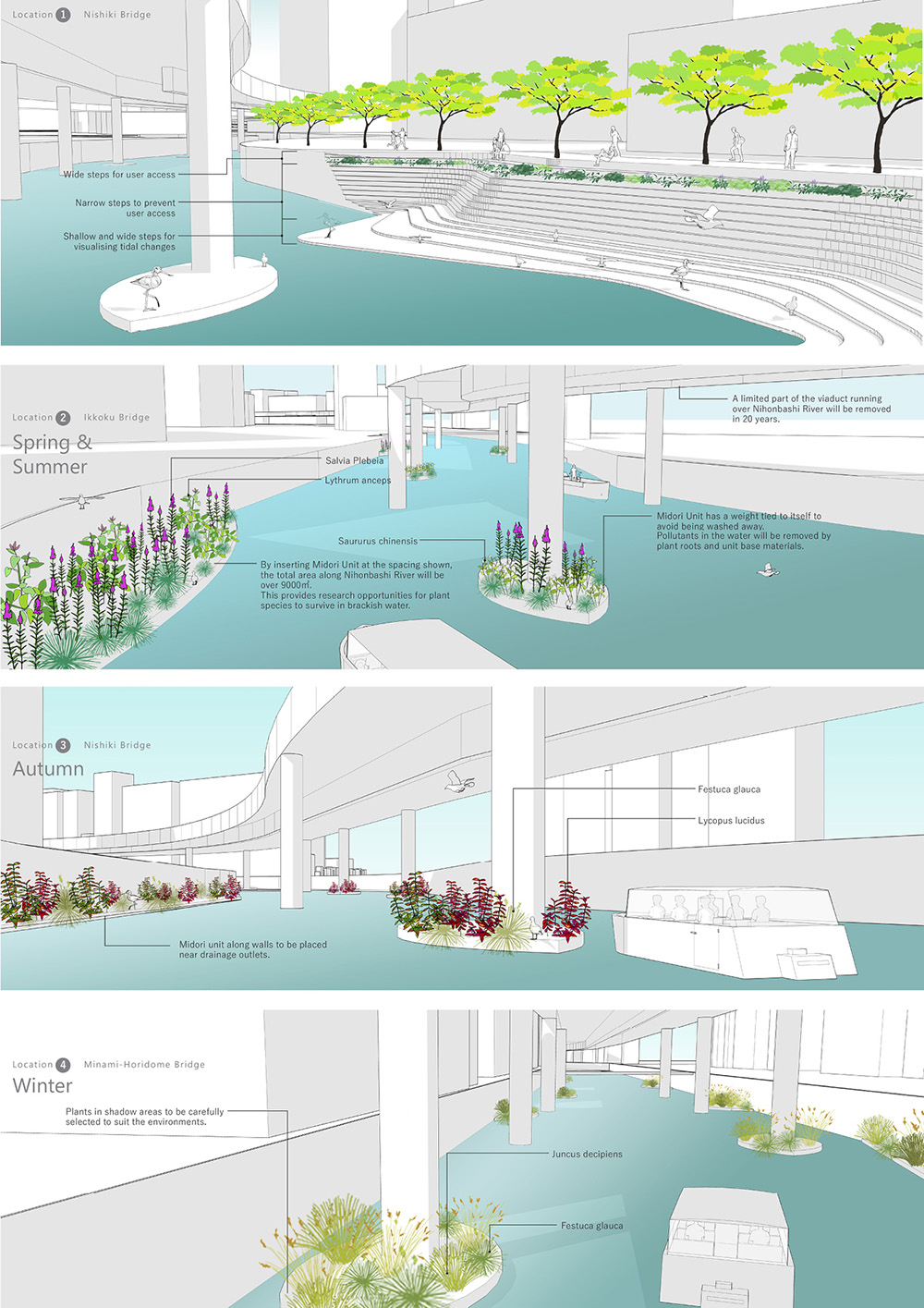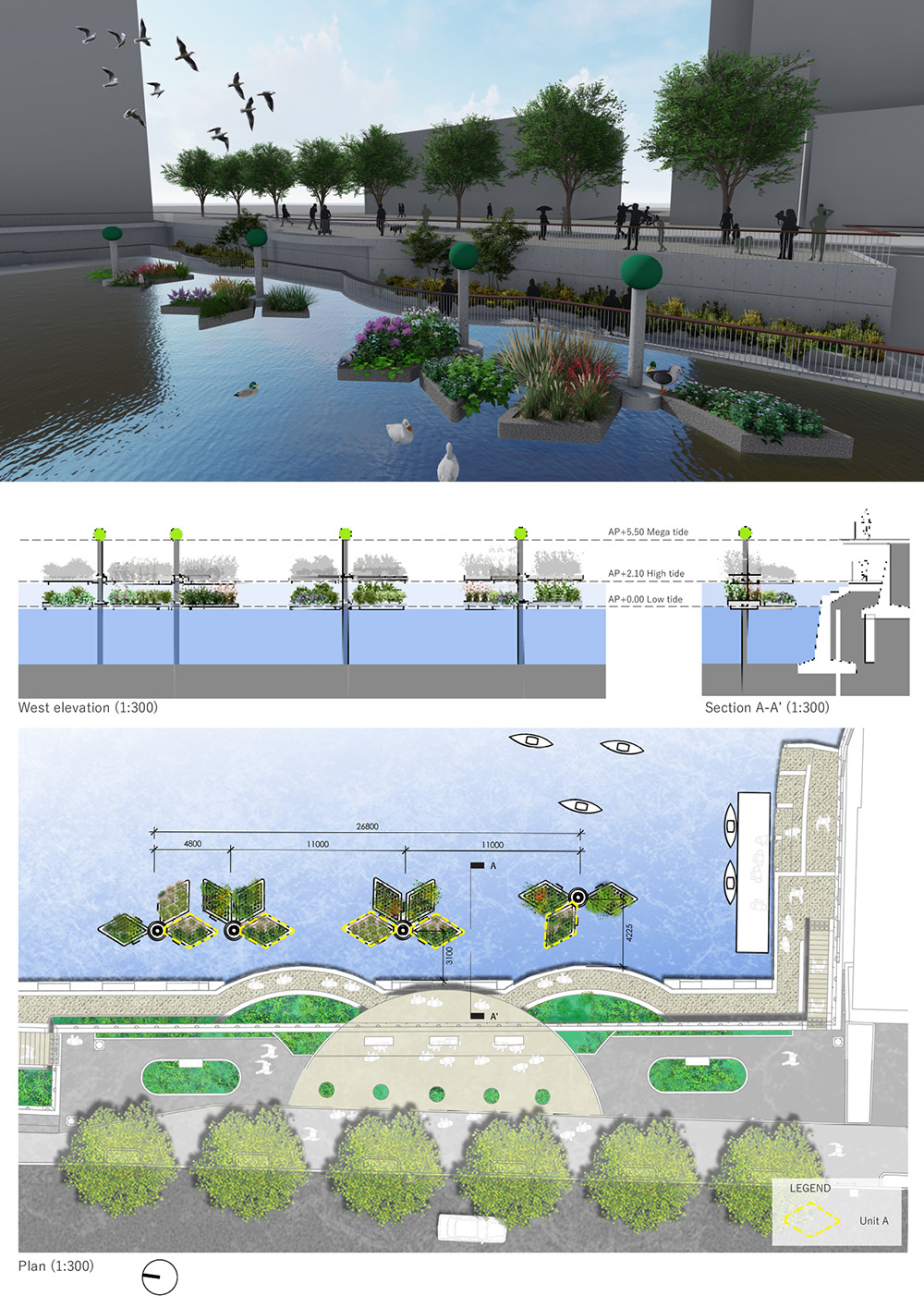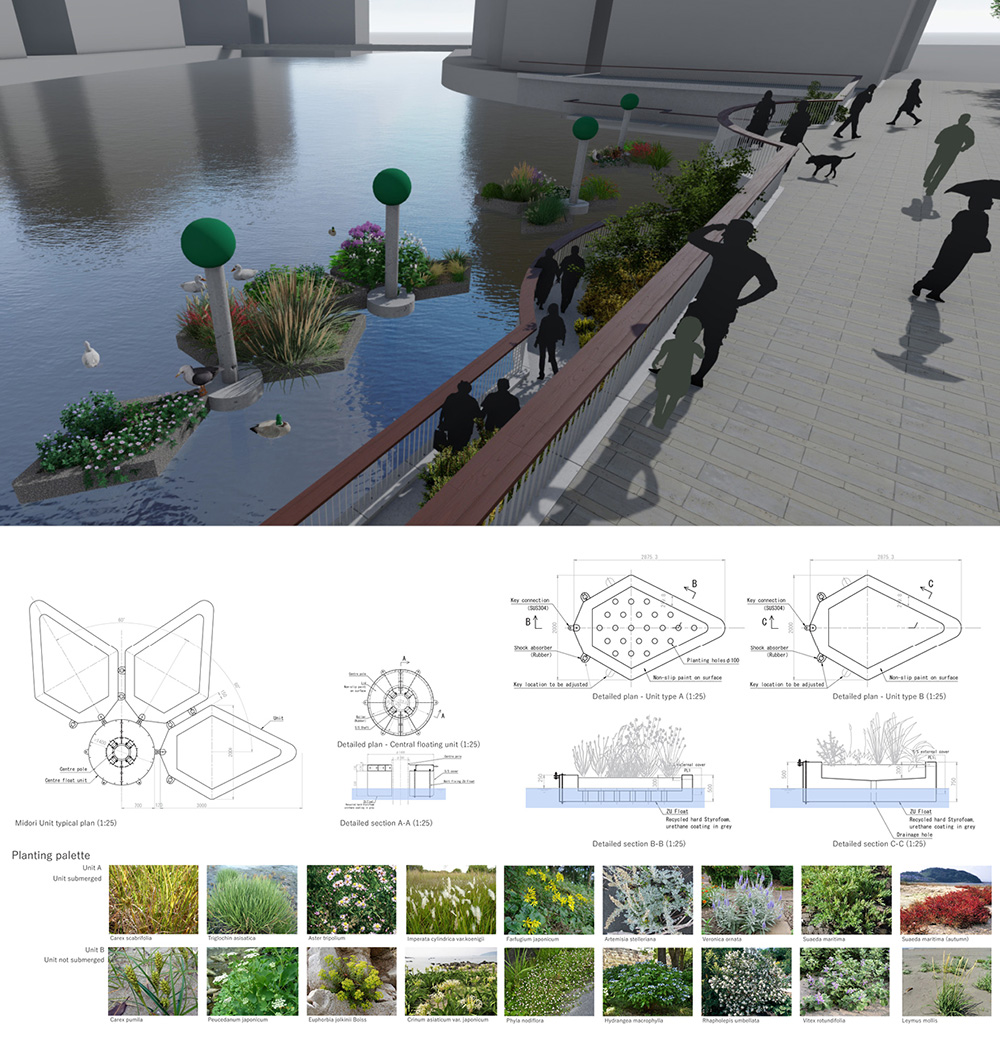 ---