Corporate Member Feature: Redland-scape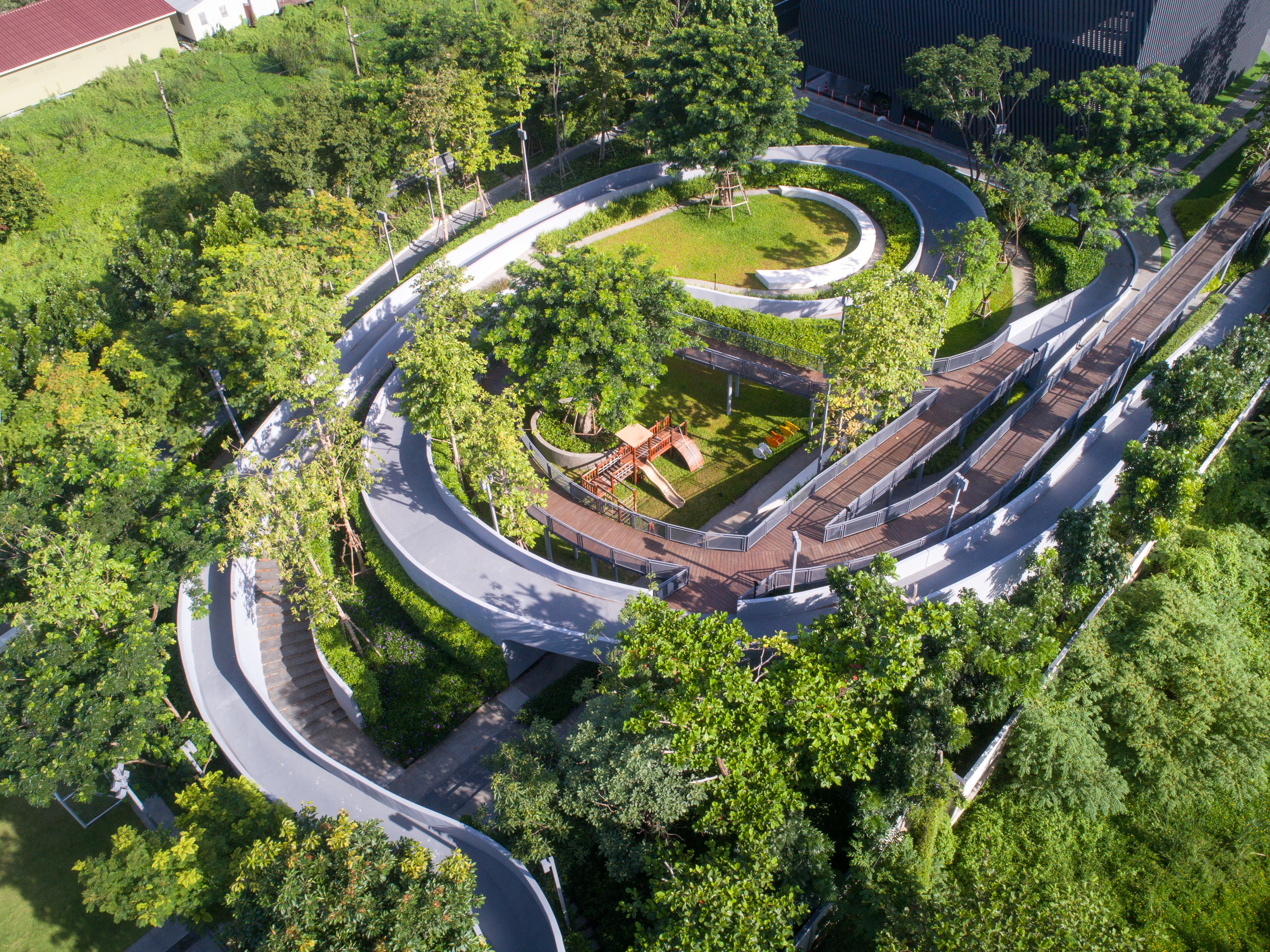 Who are we?
Redland-scape is a landscape architectural design firm based in Bangkok, Thailand. We focus on creating the uniqueness of environments that improve people's living quality and enhance the green ecosystem. We specialize in landscape and urban development, envision future possibilities, and create landscape value of the places. We work as a team of experienced landscape architects and young designers with a great design thinking process that generates fresh and innovative ideas. Our projects are delivered with meaningful and well-thought-out designs that turn our clients' visions into reality.
Why Redland-scape?
We believe that elements in nature tend to contrast, nonetheless, they still fit together harmonically. Red is a complementary color in contrast to the green in natural landscape however, in turn, highlights the prominent features in nature. Redland-scape not only represents uniqueness in landscape architecture but also blends the contrasts in nature with their corresponding aesthetics as well as the needs of people. The landscape intricately ties space and time together rendering a four-dimensional surrounding area. The built environment is constructed through thoughtful design while being deliberate to the dynamic nature of time and it also manages to generate an equilibrium of softscape and hardscape.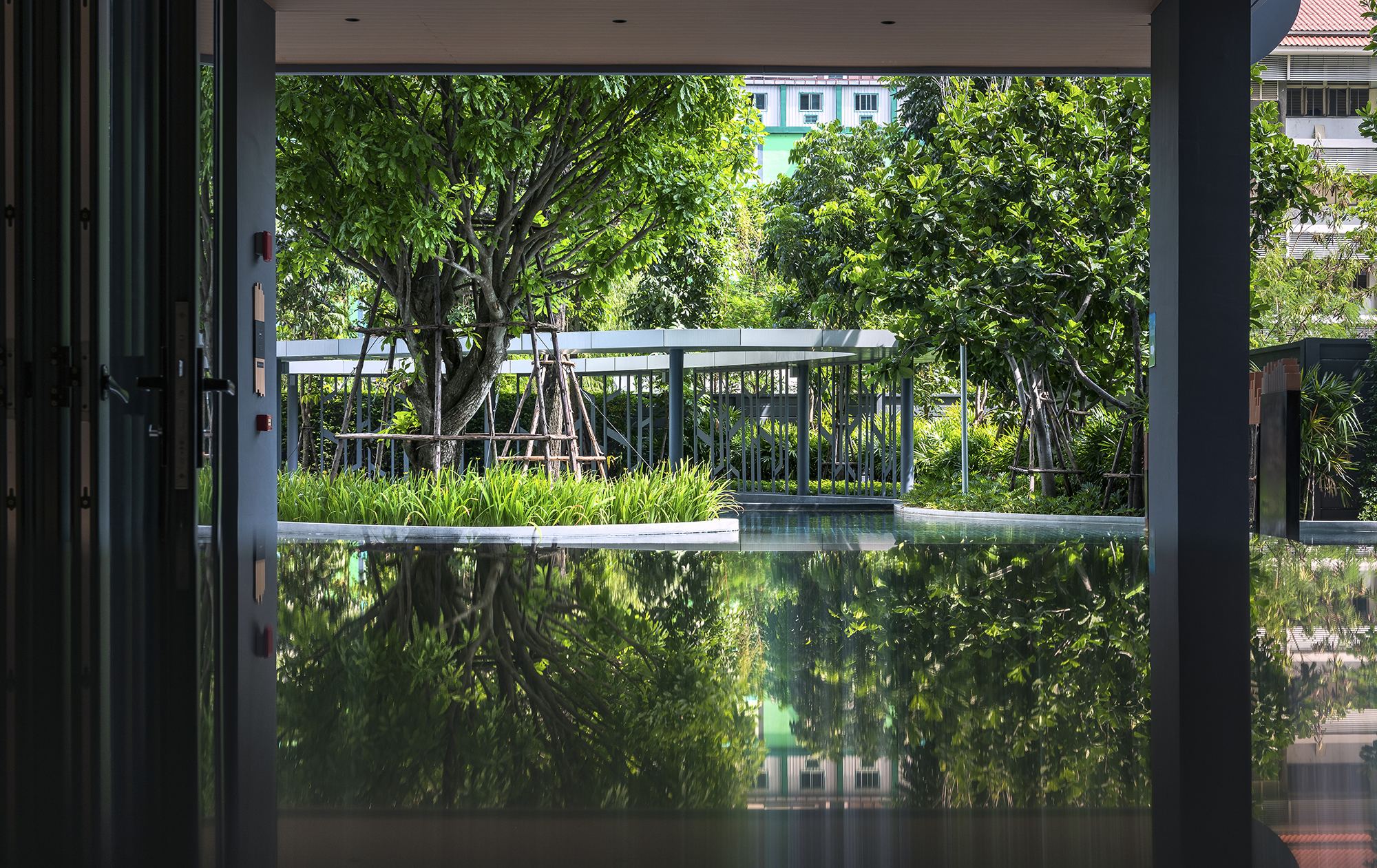 Our Story and Team
Established in 2003, the company was founded by Mr. Pasongjit Kaewdang and Ms. Nipaporn Vibulchak. After working in various countries overseas for more than 10 years, both founders have seen the growth of their landscape architecture role over time. In other countries the founders observed that Landscape architecture professionals played a more important value and gained society's recognition in shaping the cities and enhancing living quality, therefore, giving the founders insight on the trends of development of urbanization. Because of their enriched experience, they can identify the course of action landscape architects should take to enhance people's living quality and manage green spaces of Bangkok. With strong intentions, they founded the company to meet the needs of people and the city thus drawing attention to the essential role of landscape architects nowadays in Thailand. 
Founding Director, Pasongjit Kaewdang has more than 25 years of experience designing landscape architecture and urban planning projects in Thailand and overseas. His specialty involves creating master planning of redevelopment and design of landscape projects on various scales ranging from private residences to large urban planning scale. He is involved in projects from both the private and public sectors and has applied well-rounded experience and knowledge to overcome the challenges that occur during the design and construction process.
The Executive Director, With over 20 years of landscape architecture experience and excellent design and management skills, Nipaporn Vibulchak, has participated in various projects including commercial areas, residences, hotels, and public parks. Her expertise involves generating unique concepts for the projects and applying inventive techniques to enhance projects' essences.
As a team, our goals are to never stop learning, always seeking for new possibilities and authentic solutions for each project. We value opinions and perspectives from youthful designers and work together as a team to generate fresh and innovative ideas from the pre-planning stage, design process to implementation. We proudly deliver our services to clients with honesty and regularly ensure the client's satisfaction.

Our Keys to Success
Consider the Context
Our practice focuses on creating landscapes that respect their surrounding context. We value site context which includes physical site conditions, environmental, cultural, and economic aspects to create unique characteristics of each project.
Craft the spaces
When the project is initiated, we collaborate closely with architects, and allied professionals to generate the building footprint alongside the landscape master planning design in order to integrate indoor and outdoor space seamlessly. 
Maximize Landscape Value
We seek for the design solution possibilities to generate not only aesthetic and functional spaces, but also holistically add landscape layers to expand landscape value.
With well-rounded experience working in the landscape architectural field, we work on various project types and scales in Thailand and overseas. Our projects include residential, commercial, hospitality, and public realms. Recently one of our projects, IDEO O2, receives national recognition by winning the 2019 TALA Award of Excellent high-rise residential project from the Thai Association of landscape architects. Moreover, IDEO O2 has also won international awards namely as The winner in landscape design/private garden from DNA Paris Design Award 2020.
We would like to introduce some of our award-winning projects and for more information and the latest updates, please visit our website www.redland-scape.com or follow us on Pinterest and Instagram @redlandscape
Projects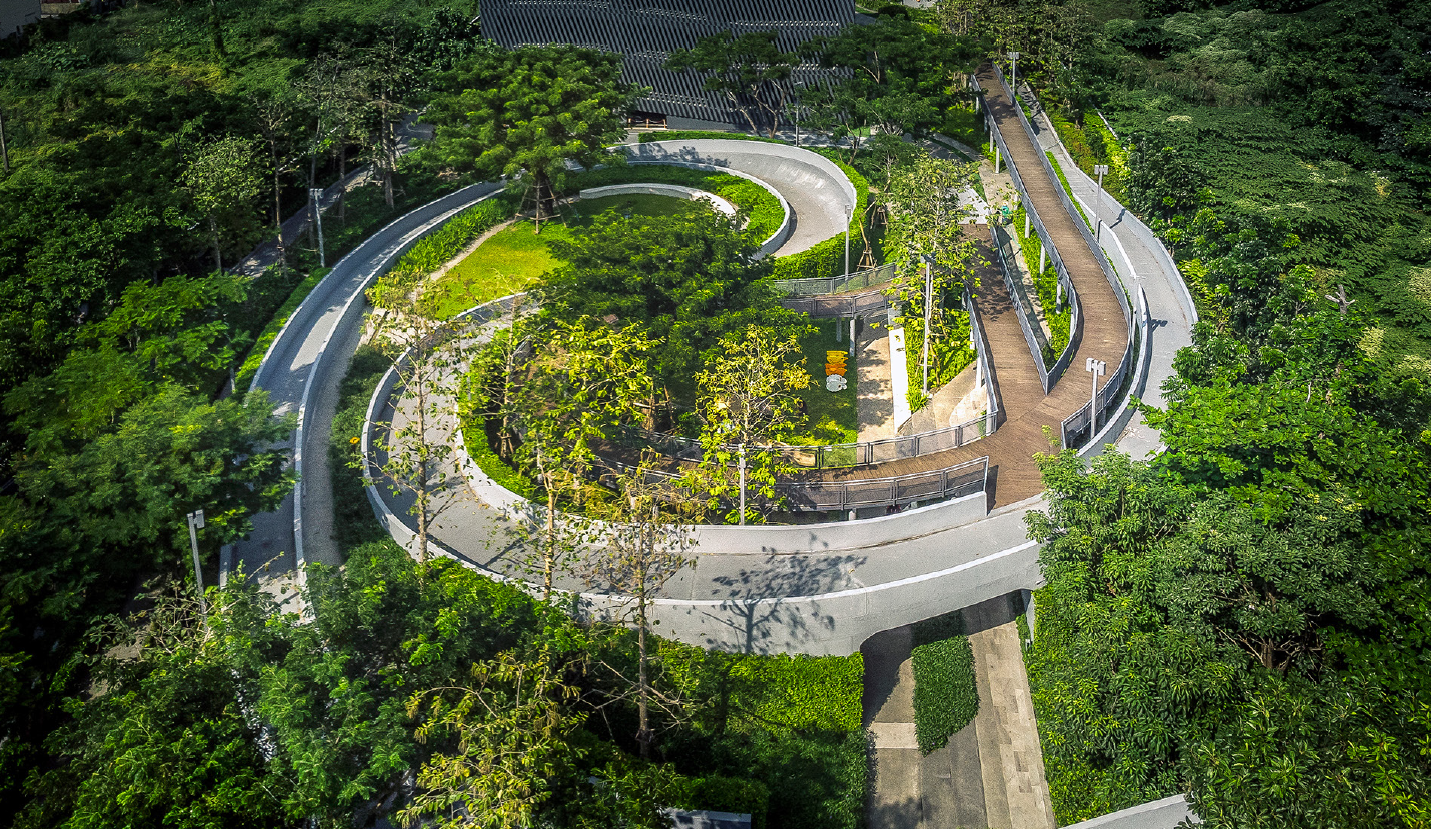 IDEO O2
IDEO O2 is a highrise residential project which carries out a concept that intricately connects the residents with nature by creating an urban forest enriched with biodiversity built around some spectacular activities right at their home. Located in Bangna, a district facing many problems like increased traffic, air pollution, urban heat, and insufficient green spaces. The IDEO O2, being centered around promoting Zero-Carbon Residents, is strategically close to the Sky train station, thereby making public transportation more attractive to the locals, thus alleviating some of Bangna's problems by reducing car usage and promoting greener living standards. With the aim of adding oxygen and cooling down the city, the concept of O2=oxygen was successfully implemented by adding outdoor gardens and recreational spaces. The design of IDEO O2 has a unique three-layered green corridor that offers activities underground, on the ground, and above ground. The activities like the elevated bike, jogging trail, and swimming pools are conveniently linked to serving their specific purposes in the designated outdoor space, giving residents a chance at a happier and healthier lifestyle.
Bangna is one of the fast-growing districts in the East of Bangkok.  It used to be Bangkok's outskirts, with factories and warehouses. In recent years, with the development of extending business district (EBD) Bangna has turned into the new destination for mega mixed-use, business, and residential projects, around the Bangkok metropolitan area. Since then, with rapid urban sprawl and influx of population, Bangna is infamous for traffic, inland flooding, urban heat, and air pollution. Alongside these problems, Bangna also faces the issue of lacking city green spaces due to the increase in land property values. The green area ratio in this district is only 2.4 m2/person, which is significantly less than WHO's standard of 9 m2/person. With the absence of green spaces and parks, there are insufficient outdoor spaces for public recreation.
To help mitigate the city's problem, IDEO O2 pays close attention to promoting Zero-Carbon residents by selecting the location in close proximity to the sky train that will encourage residents to use public transportation, reducing the use of cars and promoting green buildings. In this location, the design team faced a challenge of long, deep, irregular shapes of the property and fragmented building units for 1,600 families. With the collaboration of clients and architects, the landscape architect team proposed several options to minimize the buildings' footprint by stacking up the units vertically, saving existing trees, and expanding it into the ultimate green space for the residents.
The new master plan carries on the concept of O2 = Oxygen, which is to provide outdoor gardens and recreational spaces up to 60% of total area, adding oxygen and at the same time cooling down the heat of the city. To upgrade people's living quality, IDEO O2 launched the new vision of a healthier living lifestyle by offering the ultimate public green space for the residents' recreation and encouraging people to stay active and stay in shape with a wide range of outdoor activities right at their home. To solve the challenge of long and narrow property, the design team used water as a key landscape element, by interpreting the curve and dynamic form of water and integrated the design with plant materials, as a result tiding urban and natural context together. With the curve gesture, the design team creates a dynamic space that welcomes people to the site and will not let them feel the irregularity of the site's property.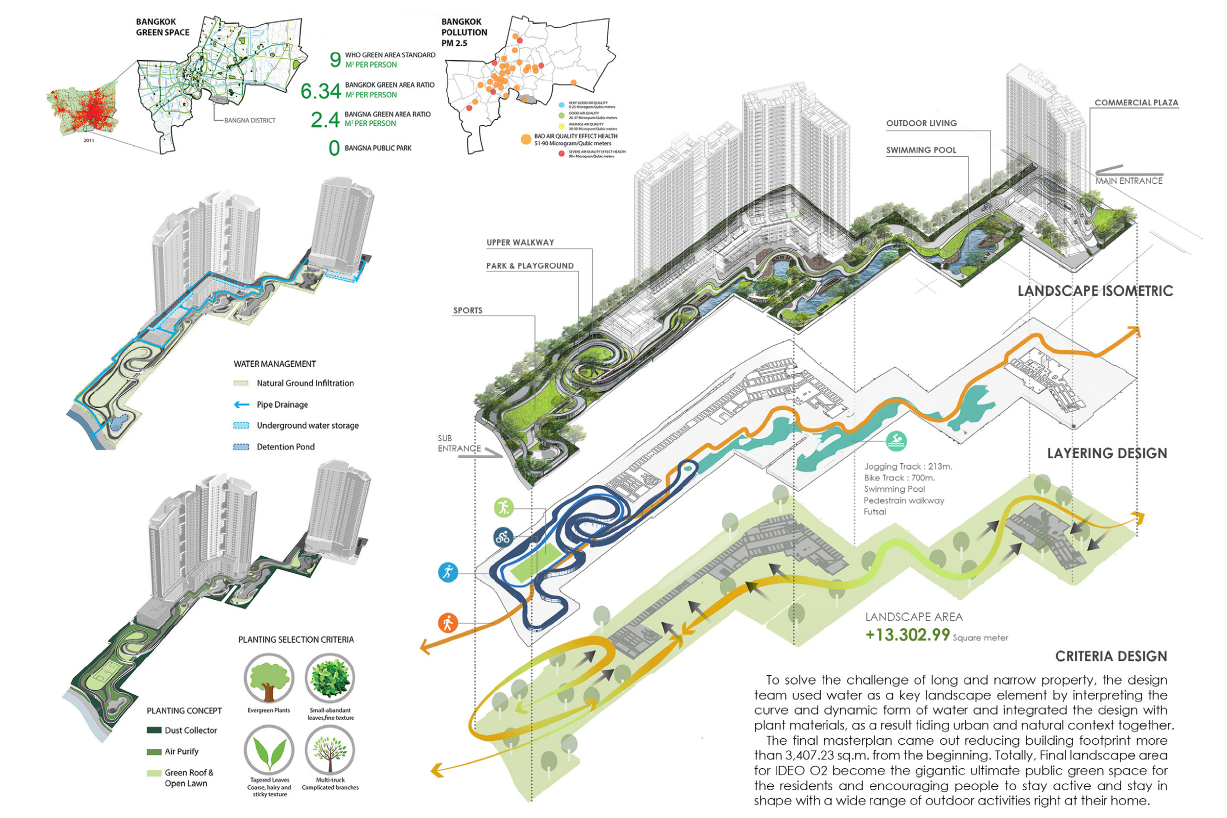 The central green corridor offers varying layers of programs: above ground, on the ground, and underground. All the activities are intertwined to maximize the utilization of outdoor space. Above ground, activities feature an elevated bike and jogging trail. The project offers 0.5 miles of a certified Standard Extreme Bike Track that got approved to ensure safety. The design team concerned about the traffic control, they set up a schedule to do the activities in order to optimize the usage of the amenities for the users' satisfaction. To further reduce traffic conflict, bikes are allowed to use the track from 1-7 pm on alternating days.  Apart from that, the track that has a distance of 1 mile/loop is open for jogging and walking. The ground space provides various activities for individuals and families, including an Outdoor natural Playpark, Futsal field, outdoor fitness center, picnic lawn, skateboard park, and several sitting areas. Underground activities are centered around swimming. There are three unique swimming pools with different atmospheres that are suitable for all ages and lifestyles and these are Ozone Creek: open-shallow family pool, Oxy Cascade: sensory relaxation pool with a waterfall and Aerial Lagoon: resort-style welcome pool. Along the edge of the swimming pools, the design follows the dynamic flow of the water gesture which then turns into seamless unique green pavilions that rise from the ground to the roof of the sitting area. The pools allow the residents to feel like swimming in the midst of nature surrounded by lush green foliage. Moreover, there are pool decks with daybeds and semi-outdoor living rooms underneath the building to provide more spaces for outdoor relaxation.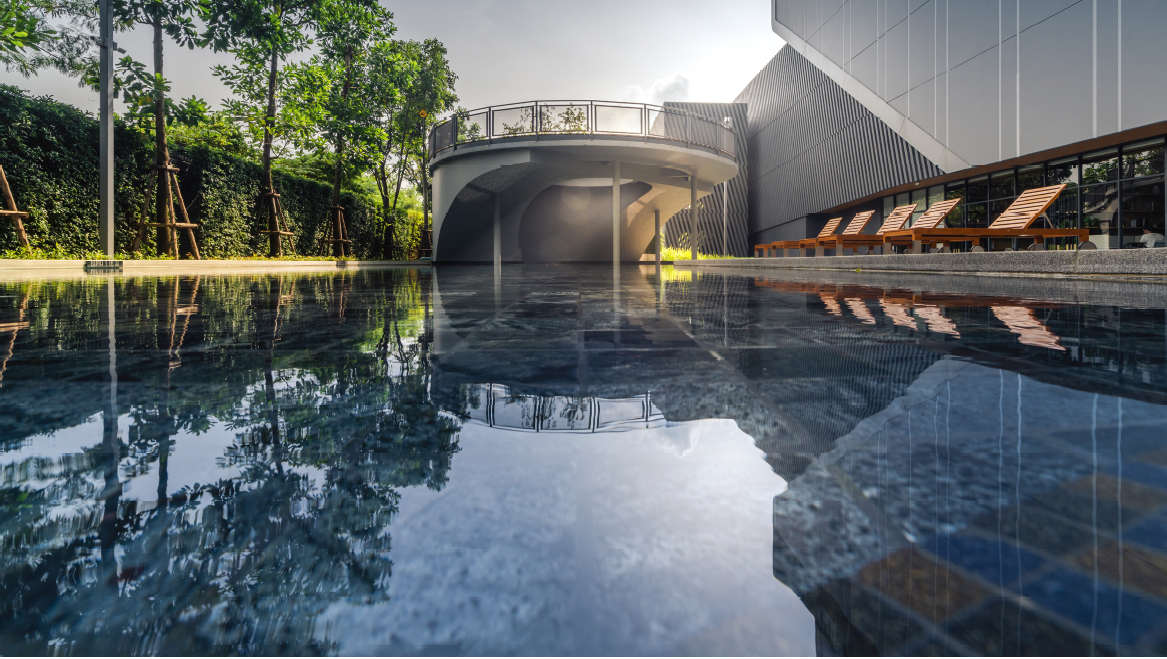 Apart from the ultimate public green spaces, IDEO O2 street's front offers an open plaza for the locals to facilitate the use of public transportation. The new plaza provides space for people to relax and feel safe on the sidewalk. The design team renovated and extended the sidewalk integrating it with the plaza's design, providing water fountains, sitting areas, restaurants, and convenience stores. Moreover, At the canal front, the design team worked closely with the local community to propose a new covered walkway and renovated the edge of the canal. This turned to be a shortcut to connect the residents and local people to Bangna Skytrain station within a 10-minutes' walk and facilitates an 18 minutes commute to Bangkok downtown area.
IDEO O2 is a distinct innovative residential project that provides various pleasant facilities. Giving its residents a satisfying outdoor experience right at their doorstep, as they gaze at beautiful nature and take in the fresh air.
BURASIRI | SAMUT PRAKAN
For centuries, waterways have nourished Thai people with freshwater and fertile landscapes, providing abundant resources of living. Canal or Klong innervates the city and contributed significantly to the cityscape and the inhabitant lifestyle. 
Burasiri project is a housing estate located on the riverbank of Klong Samrong, Bang-bo, Samut Prakan. Taking a step away from the chaos to this hidden sanctuary requires only a 40-minutes drive from the heart of Bangkok. The design mobilized the Thai cultural riverside lifestyle blended with modernity. It features contemporary Thai architecture and landscape, allowing the rediscovery of traditions while being Juxtaposed to the historical canal.
An Indulgent riverside-living is rendered along with an exclusive blue retreat and slow life mood and tone. Landscape planning concentrated on using river rhyme as its main concept of design. Curves of natural water flow created walkways and open spaces. In addition, Thai loft and crafted was inspired by outdoor materials and detailed technique, such as traditional fishing tools, celapot or rattan pattern, that appear from the entrance gate to the riverside park. Furthermore, the park provides various activities to appreciate the calm of nature while being submerged in an enchanting environment of natural native plants.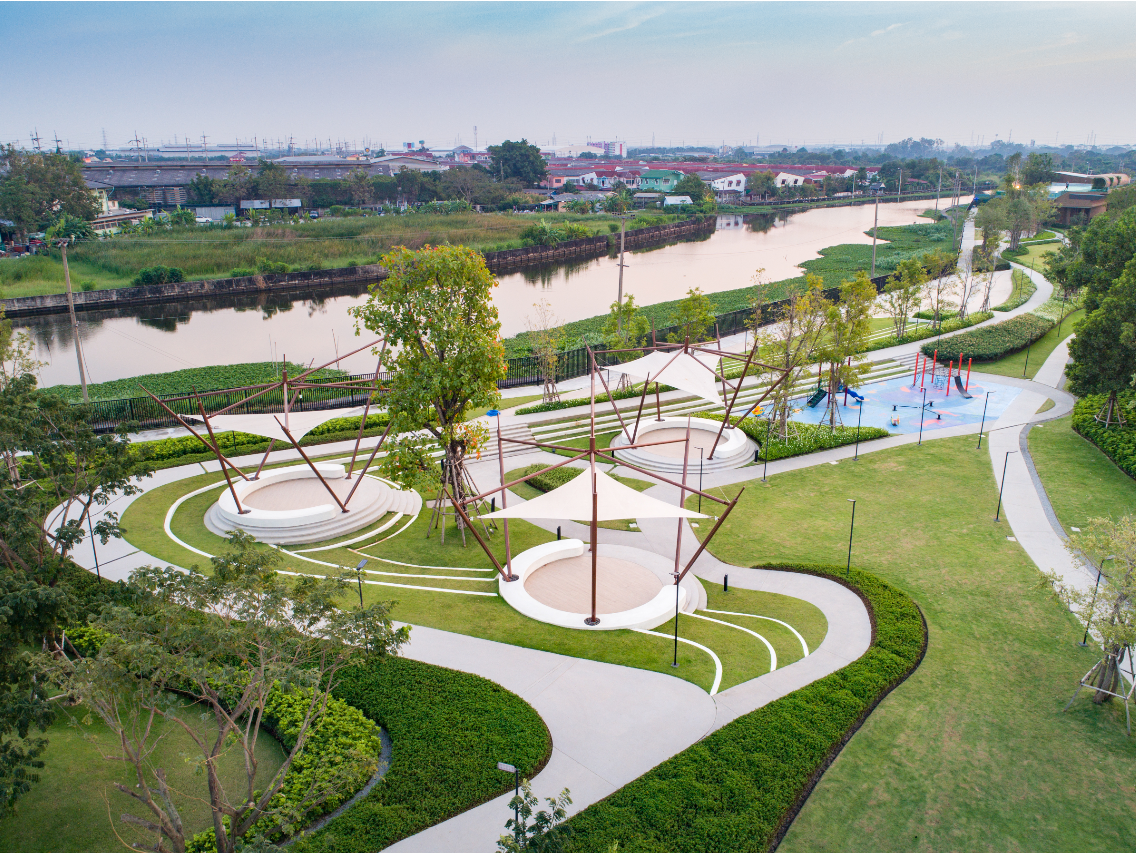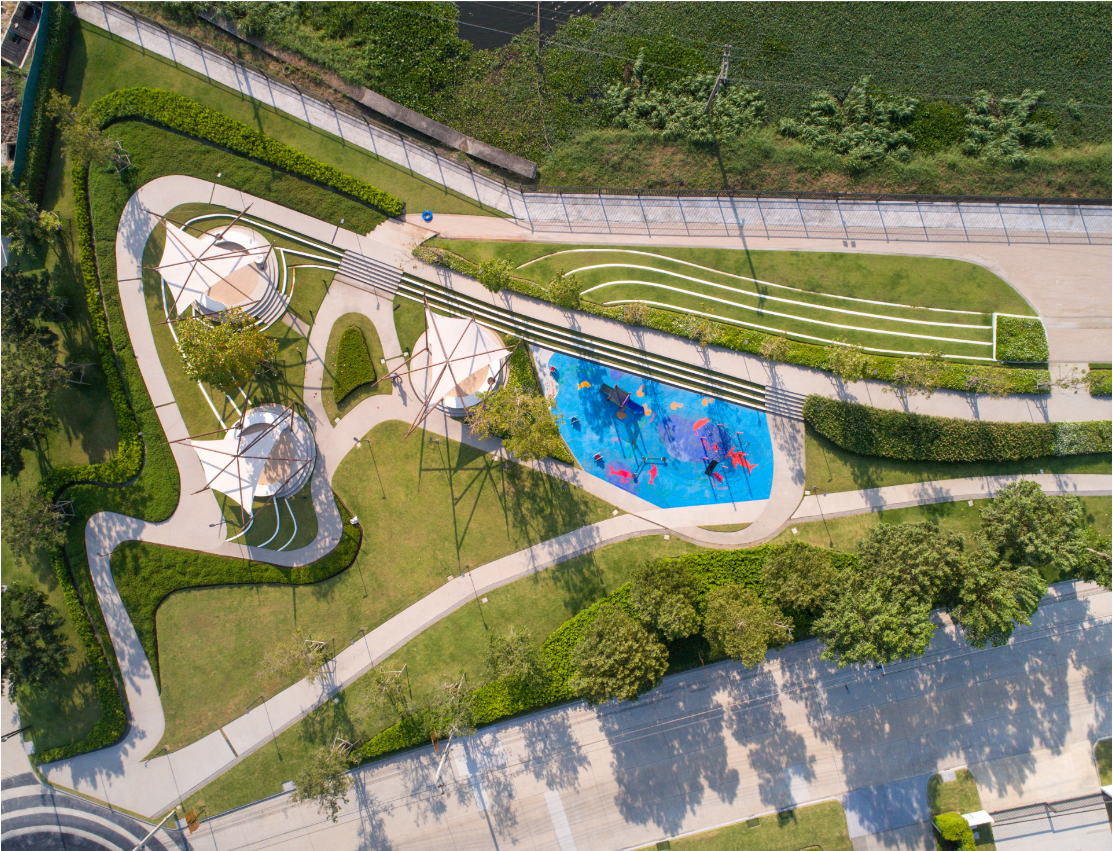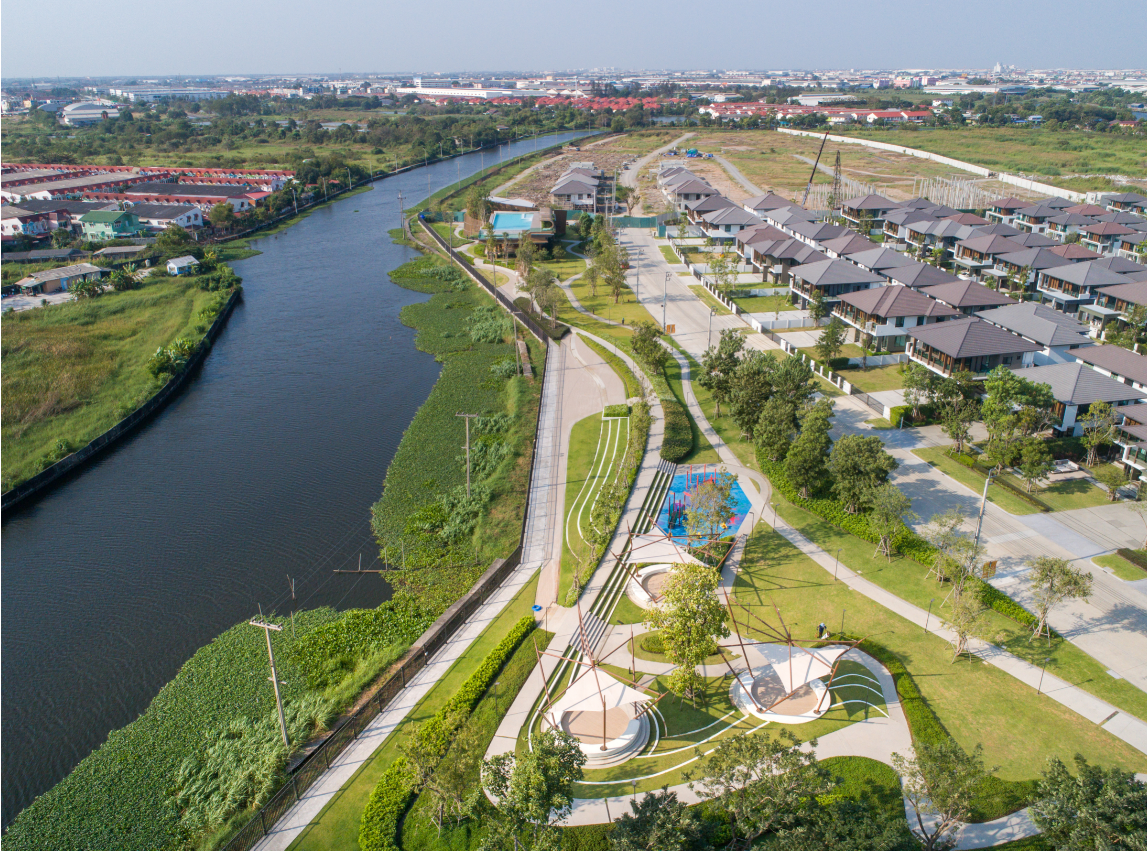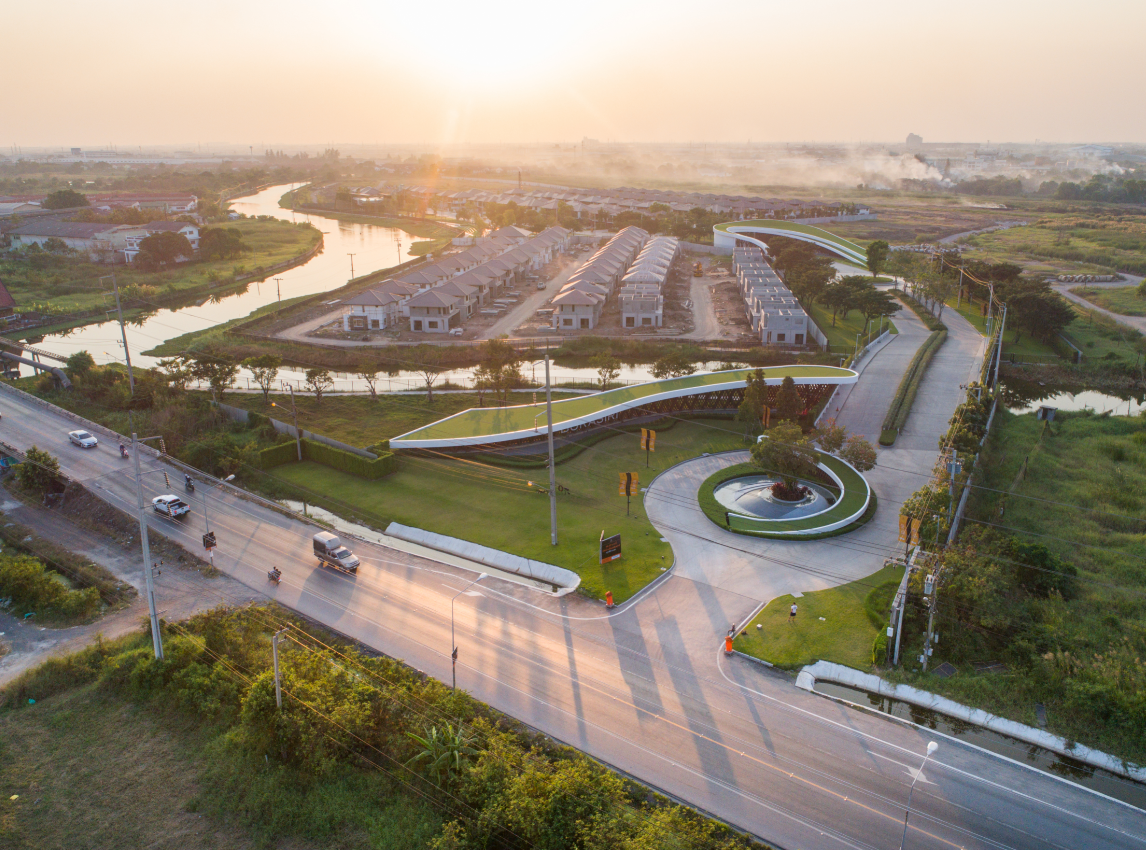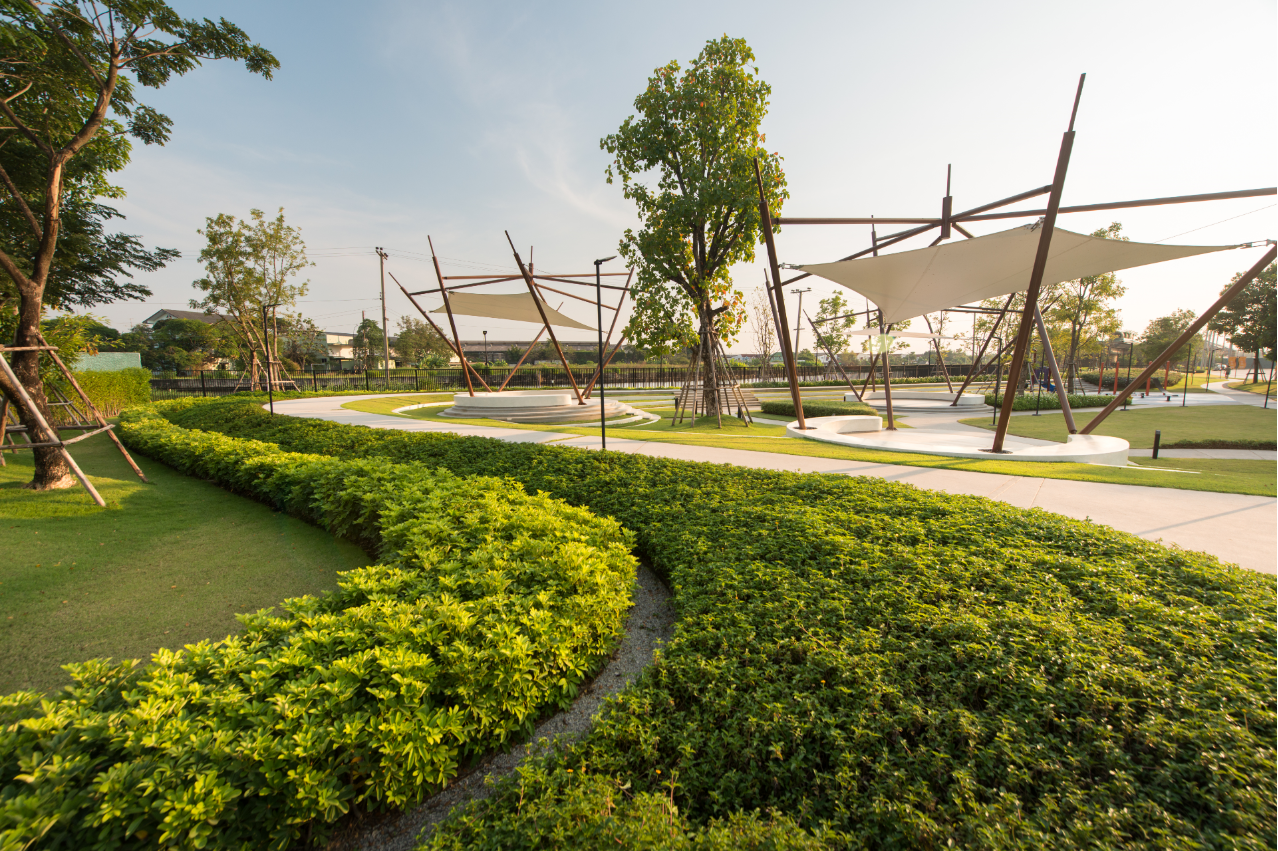 LIFE SIERRA
A terrarium is a word to describe "Life Sierra Sathorn", A biomimicry of green space where you can experience collections of ecological enclosures inspired by famous places around the world. It is Nature-inspired and Life enabling with six naturals world unseen places such as La Sierra, Paiva walkways, Valle versazca, To sua ocean trench, The café by Aman, and Pamukale inspired an ultimate green space for this residential project in the heart of CBD Sathorn, Bangkok. The beauty of this natural gift is that it creates a magnificent space that gathers in one place that imitated unseen natural places all around the world. These paradises appear in both shape and form of the landscape design, right here at Life Sierra Sathorn.
After considering site conditions and co-operating with design teams, Landscape concept begins with the ground floor, Sierra x Park, the main concept was inspired by La sierra in Spain into the landscape area. Basketball, Futsal, Jogging trail, Playground, and outdoor living were setting out for all ages users to spend their adventurous outdoor activities among the ultimate green space on the ground floor.
Paiva walkway provides a forest skywalk outside the building that is linked directly from ground floor to amenities on the 4th-5th floor, passing through the diversified jungle surrounded by unique beautiful landscape, in an authentic natural atmosphere. On the 5th floor, Valle versazca is inspired 100m length serene pool which gives the feeling of swimming in the natural valley in Switzerland. Moreover, To sua ocean trench inspired-pool on the right-wing offers residents a passive relaxing pool.
Sierra Crest, on the 40th-floor rooftop sky lounge, is inspired by Pamukkale white terrace with the best panoramic view of Sathorn, Bangkok. Furthermore, A Sky forest is surrounded by various types of trees, Natural flower field on the roof was applied to the outside interior lounge to resemble the appearance of Aman's café. Residents can enjoy and spend their time on the roof like their own. Life Sierra Sathorn provides various activities that allow one to appreciate the gorgeous nature in every step.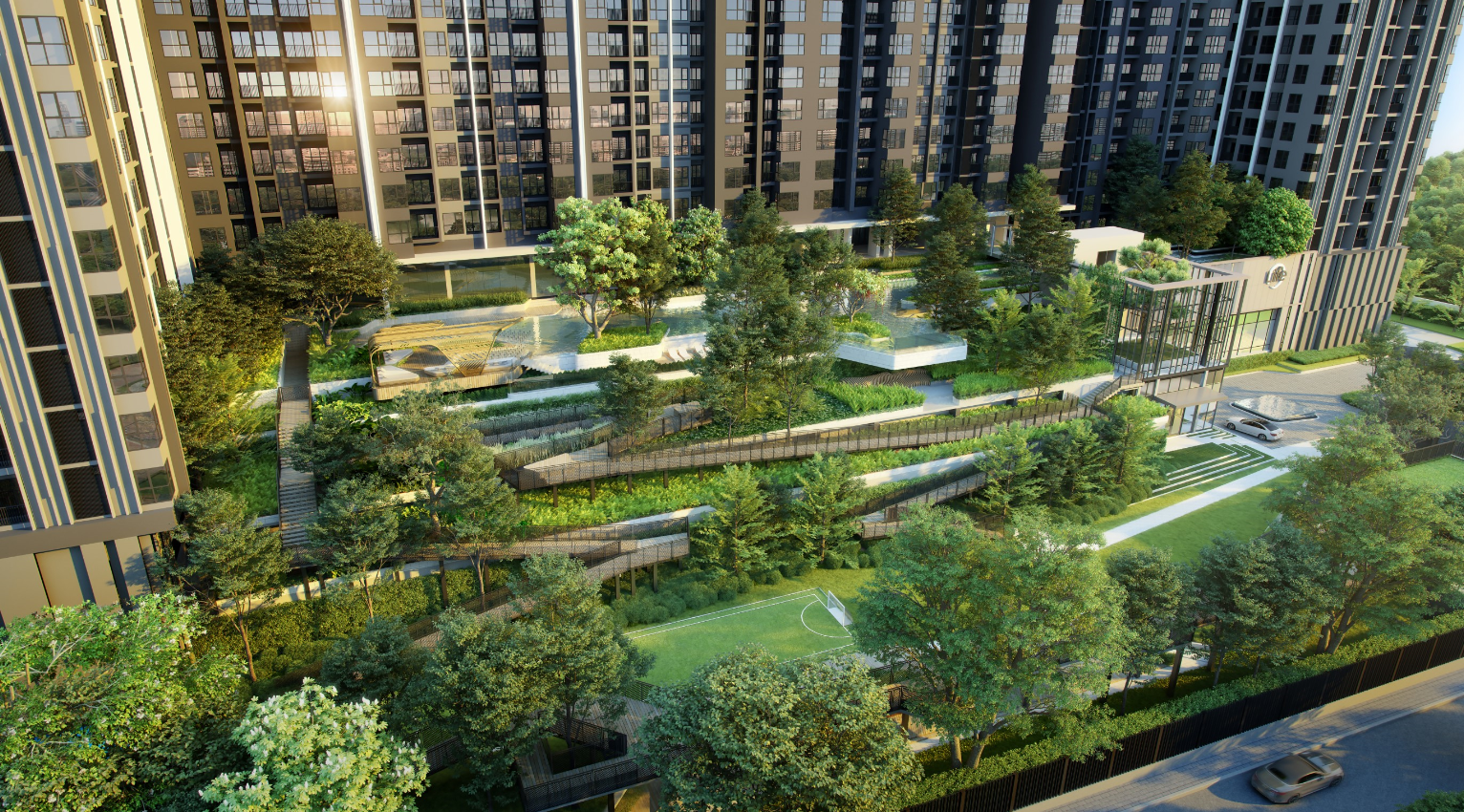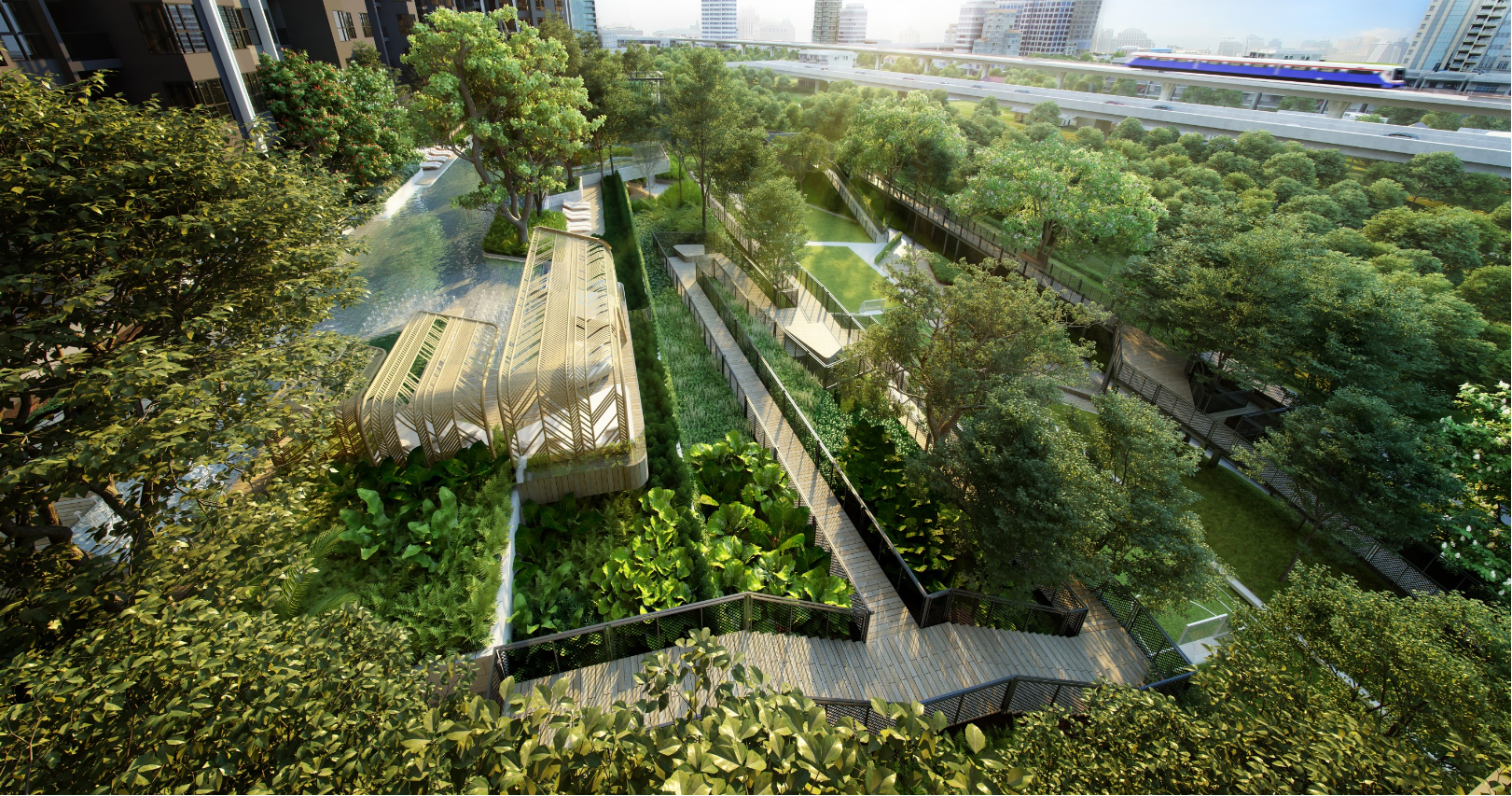 CENTRAL VILLAGE
Central Village, Bangkok luxury outlet, is Thailand's first international outlet shopping village offering extraordinary everyday shopping of the world's leading brands. Located next to Suvarnabhumi International Airport, Central Village is easily accessed by car and public transport. Marvel at modern Thai architecture with its elegant gable roofs and intricate façade designs. Landscape concept design is inspired by traditional Siam riverside living. Chaopraya river is the main river and living heart of Siam (Rattanakosin Island). Central village is divided by zoning into 4 village clusters. 
Furthermore, this site location is in a flood area which usually proved difficult to control when flooding. Our design team delicately solved this problem by elevating structures over the flood area. To deal with flood and salt intrusion issues, Plant materials have carefully selected the species that tolerate to water and saline conditions and adapt well to the existing site conditions. The traditional and uniqueness of Thailand's pure materials including Beautiful patterns, man crafting and water living, the diamond-shape, folding door, water market, waterfront house, potted, woodwork, metal craft all make up the iconic sense of this place to this project.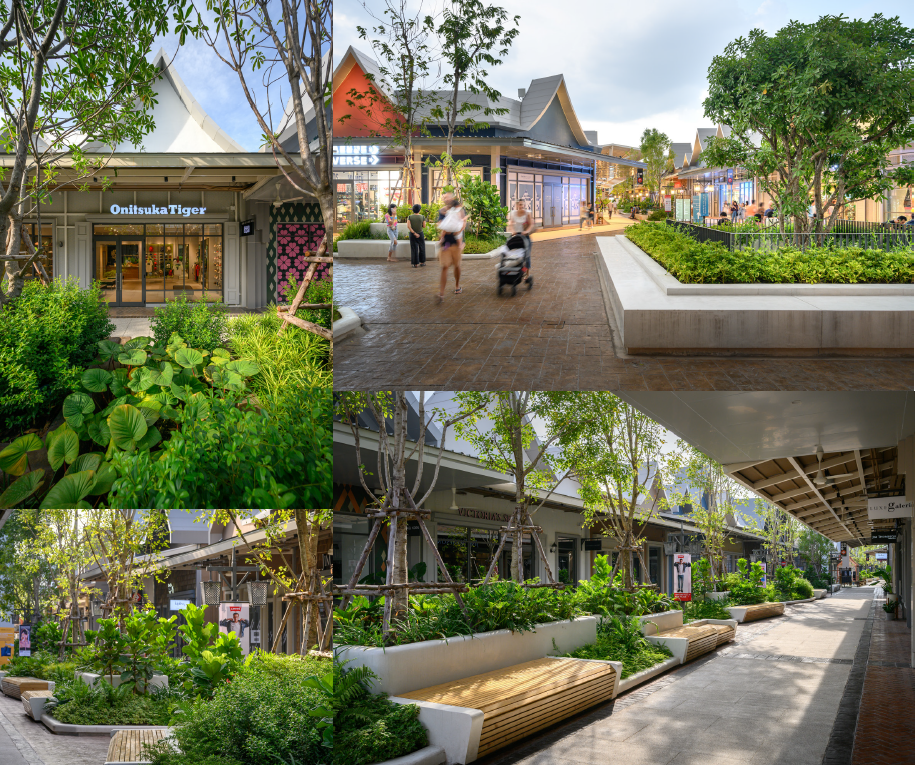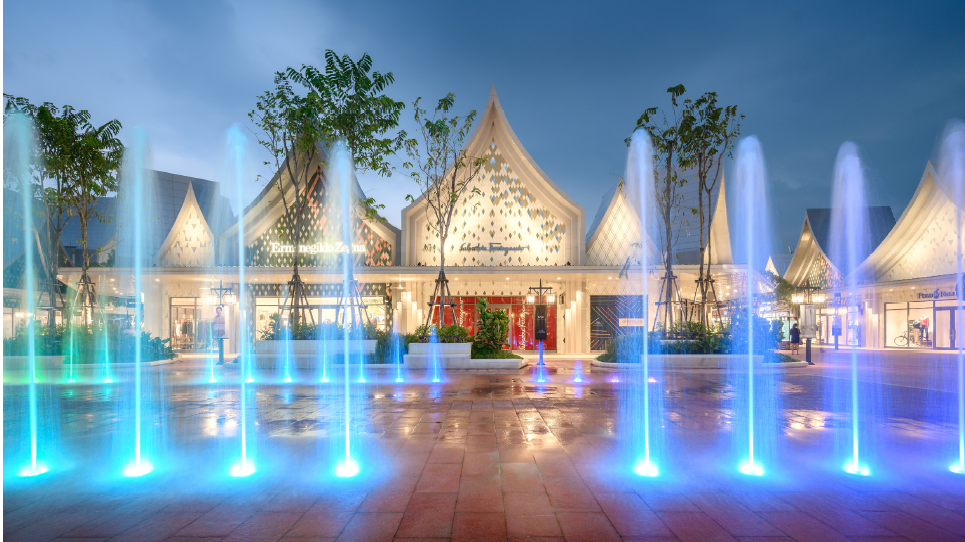 IDEO MOBI SUKHUMVIT 40
IDEO MOBI Sukhumvit 40 is a highrise premium residential with different contexts and designs, located in the center of Bangkok amidst urban pollution and the absence of green spaces challenges.
The design team carries out a concept that intricately connects the residents with nature by creating an urban oasis enriched with biodiversity built around spectacular activities right at their home. The design team concerned about reducing the building footprint increased green space by stacking up the units vertically and expanding into the ultimate green space with a greenery courtyard. This Modern Landscape characteristics clearly represents the concept of green fragmentation.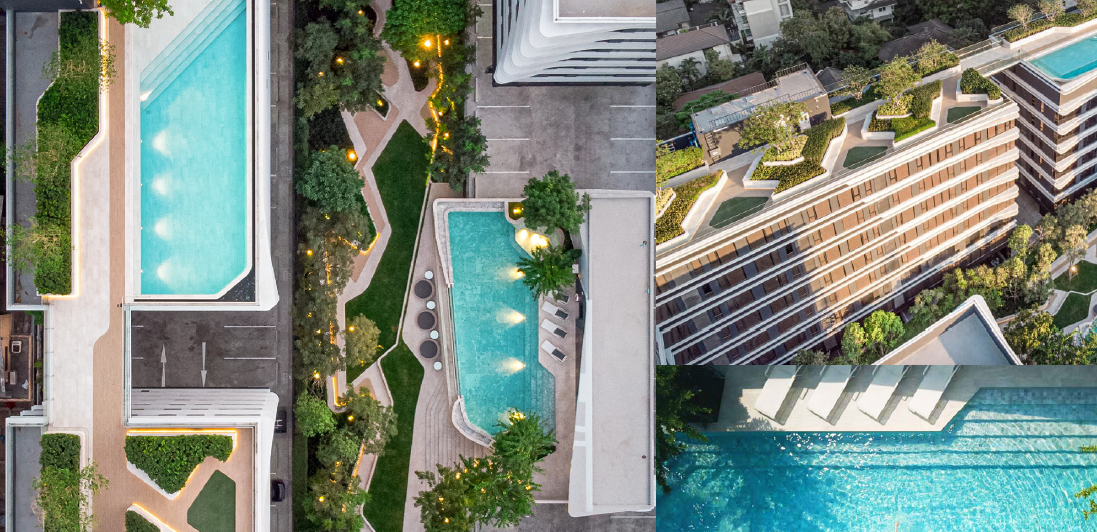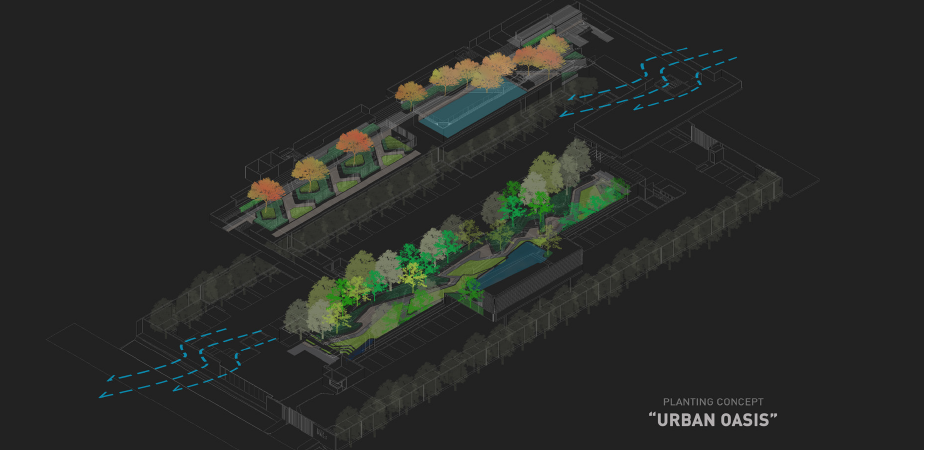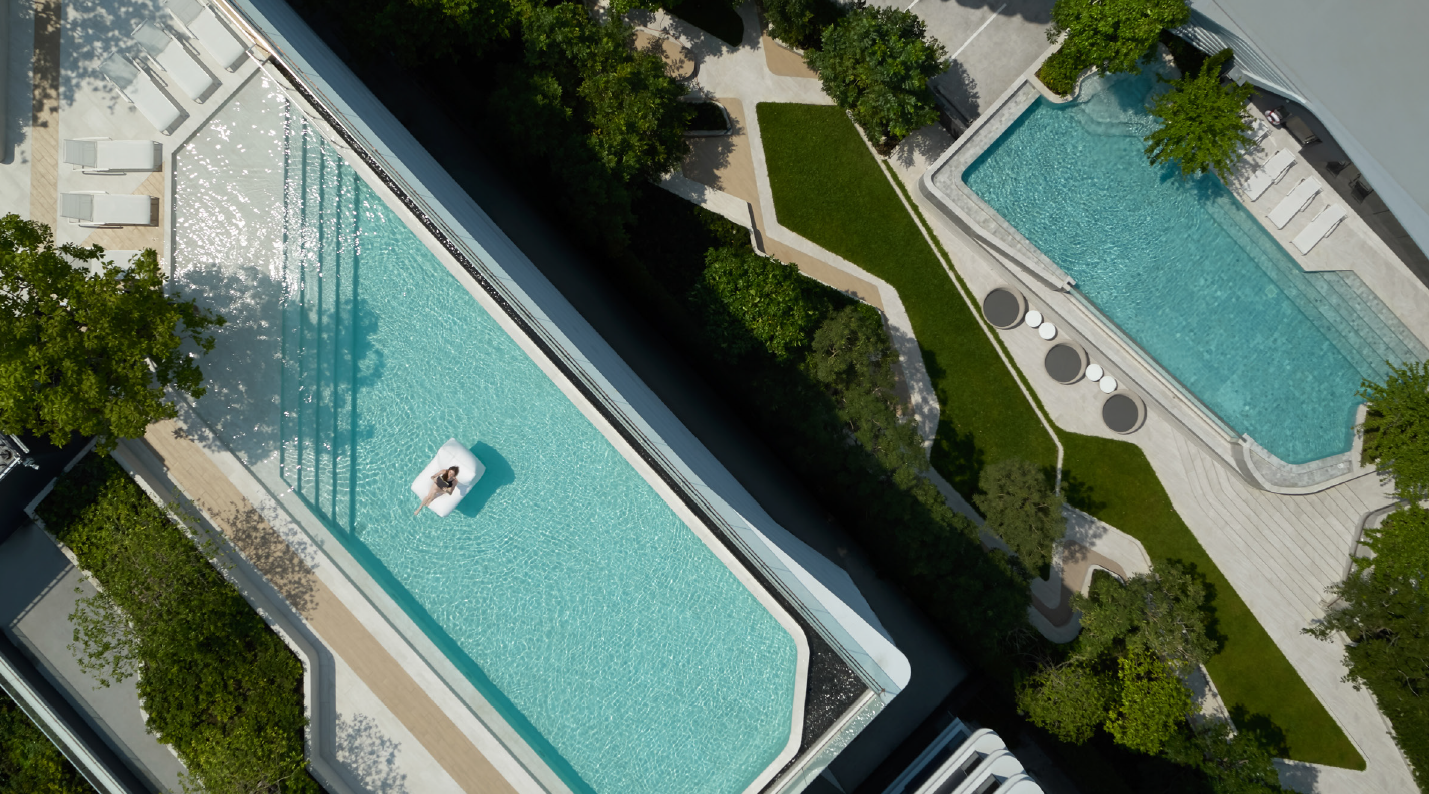 The Softscape design concept is an urban forest with species diversification which achieves an Urban forest Characteristic. The planting was also meticulously selected in order to serve as a first-line defense in filtering dust and purifying the air. This project
provides the great quality living spaces among natural, peaceful and enhance quality
of life in a sustainable way.
The Softscape design concept is an urban forest with species diversification which achieves an Urban forest Characteristic. The planting was also meticulously selected in order to serve as a first-line defense in filtering dust and purifying the air. This project provides great quality living spaces among natural, peaceful, and enhance the quality of life in a sustainable way.
For latest updates on projects, please visit our website www.redland-scape.com or follow us on Instagram @redlandscape
---