Corporate Member Showcase: Vietnam Landscape Architecture JSC (Eden Landscape)
Our Company
Eden Landscape was founded in 2005 by Arch. Le Tuan Long and we are one of the very first firms in Vietnam to practise landscape architecture. Our mission is creating beautiful, sustainable landscapes and increasing the value of projects based on unique design ideas. Our achievement in landscape architecture has been confirmed by our successful projects in more than 40 cities and provinces in Vietnam.
Our experience has built up from our constant effort in self studying, practising from tiny gardens to projects in scale of hectares, exploring hundreds of sites from remote areas to developed cities. We consider landscape design a philosophy, an endless expedition of space limits, a revolution of changing and exploring the deep beauty inside nature. With regards to each project, we always propose the most suitable strategy through professional approaches, unique ideas and synchronised solutions which contribute to impressive outcomes of projects. The adaptability to differences in architectural styles, land terrains, climates, soil types and the diversity of cultures and characteristics of clients is the background for the development of our service.
Every member of Eden Landscape is always dedicated to ensure the quality and feasibility of all projects based on our basic values in design: E (ecological) – D (different) – E (emotional) – N (native). We altogether create beautiful landscapes with updated innovative technology while preserving and developing native values. Therefore, we desire to tell our different stories about every project.
Our Projects
Our projects vary among residential, hospitality, commercial, public, low-rise and high-rise. No matter the kind of project, it always has its own different story and different characteristics. We would like to introduce some of our projects as follows and for more information and latest updates, please visit our website here.
Xanh Villas
Site area: 50 ha
Location: Hanoi, Vietnam
Year: 2010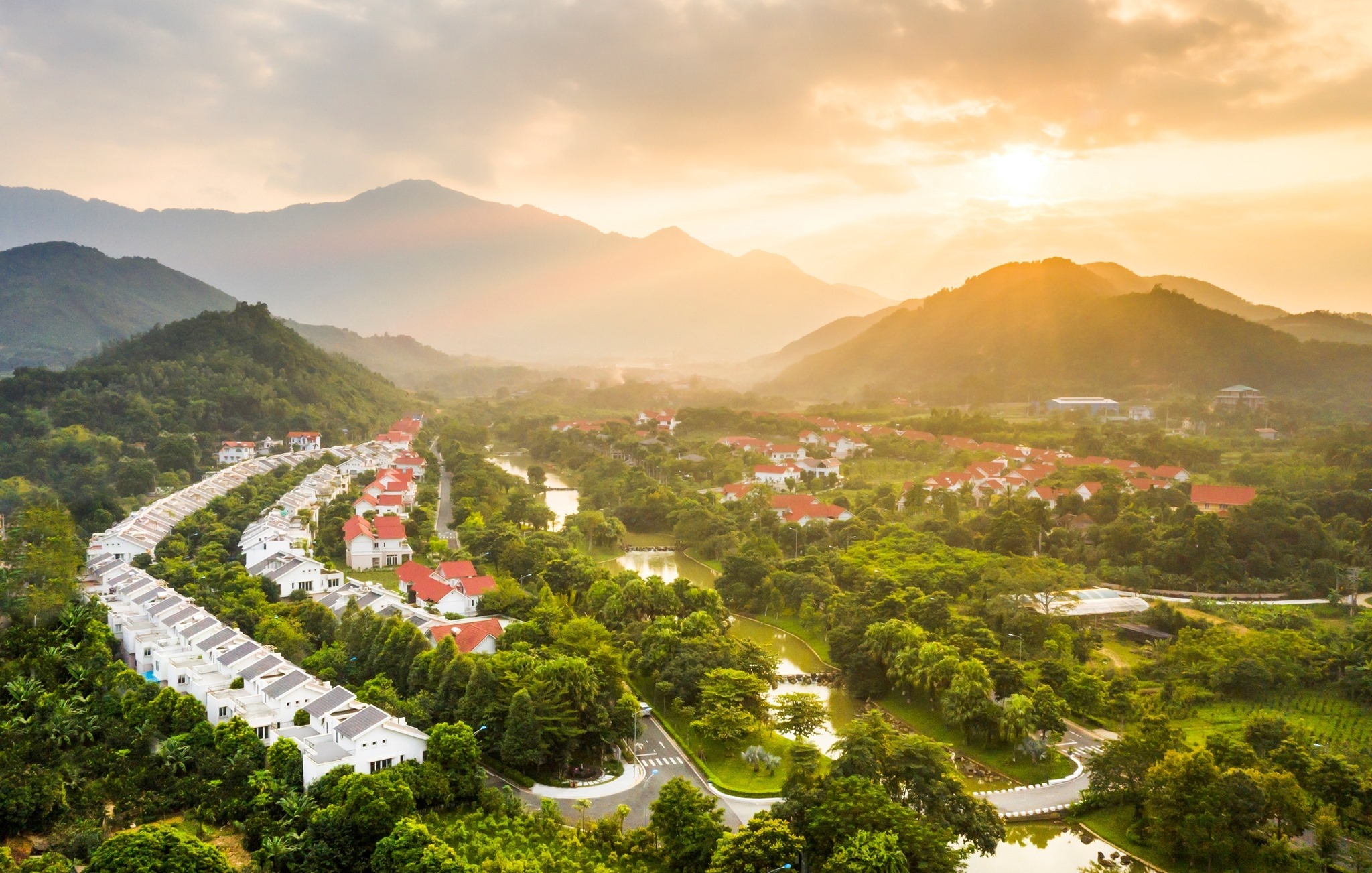 Xanh Villas is a significant eco-project in the outskirts of Hanoi. Nearly 15 years ago when Vietnam's real estate market was underdeveloped with only land – division for sale schemes, and landscape design was not as popular as today, the project marked a bold and new way of thinking for landscape design in the market. The most outstanding landscape feature of the project is a large stream with green landscape on side embankments accounting for 20% of site area. The cascade stream is expanded from a small natural water flowing from a nearby mountain with a system of 7 connecting dams and lakes. In the project, we aimed to make the landscape close to nature by utilising stones, pebbles mined at the site or in the vicinity, preserving used-to-be indigenous vegetation like cọ gai (Livistona laribus Merr.ex Champ). Design ideas together with native materials and vegetation contributed to create traditional mountains and midland landscape for a modern project. With regard to the society, we proposed that local farmers be trained to become caretakers, chef assistants or security staff. This is a way to transfer the working force from agriculture to the service sector, which is suitable for the development of the country.
To view more about the project, please click here.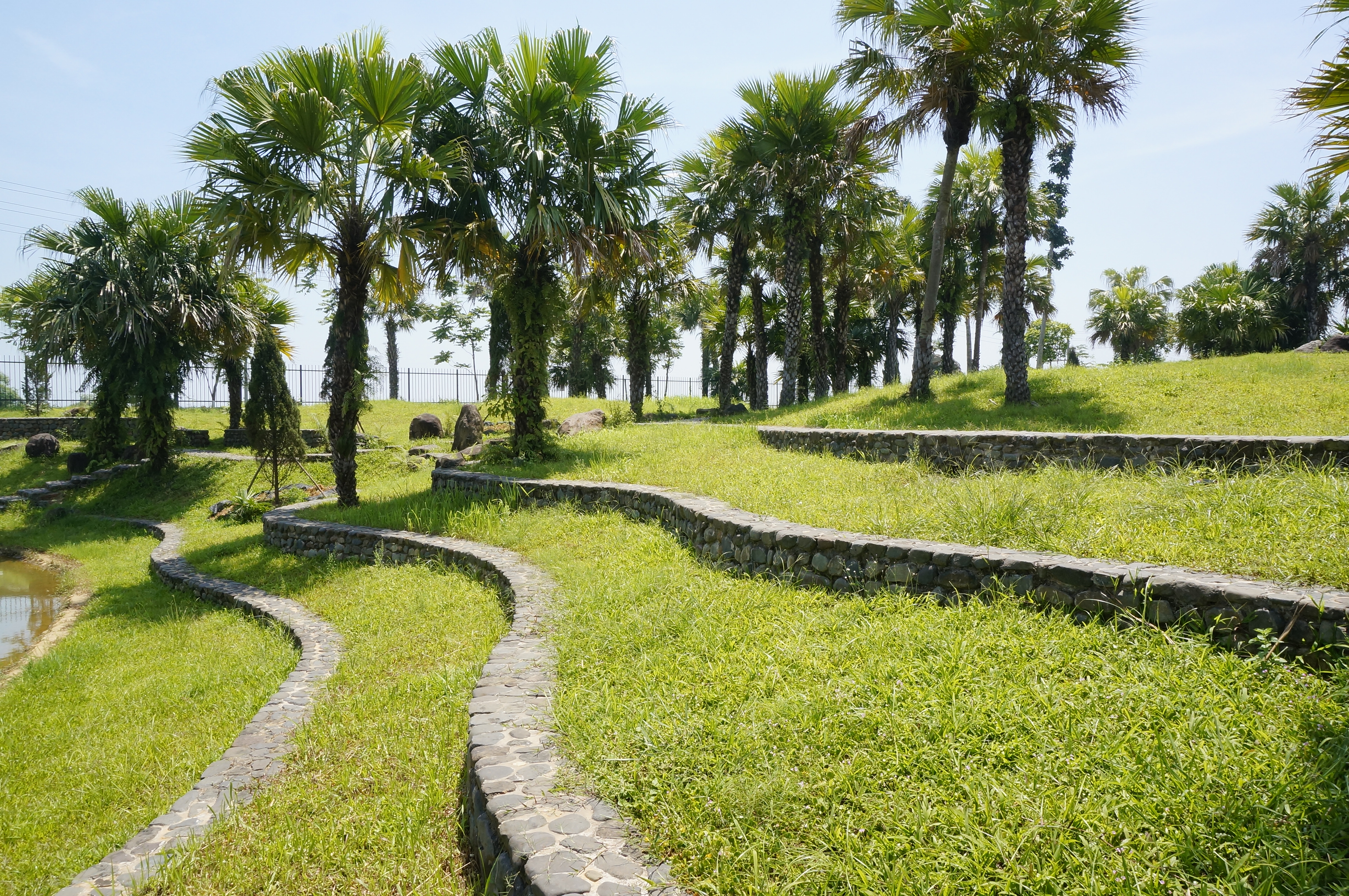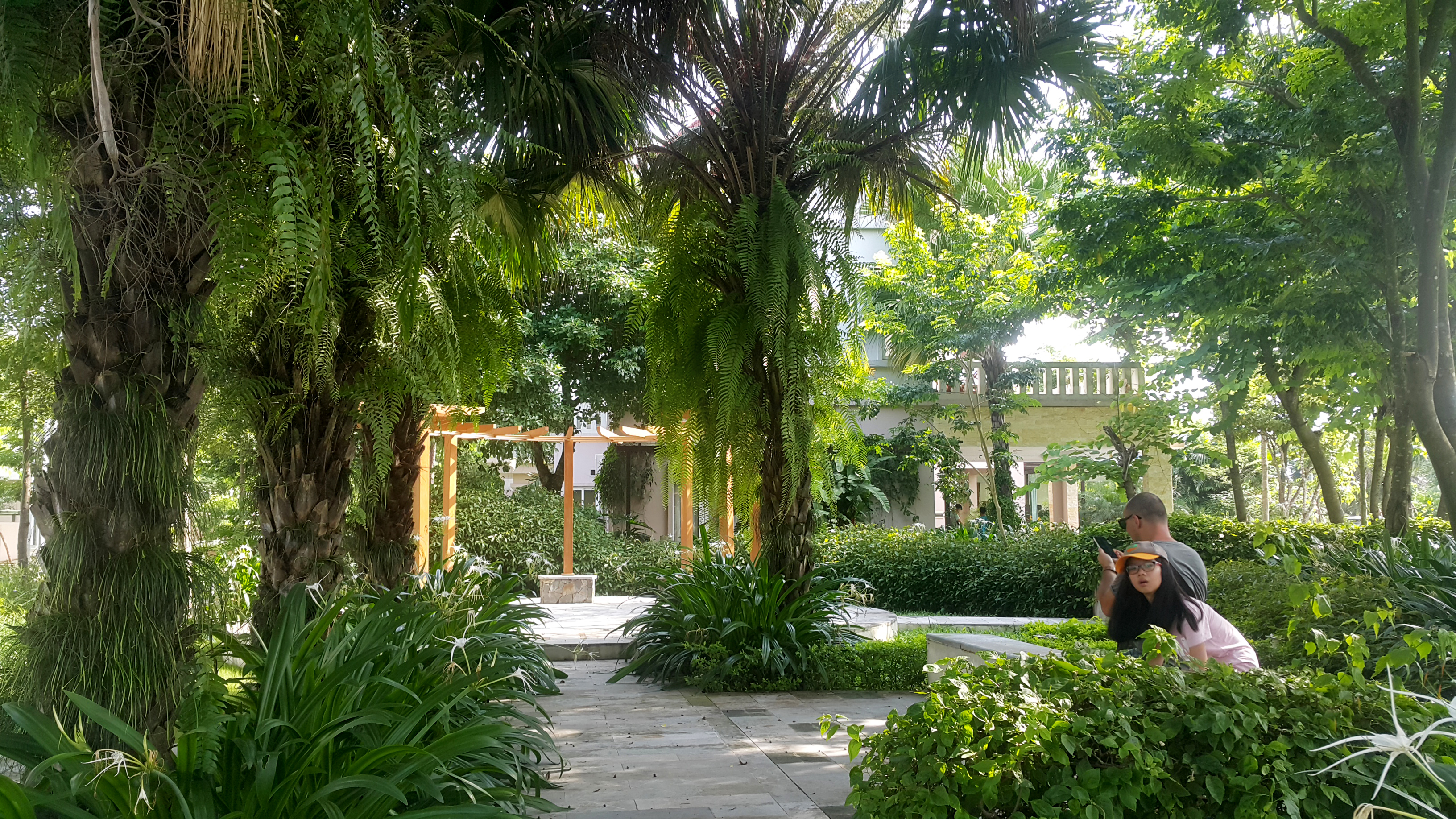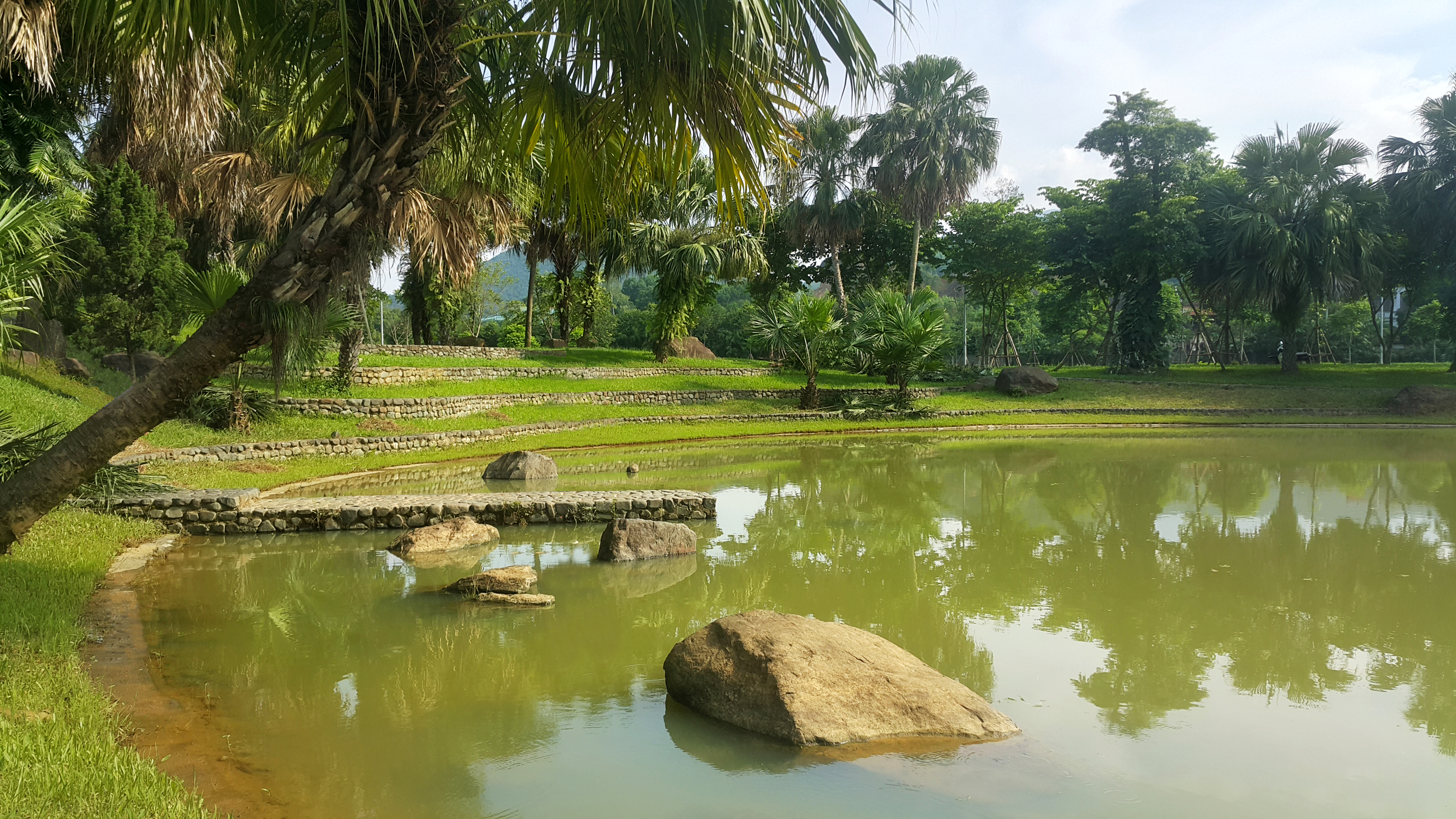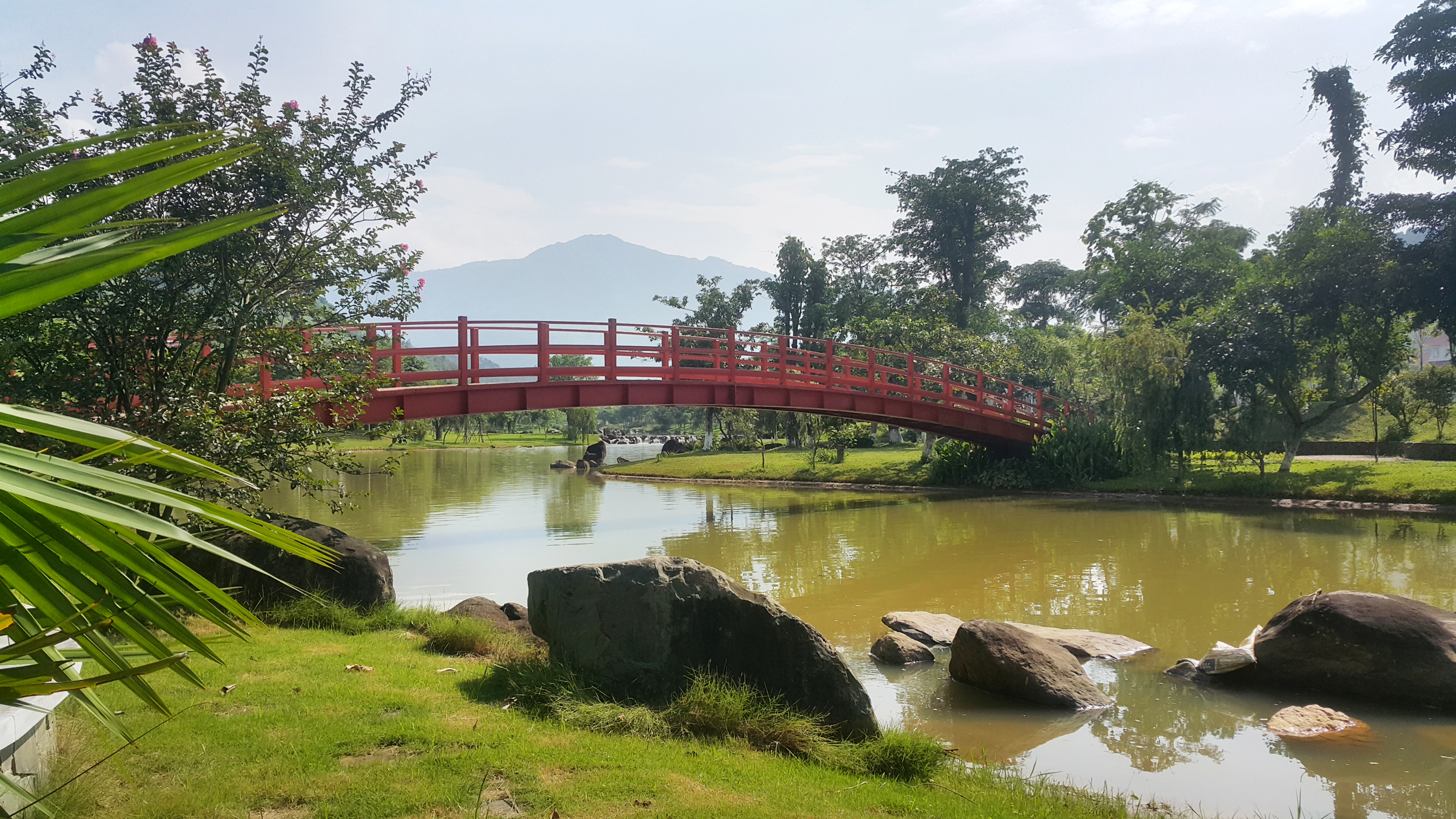 Goldmark City
Site area: 12 ha
Location: Hanoi, Vietnam
Year: 2015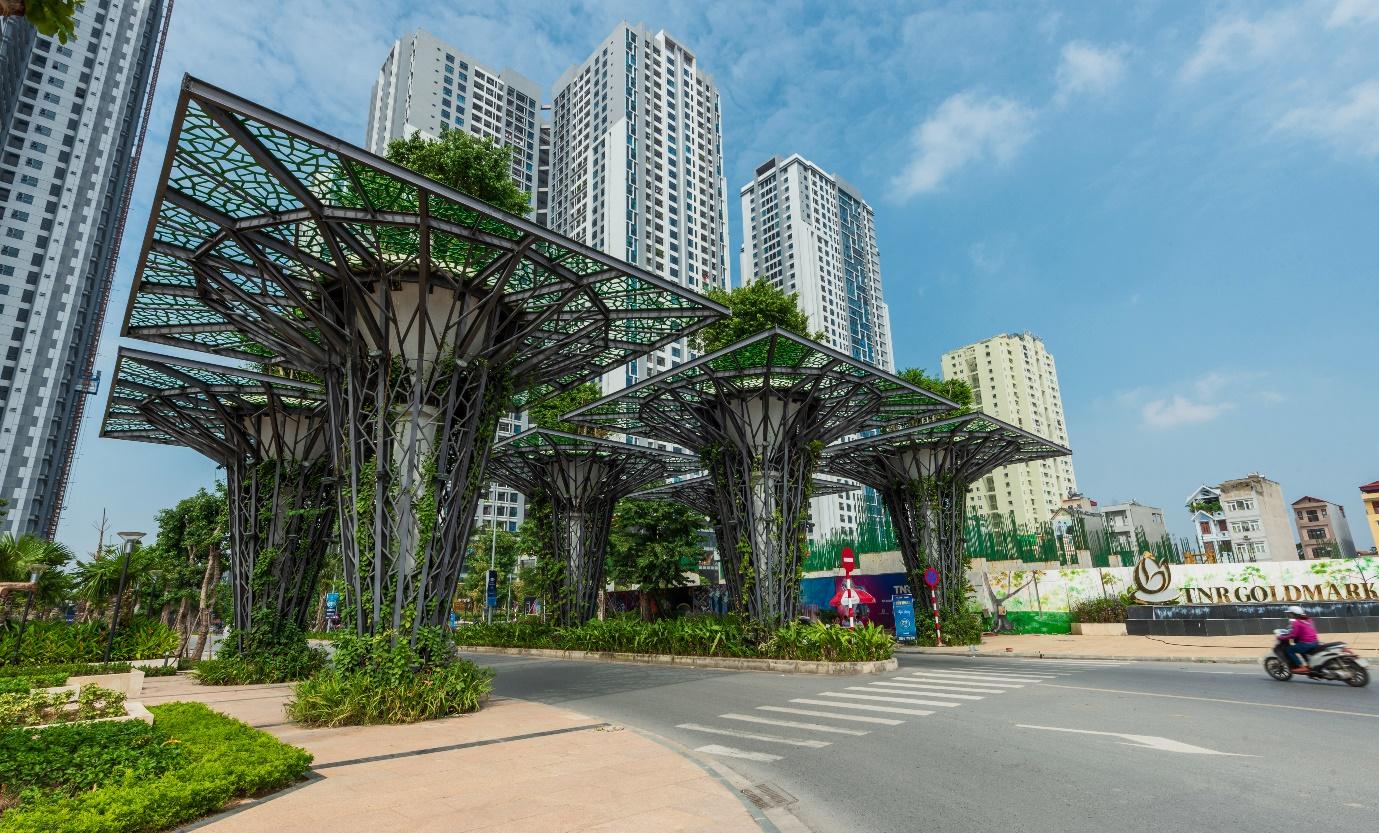 Goldmark City is a high-rise residential project with 9 40-floor blocks and more than 5.000 apartments at a site area of 12 ha. High density puts great pressure into the operation of the project while high-rise buildings block sunlight from touching the space among them. Therefore, instead of designing gardens with a variety of vegetation, we create many public plazas to encourage every resident to go outdoors and enjoy multiple activities.
The project is situated next to Mai Dich Cemetery (Mai Dich Cemetery is a large cemetery in Hanoi, the resting place of 1224 war heroes and hundreds of passed away senior officials). In Vietnamese spiritual and religious beliefs, a cemetery would bring negative energy to the surrounding area, which was considered as a big disadvantage to the project. To solve the problem, we designed the landscape with many warm colours like red, yellow, orange to change the energy of the whole project from negative to positive.
Ceramic mosaic is a typical technique used in decoration of Vietnamese pagodas and temples. In the project, we combined traditional technique with modern language in decorating landmarks, benches, waterscape, retaining walls…The ceramic used in the project is made in Bat Trang Village, a famous pottery village in northern Vietnam with more than 600 years of history.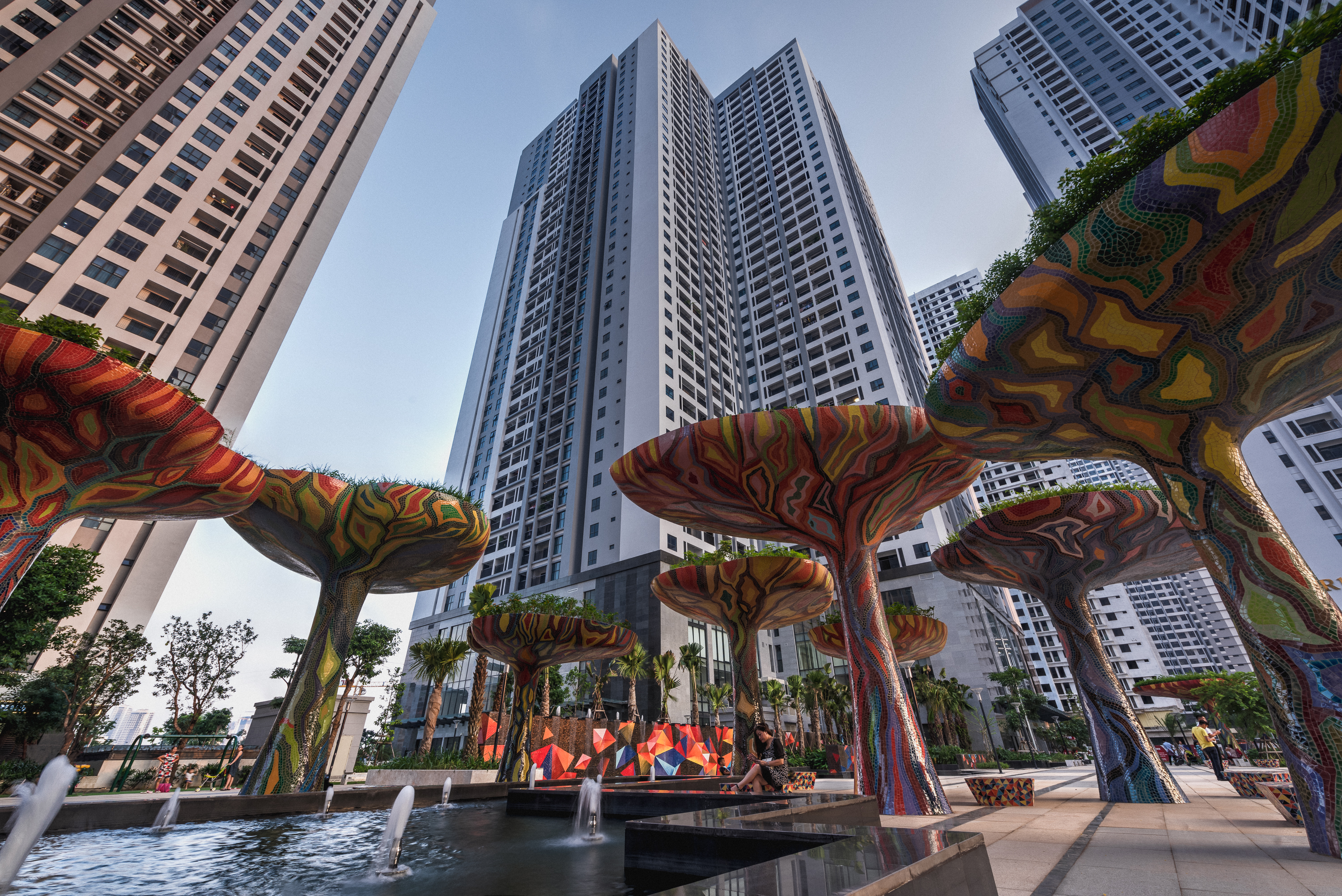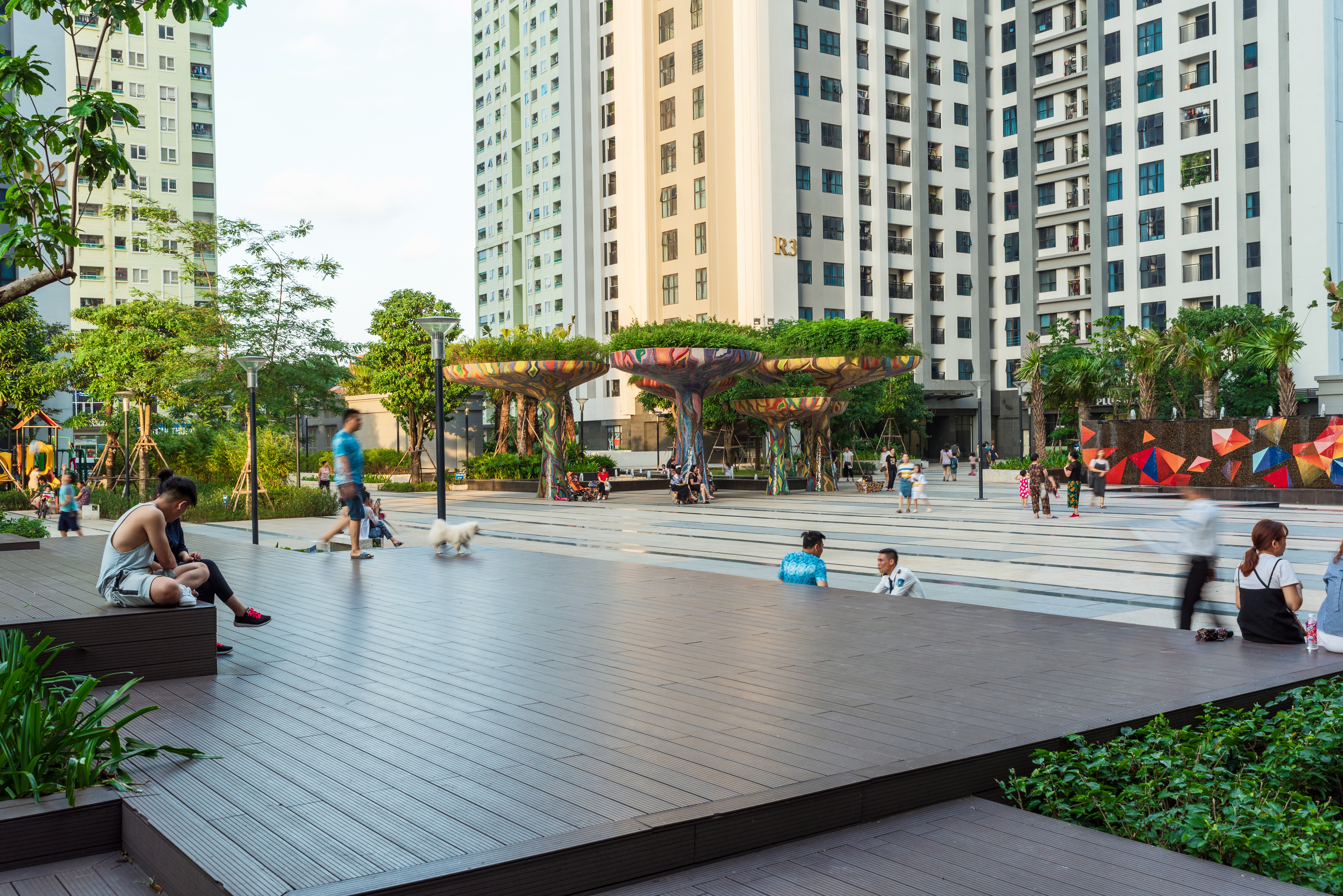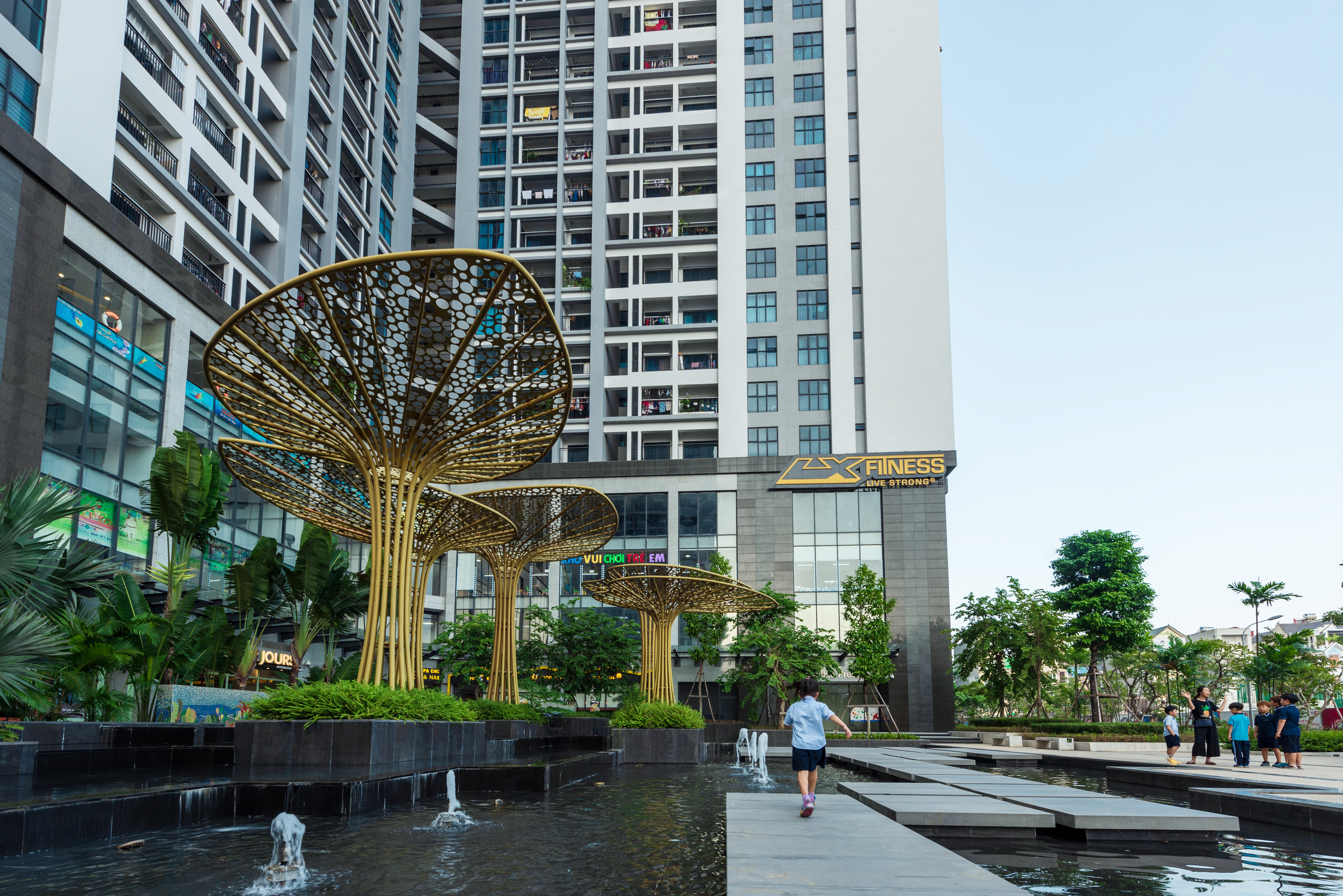 Landmarks of the project are inspired from indigenous vegetation in the Northern delta of Vietnam such as lá khoai (colocasia esculenta), or cây đa (banyan tree). In old Vietnamese villages, cây đa (banyan tree) is always present as the spiritual symbol of villagers. Whenever villagers go away and come back, they always desire to see the village's banyan tree, which means they have come home. Lá khoai (colocasia esculenta) is planted widely in the Northern delta as food for both humans and animals. The traditional beauties represented by the images of cây đa (banyan tree), lá khoai (colocasia esculenta) are conveyed through a modern design language, giving residents a familiar feeling, while also creative and exciting at the same time.
To view more about the project, please click here.
Hoian D'or (agriculture zone)
Site area: 5 ha
Location: Hoi An, Quang Nam Province, Vietnam
Year: 2021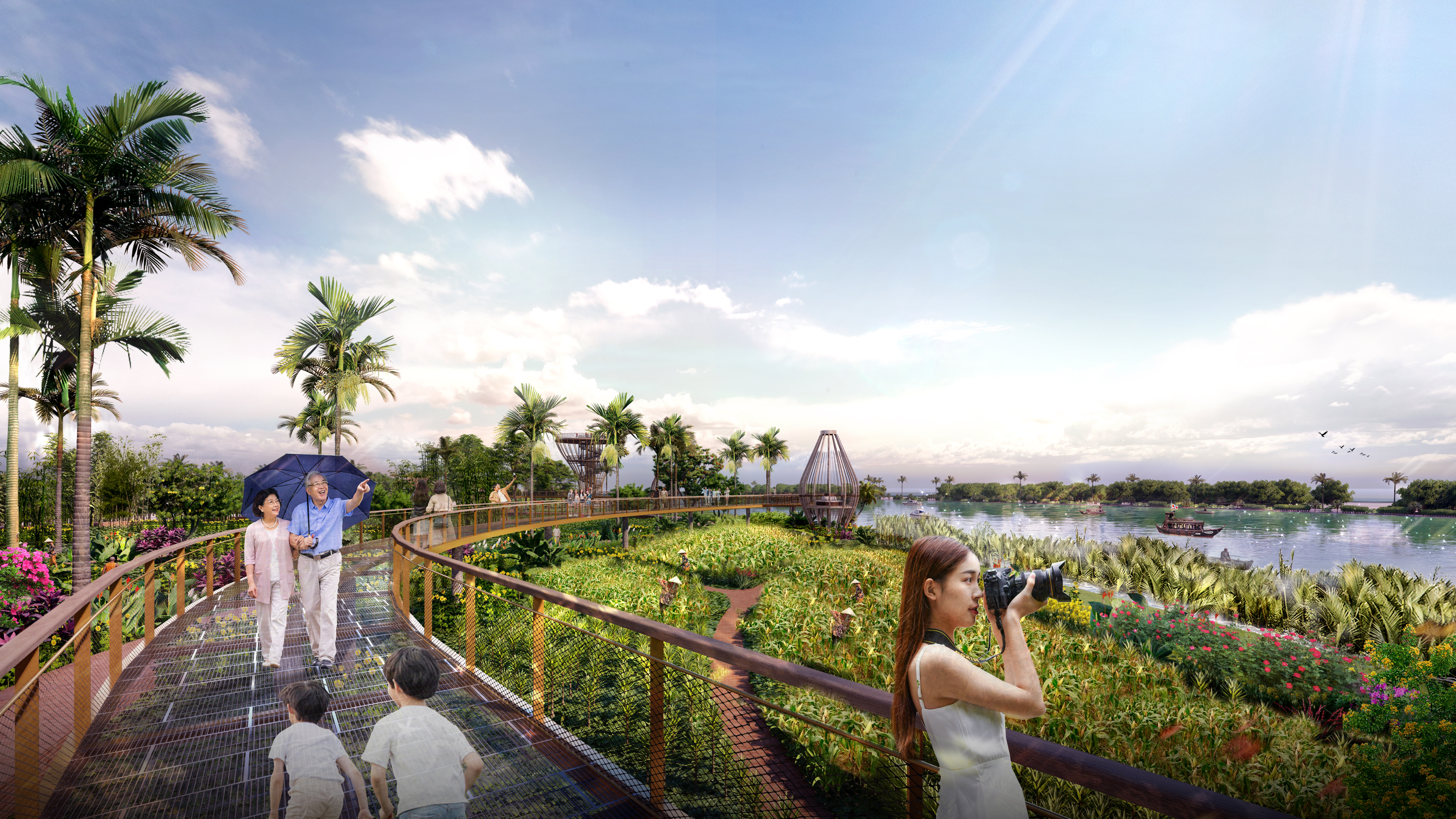 Hoi An, an ancient town, is famous world-wide as a must-go place when visiting Vietnam. Besides the old quarter, herbal villages, traditional craft villages, Hoi An is still thirsty for new destinations to meet the constant growth of tourists. Hoian D'or is a real estate project situated on an island next to the old quarter of Hoi An. Therefore, the agricultural zone is considered a necessary green space among real estate zones.
The inspiration of design comes from a famous story by To Hoai "Dế Mèn phiêu lưu ký" ("Diary of a Cricket" which narrates the adventure of a cricket to discover the natural world). The story is not only popular among Vietnamese generations but it also has been translated into 15 languages and published in 40 countries around the world. Every tourists when visiting the project can enjoy unique experience from story-inspired context, Vietnamese organic agriculture and Hoi An traditional craftsmanship. There are three main zones of the project: agriculture zone, service zone and sightseeing zone. In the agriculture zone at low land where tourists have a chance to be farmers in vegetable furrows while enjoying fresh organic dining at the garden. The zone is designed to be adapted to flooding which then can be rebuilt by site materials like straw, bamboo, coconut leaves…The service zone provides a full range of services to tourists namely cuisine, wellness & spa, experience and bio natural swimming pool, all of which are located in high-level islands to eliminate the impact of flood in rainy season. The sightseeing zone is located at a great spot, where tourists can have a great view of the old quarter and Thu Bon River, famous destinations in Hoi An. 
To view more about the project, please click here.