Education Feature: National University of Singapore's LA Program
The National University of Singapore's Landscape Architecture programme is a core programme of Asia's premier school of design and the built environment. Starting from the inception of the Master of Landscape Architecture in 2009, NUS Landscape Architecture has grown to also offer the Bachelor of Landscape Architecture in 2020, marking an exciting milestone for tertiary-level landscape architecture education in Singapore. We provide the only tertiary-level programmes that qualify graduates for accreditation as a practising landscape architect in Singapore through the Landscape Architects Accreditation Programme of the Singapore Institute of Landscape Architects.
The core emphasis of NUS Landscape Architecture is excellence in design—we imbue our students with a deep understanding of the dual nature of design as both a process and a product. As a process, we prioritize landscape design to be creative, but one which is grounded in socio-cultural sensitivities, ecological knowledge, and a grasp of conventional and emergent technologies and techniques. Design as a process benefits from synergistic knowledge exchange among multiple disciplines in NUS as one of the top research-intensive universities in Asia and the world. As a product, landscape design expressed through various visual and digital media, must be inspiring, move the heart, and above all, instigate meaningful and impactful landscape changes in real life.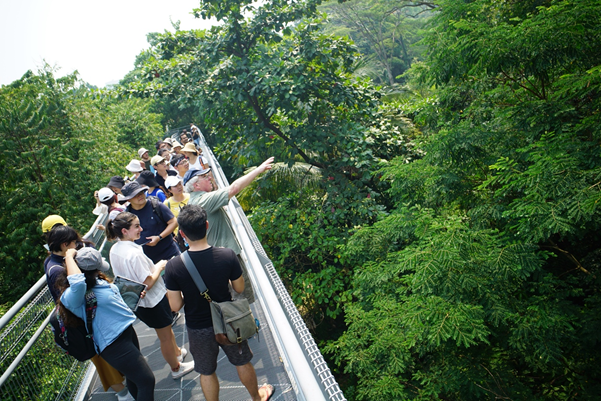 The programme is distinctively Asian and pantropical in its geographic attention and urban in its emphasis. With our central location in one of the most dynamic, diverse and rapidly urbanizing regions of the world, we aim to provide a landscape architecture education that is sensitive to the myriad challenges facing Asian cities, as well as opportunities provided by the sheer richness of heritage and cultural, socio-economic and ecological elements of the region. Our location in Singapore, with its diversity of culture and cosmopolitan outlook, and where greening and ecology of the built environment is a cornerstone of its urban development approach, also provides an enriching backdrop to our training of landscape architects
Landscape Design Studio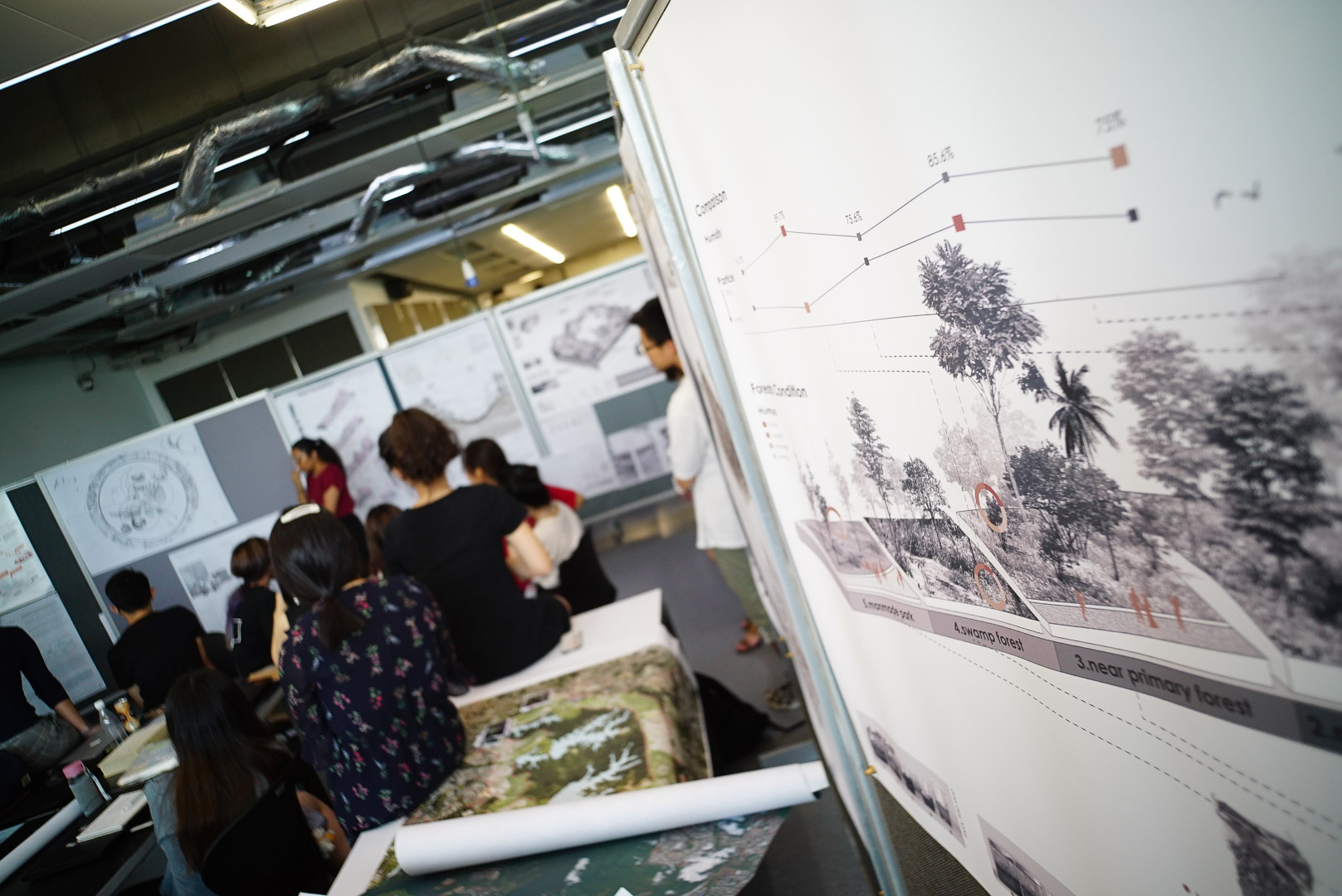 The Landscape Design Studio, a core module in the Master of Landscape Architecture programme, aims to develop higher-level skills and knowledge in landscape architecture through design projects. Projects are undertaken to explore a multitude of socio-environmental issues in complex urban areas, especially in Singapore and other Asian cities. The studio features multifaceted relationships between open space, infrastructure, community, ecology, policies, and society as a springboard for design development. Through these projects, students learn to understand contested issues, demands, acquire fundamental skills and techniques to synthesise knowledge, and develop logical thinking from concept development to outcomes. Thirty-nine studios conducted over ten years, led by eleven tutors with different expertise, have cumulated into a spectrum of design studios covering the ten following topics: deforestation management, land-water interface, re-wilding Singapore, landscape & urban infrastructure, landscape and mobility, neighbourhood landscapes, productive landscapes, landscape planning, landscape in high density environments, urbanizing regions, and landscape as a necessity. 
Deforestation Management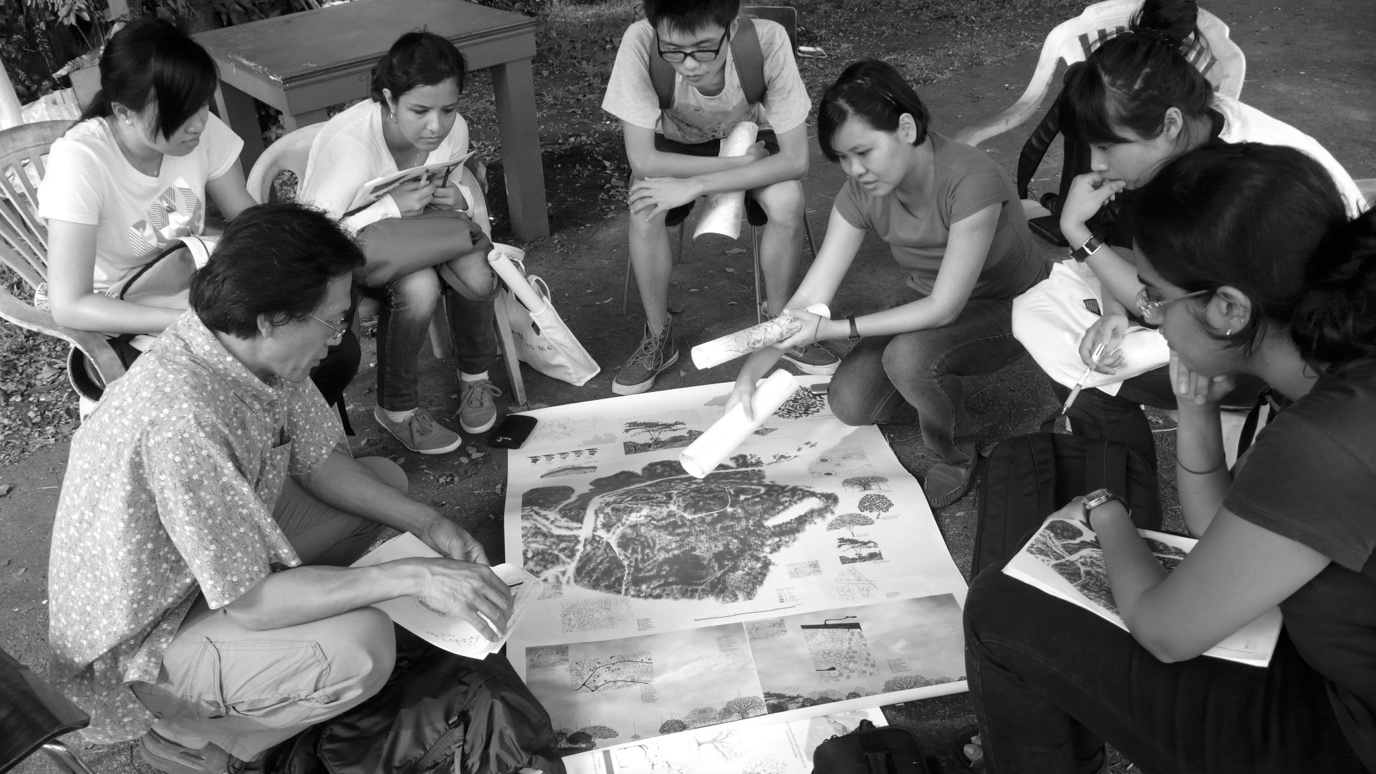 Secondary forests in Singapore are often viewed as temporary. Based on land use designations in the Urban Redevelopment Authority (URA) Master Plan, most could become a residential, commercial, institution, or reserve sites over the next 10–15 years. These urban forests presently occupy a significant proportion of land, with important functions in the socio-ecological system of the city—biological, biophysical and social-cultural. When developing forested sites, it is important to take this into account and manage long-term socio-ecological consequences.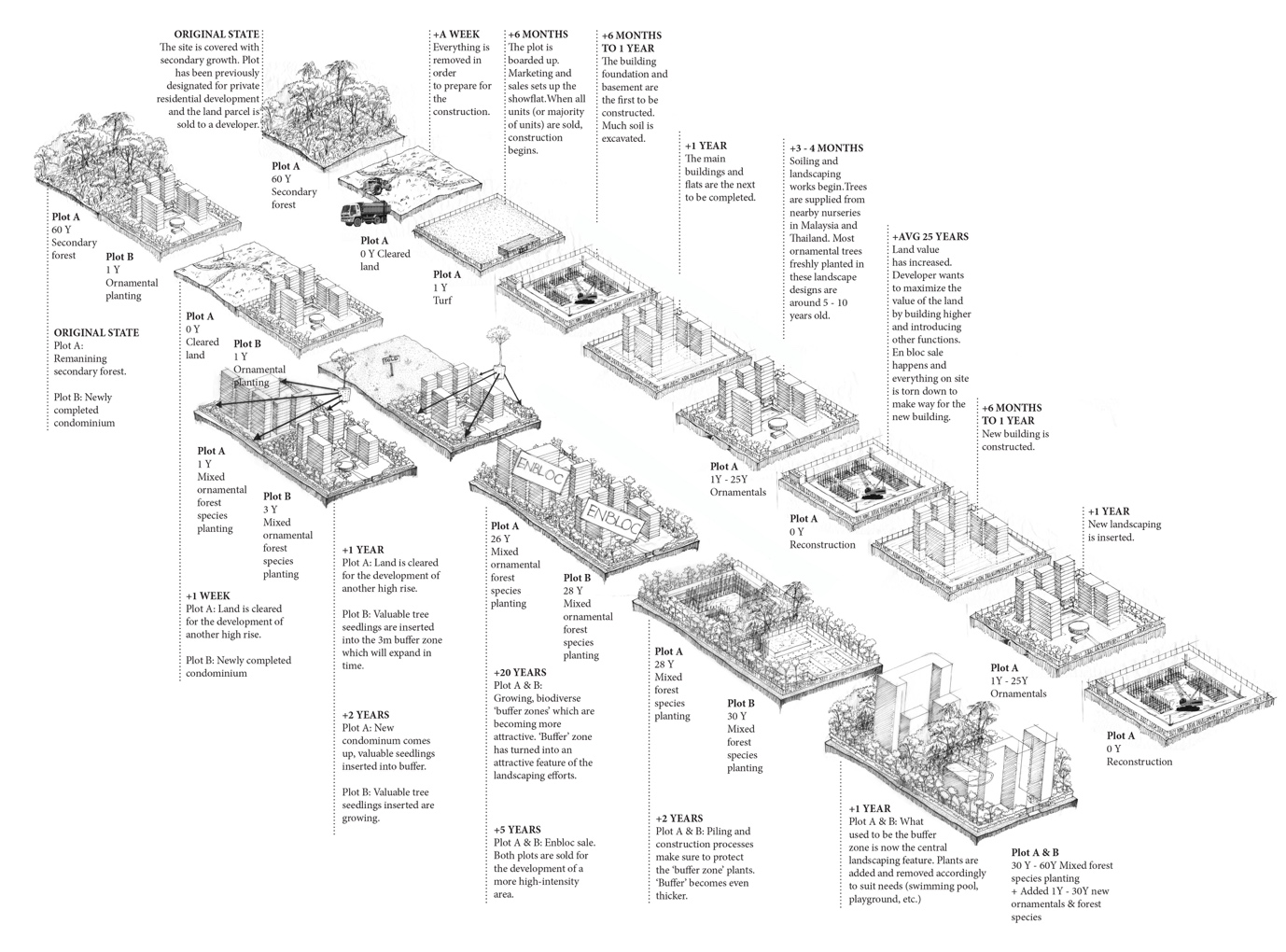 In response to the issue of secondary forest loss, four design studios between 2012 and 2016 studied forests projected to be cleared in the near future. Situated in the south of the Central Catchment Nature Reserve, Bukit Brown woodland (Studio 2012) is a living museum—a cultural and ecological hot spot— but the new four-lane highway is planned to cut through the 200ha woodland. Despite its small size (2ha), Pasir Ris woodland (Studio 2013), in the north-eastern tip of Singapore, is a haven for endangered birds and an invaluable asset for nearby residents. Tengah forest (Studio 2015) is one of the largest secondary forest sites (720ha) connecting the central to the western catchment. Tagore forest (Studio 2016) is an important stopover for wildlife moving from the central catchment nature reserves; it has distinctively rich biodiversity and contains rare freshwater streams.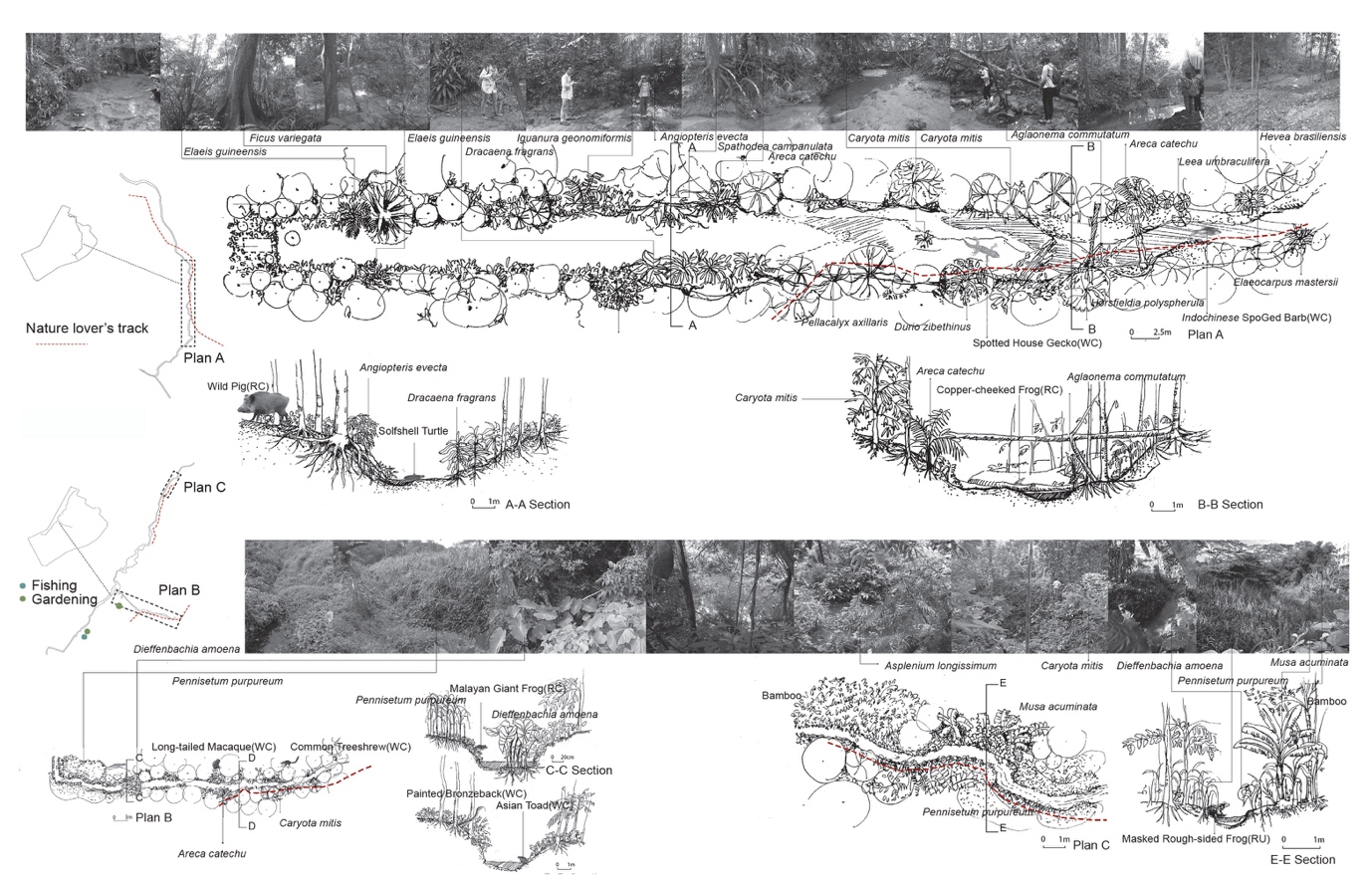 Common questions investigated in the studios were the following: How can we compensate for the potential socio-ecological impacts of deforestation while meeting commercial and housing demands? Should the woodland be largely conserved or could it be developed in an environmentally responsible fashion? Beyond simply preserving the site, can novel design prototypes infuse greater ecological functions and diversity into the urban context? How can design improve well-being and promote a stewardship ethic in city dwellers by bringing nature closer to everyday life?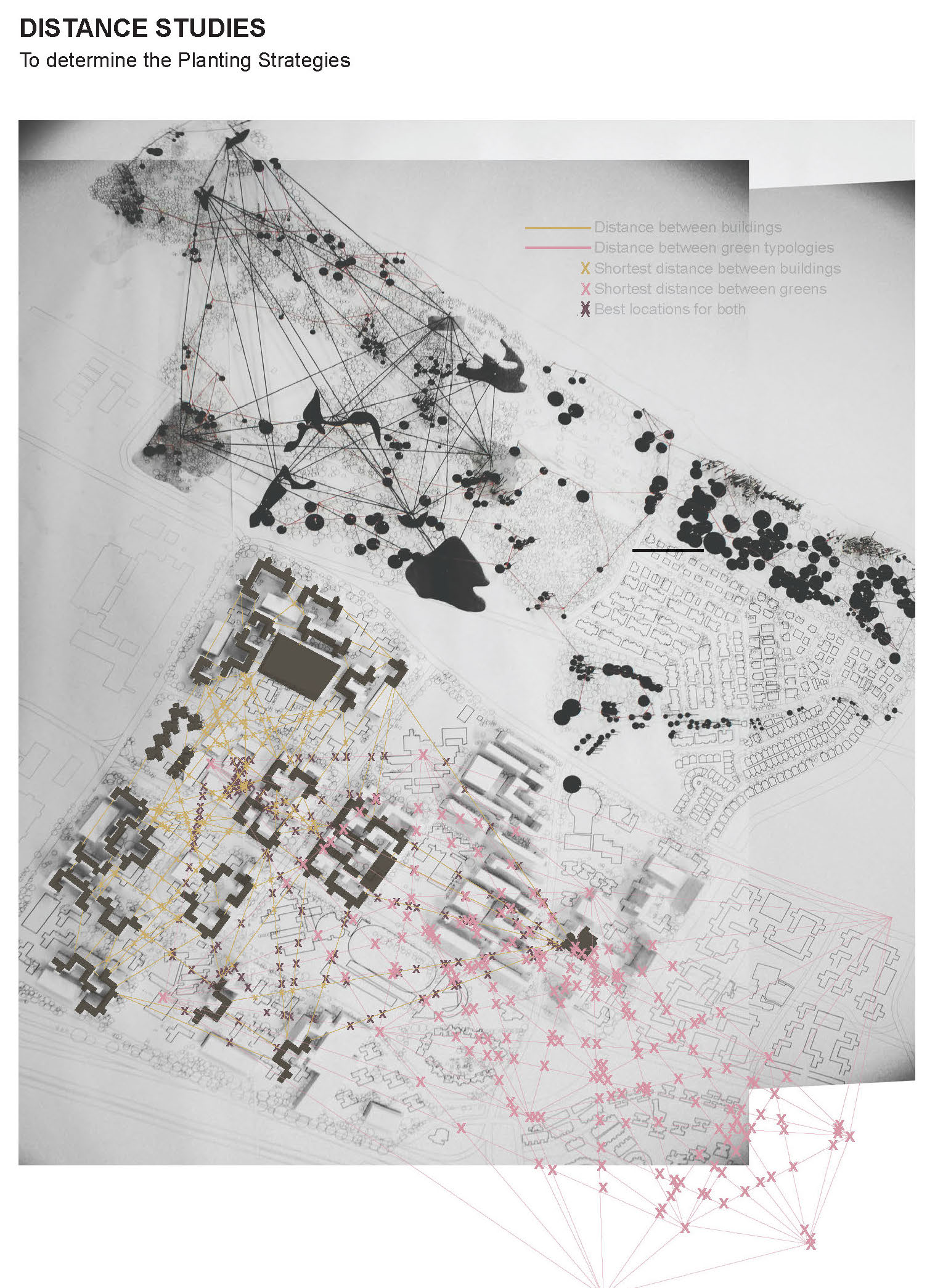 The first half of each studio began with a theoretical understanding of urban ecology and tropical urban forests, with intellectual input from urban ecologists. Intensive fieldwork captured the spatial characteristics and locality of the assigned forests. Guided by members of Nature Society Singapore Group and environmental surveyors, students collected data for design decision-making, including types and locations of habitats, valuable plant species, animal movement, landforms, natural water flows, microclimate, soil quality, and site history. Students also interacted with residents in the periphery of the woodlands to understand the socio-cultural attachment to nature. The second half of the studio was the design development stage; it included prioritizing ecological, biophysical, and socio-cultural values of the sites, envisioning future landscape scenarios based on the ecosystem value assessment, experiencing iterative design process, and applying designs.
As the plots targeted were slated for high-dense housing development, student proposals focused on the design of residential neighbourhoods, synthesizing social, ecological and aesthetic considerations. As development encroaches into green spaces all over the island, a set of design proposals to address the secondary forest context is imperative to manage the social and ecological consequences.
Read on to find out more about the programs. 
---