The IFLA APR Landscape Project Map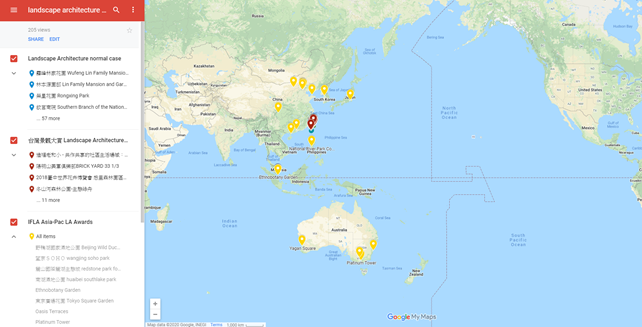 Case studies played an important role in helping students generate new ideas and learn through past experiences. By providing the information on the location of the design sites on the map with awarded landscape projects, students will have the opportunity to visit the site, experience the design, and learn from real projects. Therefore, creating the IFLA APR Landscape Map is important for us to work on.
The purpose of this website is to use the location spot of Google Maps to mark out the awarded landscape architecture projects in the IFLA AP Region. This website can provide landscape students a case map including good landscape design projects.
IFLA APR EAA is currently strengthening landscape education knowledge in various countries. Starting from Taiwan, we collected award-winning projects in the field of landscape architecture in Asia (currently taking CTLAS, TILA, IFLA Asia-Pac LA award-winning works as examples). In the near future, we will extend this data collection to various countries of award-winning works.
To join the data collection, you can send the awarded project names and locations to the Health Landscape Healthy People Lab (cycmail@ntu.edu.tw). After a review and confirmation, the information will be marked on the map and made public for everyone. Our goal is to provide more information on good landscape projects to all professional learners in the landscape architecture industry. 
---