Landscape Architects in the Conversation of... Informal Settlement
Kampong Cikini is located at the heart of Jakarta, one of the densest communities in a rapidly growing city. 4Ha site is home for approximately 3,200 residents, and adjacent to notorious Ciliwung River – owing to its recurring flooding as well as poor water quality. "Informality" has been the mode of land occupancy from the earlier days, and therefore, social infrastructures (e.g. basic utilities, open-spaces etc) are greatly lacking.

Overview of Kampong Cikini's and Ciliwung River
If you, as a landscape architect, were given a task to improve Cikini's environment, and provide design solutions to enhance resident's livability, what would you think of? Do you think you can even make an actual contribution? I had the opportunity to participate in students' engagement with community members, thorough site analysis, and coming up with solutions for years, as part of collaborative efforts among University of Indonesia, University of Tokyo and Keio University team from Japan.

Student's community engagement and pin-up sessions
I always challenge students to be critical in identifying the issue(s) they need to tackle with. In other words, Cikini has issues almost everywhere, and it is easy to jump onto the obvious ones such as, too many motorbikes, no place for kids to play, how to activate dead spaces etc. But is that the real issue? I figured that students who took a step back, carefully unfolded the current situation always reached to a compelling design strategy – a strategy that is adaptable enough to make a collective impact to the larger scale.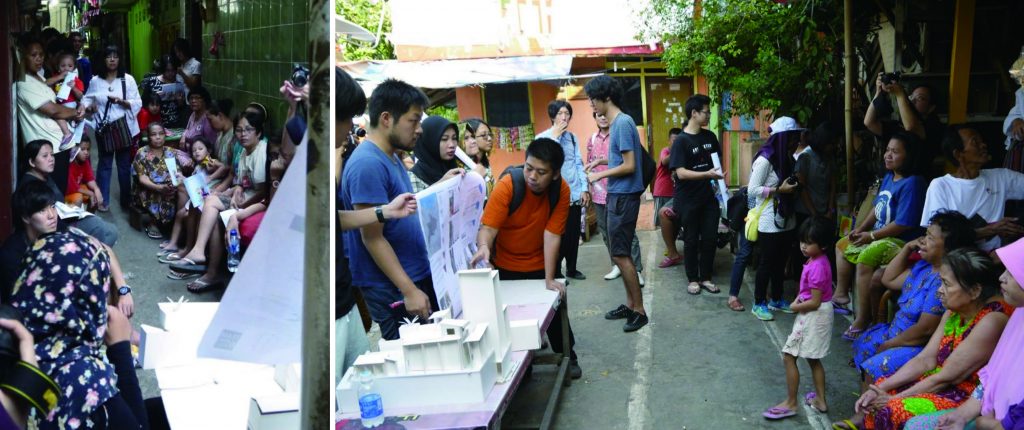 Student proposal presentation using Kampong's aisle and open-space
By Kenya Endo, (Visiting Fellow, National University of Singapore)