LAWB's A Conversation With: CHSLA's Wei Zhang
China | Wei Zhang
Assistant Professor, Huazhong Agricultural University
Chinese Society of Landscape Architects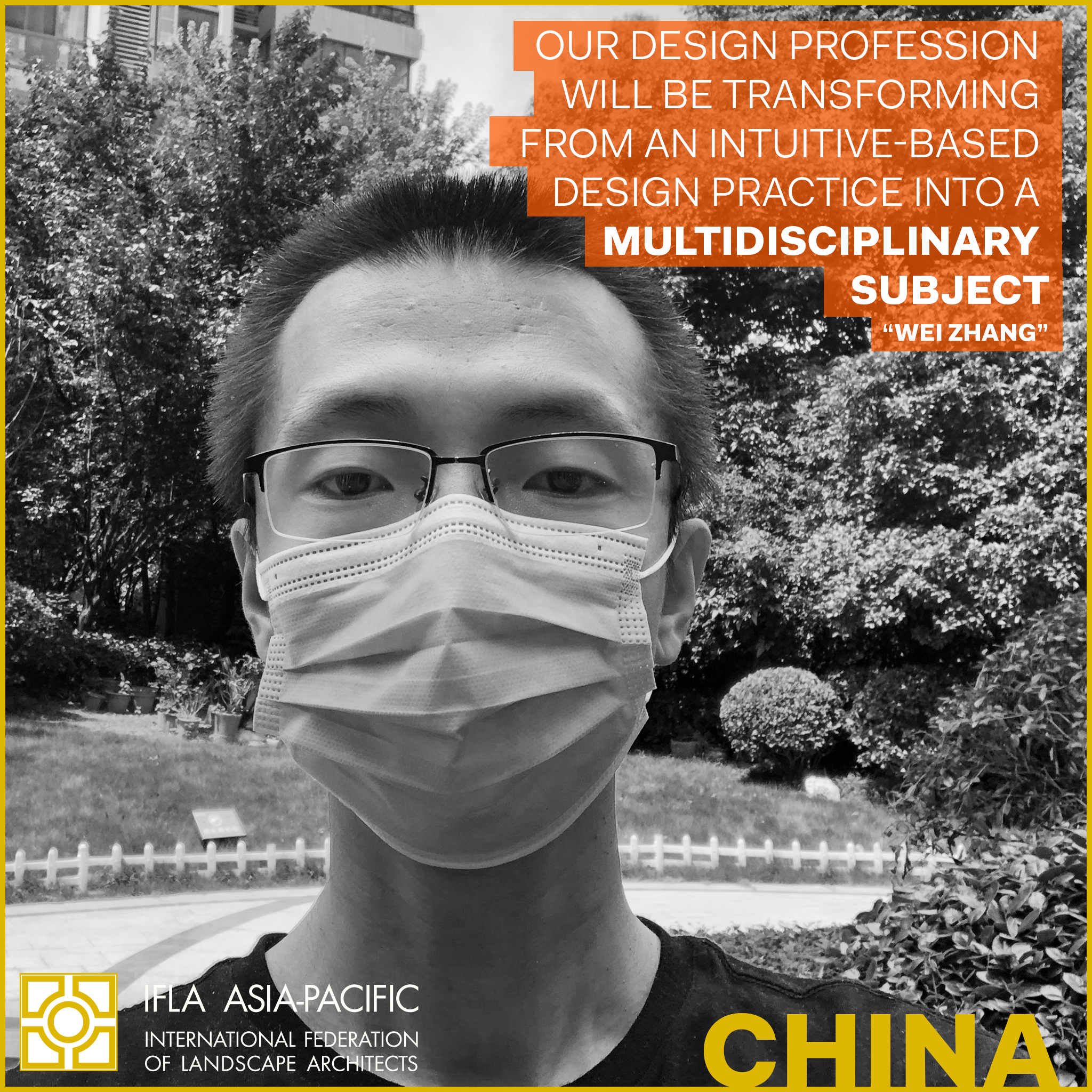 "The design education resources can be integrated and distributed to everyone online which will make the design education more equitable and adaptive for our society" 

 

The global spread of Covid-19 is causing great concern. But it cannot change the general trend of globalisation. Upholding the vision of a global community of shared futures, we should support each other and join hands to protect the health and wellbeing of people across the globe. We may also work with other international communities to uphold the vision of a global community with a shared future, and pull together to combat the virus.
How would you describe the COVID-19 pandemic situation in your country? 
The Covid-19 epidemic is a major public health emergency. Facing this unknown, unexpected, and devastating disease, China launched a resolute battle to prevent and control its spread. Making people's lives and health its priority, China adopted extensive, stringent, and thorough containment measures, and has for now succeeded in cutting all channels for the transmission of the virus.
What are some of the hardest-hitting impacts of COVID-19 for the community of design professionals in your country?
It is an opportunity for design academics to learn from each other's emerging practice as they develop their approaches to providing remote education. We should utilize all the advanced technologies to enhance our education practice, such as augmented reality (AR), virtual reality (VR), and immersive environments. Our design academics should learn systematically to enhance the experience of remote teaching and learning.
Who is the most vulnerable population in your country affected by this aftermath? And what can we as landscape architects do to provide help?
When the novel coronavirus struck, China decided that people's lives should be placed above economic growth. We have experienced a short-term economic downturn to stem the spread of the virus. And now, without compromising Covid-19 control, China has steadily resumed social and economic activities in an orderly way. Key groups such as college graduates and migrant workers are receiving support in finding jobs or starting businesses. Subsidies given to micro, small, and medium enterprises to reduce layoffs are being extended to more businesses so as to stabilize employment and help them survive. The landscape architects are also involved in the planning and design of open and green spaces to provide a healthy environment for everyone.
How do you reimagine our profession and new role after the pandemic? 
The post-pandemic world has been changing and evolving fast. With the technology advancing our humankind, our living place will become more complicated and challenging than ever before. For instance, the advent of autonomous vehicles (AV) or driverless cars will impact land use and urban form dramatically. Our design professionals will be transforming from an intuitive-based design practice into a multidisciplinary subject embracing all new techniques including data science, generative modeling, landscape information modeling, and Geodesign approaches. We will need to work collaboratively with other professionals and enhance public participation to address the new issues emerging such as natural reserve establishment, ecological restoration, rural area revitalization, and intelligent city reformation.
In what ways would you improve your city to enhance the way of life for people in your country post-pandemic?
(1) The pandemic has brought the concepts of green, resilience, and health that we advocated in previous years to a new level. We should continue to promote the idea of sponge city and the practice of green infrastructure. We should also recognize and understand the operating mechanism of different urban ecosystem services and incorporate them into the process of decision making, planning, and design practice of our city.
(2) It is also urgent to improve the quality and expand the coverage of the city's public services. Due to the lack of open spaces in high-density urban areas, the city cannot meet the residents' need for exercise, sports, and other activities. We should continue to optimize the distribution of green space, sports fields, and medical facilities within the 15-minute access cycle of urban residents to create a healthier and more sustainable community.
(3) Information technology has provided us with powerful tools for our professional practice. We should incorporate new information technologies such as 5G, artificial intelligence, the Internet of Things and blockchain to improve the quality of urban development.
*Please join us in shaping our post-pandemic world and landscape architecture profession, by sharing your thoughts and idea aspirations for the new world you envision. We will be collecting everyone's ideas and sharing them with our Landscape Without Borders Community. It is time, we look forward to hearing from you. https://forms.gle/PEP8nFia17WBAkvK7
---
Produced by: IFLA APR Landscape without Border, Kotchakorn Voraakhom, TALA and IFLA Secretary team
Text editor: Assoc. Prof. Mike Barthelmeh NZILA
Graphic: IFLA APR Landscape without Border, Watcharapon Nimwatanagul, TALA
Communication: Bosco, So Ho Lung, HKILA
---