LAWB's A Conversation With: CTLAS's Pei Ching Kao
Taiwan | Pei Ching Kao
Chinese Taiwan Landscape Architects Society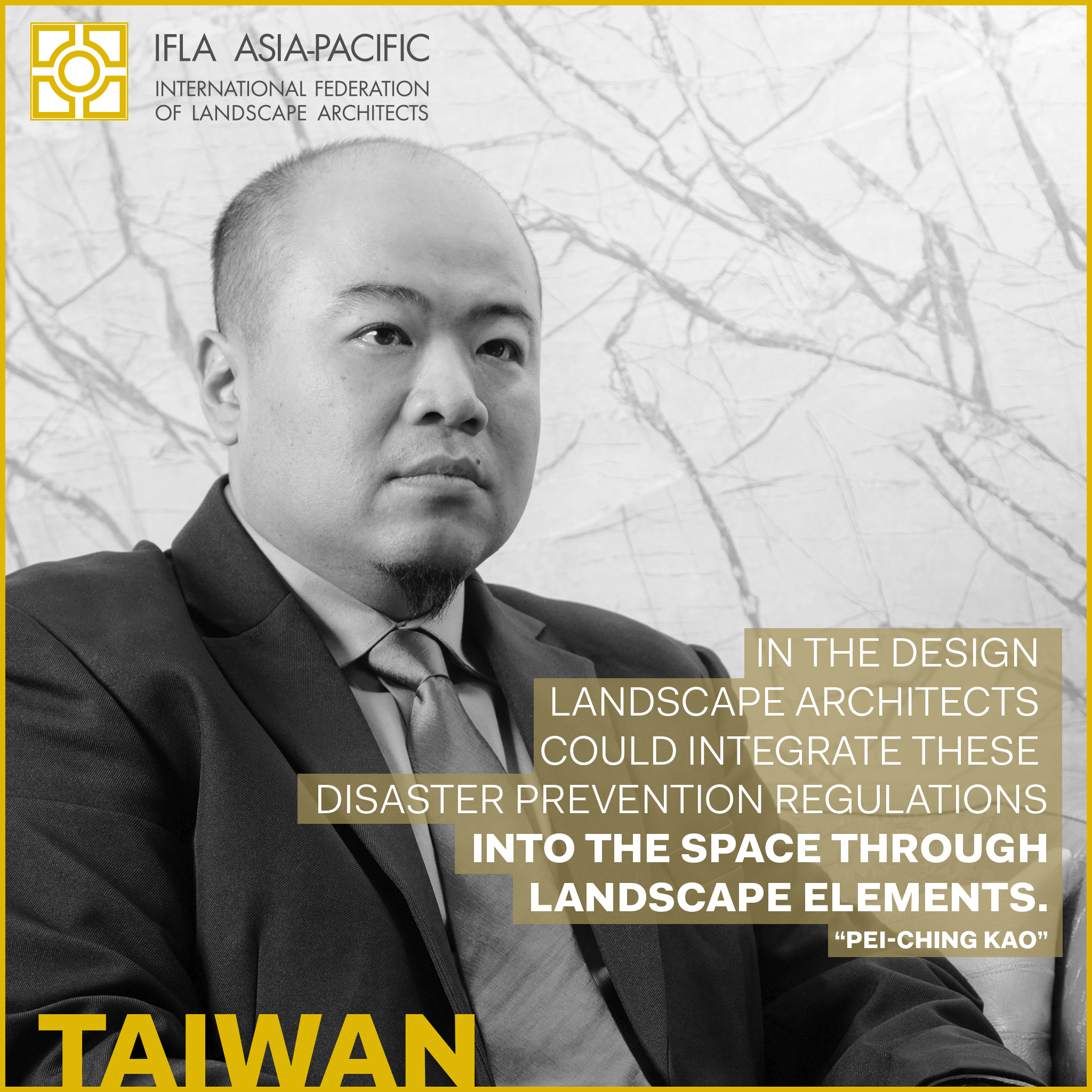 "We would like to receive information regarding COVID-19 and we would like to share the epidemic prevention measures in Taiwan since they run pretty well."

 

A crisis might be the turning point. Isolation due to COVID-19 could be an opportunity letting us break the physical boundaries and actualise the 'without border' community.
How would you describe the COVID-19 pandemic situation in your country?
Due to the government's correct epidemic prevention strategy, there have been no new COVID-19 cases for 80 days in Taiwan. People living here feel pretty safe.
What do you think are some major future challenges to come in the world of design academics? The major challenge regarding design academics would be the critique or review method. Doing critique or review through the internet seems quite different from the traditional way. It is less efficient for instructors to communicate with students.
Who is the most vulnerable population in your country affected by this aftermath? And what can we as landscape architects do to provide help?
The tourism industry no doubt is one of the most affected industries. Even after unsealing, there would remain some safety distance regulations in the beginning. Landscape architects might be able to incorporate these distance regulations into their design work.
How do you reimagine our profession and new role after the pandemic? 
In the master plan phase Landscape Architects can cooperate with the government to define zones according to their disaster prevention concepts, and then help the government to define the

regulations.


 

In the design phase, Landscape Architects could integrate these disaster prevention regulations into

 

space through landscape elements.
In what ways would you improve your city to enhance the way of life for people in your country post-pandemic?
According to our profession, we recommend redefining the cities' function from two aspects, Time Scale and Space Scale.
Time Scale in Time Scale, we can conclude into three phases: "Before It Happened", "When It Happened", and "After It Happened". The major task at Before It Happened Phase would be "Prevention and Preparation". The main work at When It Happened Phase would be "Contingency and Disposal". And then the key point at After It Happened Phase would be "Reconstruction and Recovery".


 

Space Scale in Space Scale, we can conclude into three Areas: "Hazard Area", "Buffer Area", and "Safe Area". The major work at Hazard Area would be "Setting the Contingency Area". The main task for Buffer Area would be "Classifying and Storing the Rescue Materials". And then the key job at Safe Area would be "Collection of Supplies and Logistic Works". Each area can be further divided and defined. 
However, according to our experience, the conditions for the success of these missions would be based on the cooperation and integration between different professions, and the common epidemic prevention belief and determination of all people.
*Please join us in shaping our post-pandemic world and landscape architecture profession, by sharing your thoughts and idea aspirations for the new world you envision. We will be collecting everyone's ideas and sharing them with our Landscape Without Borders Community. It is time, we look forward to hearing from you. https://forms.gle/PEP8nFia17WBAkvK7
---
Produced by: IFLA APR Landscape without Border, Kotchakorn Voraakhom, TALA, and IFLA Secretary team
Text editor: Assoc. Prof. Mike Barthelmeh NZILA
Graphic: IFLA APR Landscape without Border, Watcharapon Nimwatanagul, TALA
Communication: Bosco, So Ho Lung, HKILA
---