LAWB's A Conversation With: ILAM's Dr. Nor Atiah Ismail
Malaysia | Assoc. Prof. LAr. Dr. Nor Atiah Ismail
Institute of Landscape Architects Malaysia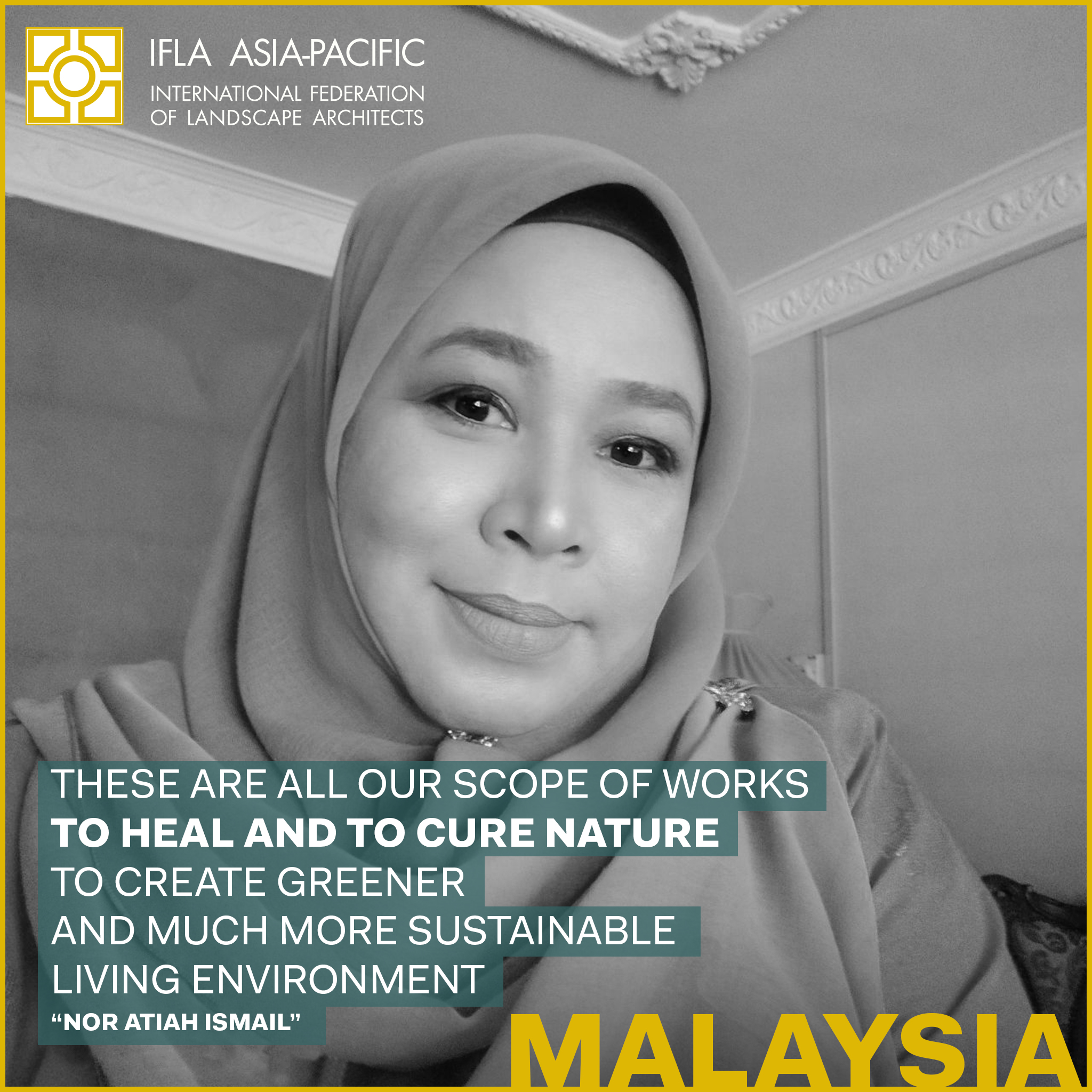 "The coronavirus has taught us that nature is the owner of this world. Not the people."

 

In Kuala Lumpur, the Gombak river that for hundred years flowing with murky and contaminated water seems to be clear and less polluted during the pandemic. We learned that nature can be healed. We learned that we have lots of energy and spirit to keep this world healthier and greener. We are the steward of the earth. We are the profession of today and the unsung heroes of tomorrow."
How would you describe the COVID-19 pandemic situation in your country?
Malaysia has successfully fought and continues to fight the pandemic. The situation is getting better and Malaysians are now under the recovering Covid19 period. We have reached the days where there's only a single digit of a COVID patient identified, and mostly from foreigners who live here in Malaysia. What do you think are some major future challenges to come in the world of design academics? Online teaching has become a new normal. It's kind of weird in the beginning, but coming to a new teaching adventure for academicians. I love it so much. Major changes in the future would be 1. University and industry link would be greater after this, where; University will be the theoretical and foundation provider for the Landscape Architecture students for year 1 and 2. I foresee that students will do their Bachelor Industry training starting from years 3 and 4 for a full blast of professional training in the landscape related offices. 
Who is the most vulnerable population in your country affected by this aftermath? And what can we as landscape architects do to provide help?
The poor community is highly affected. They have lost jobs and fighting to continue living. Landscape as a healing property, urban agriculture, ecological balance, and a good green living environment is very important for them. This pandemic has taught us something: walk our talk that the landscape is for the needy. Not only for the exclusive creation of a high-class luxury community. Let's go for landscape democracy, social unity, universal landscape, and let's get down to the ground, to the needy. 
In what ways would you improve your city to enhance the way of life for people in your country post-pandemic?
Urban ecological balance - Design has got to go beyond aesthetics. It is more to cure the environment, for people and not the other ways of doing things like what was happening today.


 

Urban agriculture: Let's bring rural and forest to the urban living


 

Sustainable living and responsible community for humans, wildlife, and the environment.
Our profession remains important, even greater than today. The whole world has seen that nature can be cured; nature can be saved. These are all our scope of works to heal and to cure nature and to create a greener and much more sustainable living environment.
*Please join us in shaping our post-pandemic world and landscape architecture profession, by sharing your thoughts and idea aspirations for the new world you envision. We will be collecting everyone's ideas and sharing them with our Landscape Without Borders Community. It is time, we look forward to hearing from you. https://forms.gle/PEP8nFia17WBAkvK7
---
Produced by: IFLA APR Landscape without Border, Kotchakorn Voraakhom, TALA, and IFLA Secretary team
Text editor: Assoc. Prof. Mike Barthelmeh NZILA
Graphic: IFLA APR Landscape without Border, Watcharapon Nimwatanagul, TALA
Communication: Bosco, So Ho Lung, HKILA
---