LAWB's A Conversation With: ISLA's Dian Heri Sofian
Indonesia | Dian Heri Sofian
Indonesian Society of Landscape Architects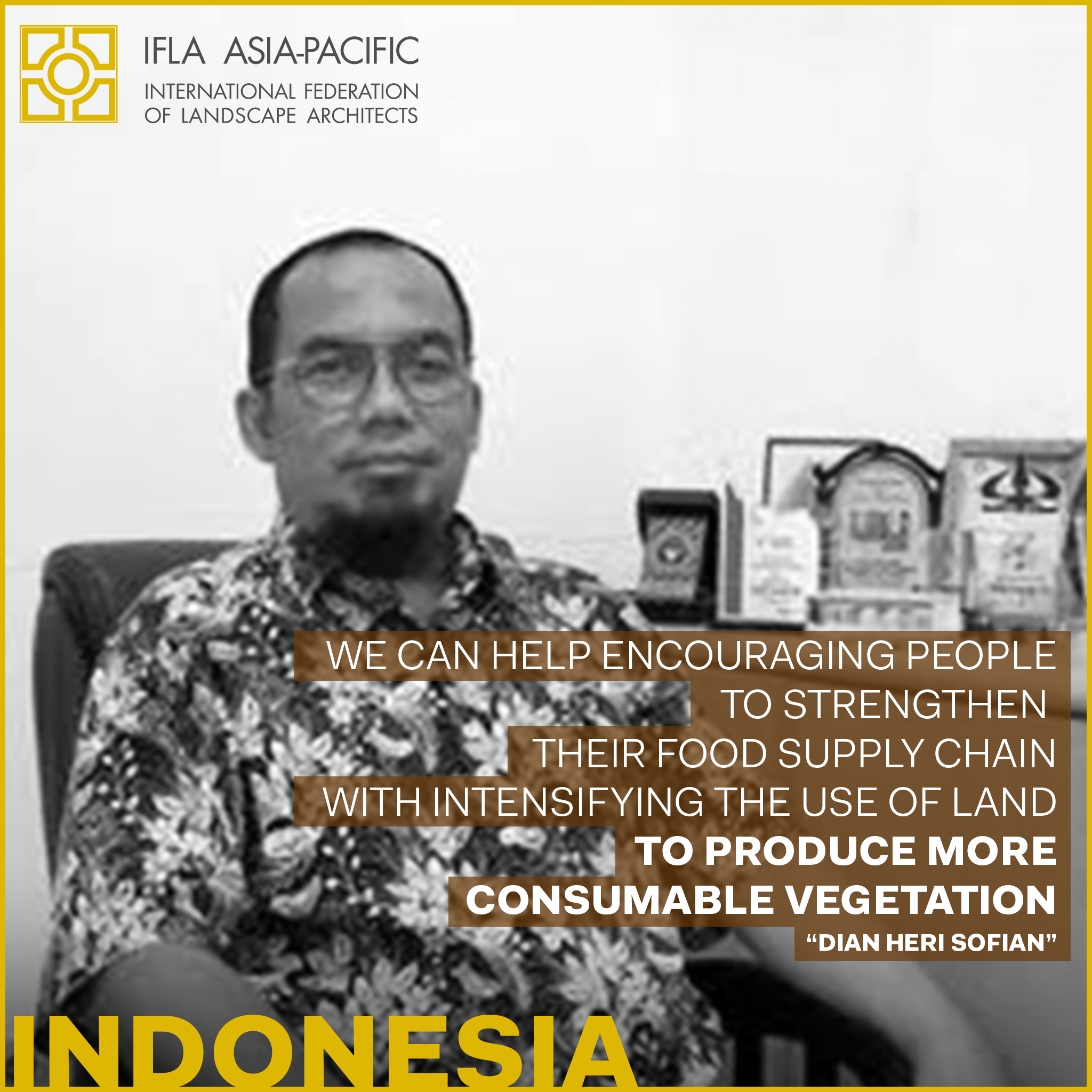 "We neglected the signs the earth has given us."

 

This pandemic is a really hard warning that we really have to give more attention to the earth. Proper use of resources, balanced use of materials, life-water-carbon-cycle should be kept in mind, and realised in our daily life so that our next generation will find that their ancestors are caring parents.
How would you describe the COVID-19 pandemic situation in your country?
Our condition varies from urban to rural areas since Indonesia is a large country. West Java, the province where I've been living just ended up the (more than 2,5 month) Large-Scale Social Restriction with different levels of restriction based on the condition of the area. People started to go to the worshiping facilities, while malls and commercials have just opened too. Yes, we do try to comply with the health protocols by using masks, hand washing and sanitizing, physical distancing, etc. We do still have fears that the pandemic will be rising again so that we remind each other to keep the protocol in mind and be familiar with them as a new normal. We do hope that our economic health will be better in a not so long period of time. 
What are some of the hardest-hitting impacts of COVID-19 for the community of design professionals in your country?
Since our government refocussed a large proportion of the budget to overcome the pandemic, so many projects were held, rescheduled, or even canceled. Once the pandemic can be overcome, the government will start to put some more budget into infrastructure and facilities development which design professionals can be involved in again. That also happened to some private sector projects. The question is, what should we do in this pandemic condition? I believe that in the future, design professionals should have what we could call a ' non-client-based project'. Projects that will run with or without clients. Design professionals should create projects, sell them to potential customers, and or run the projects with or without them... The product then may be varied. Could be physical, could be non-physical, could be programmed, could be an intellectual product, etc.
Who is the most vulnerable population in your country affected by this aftermath? And what can we as landscape architects do to provide help?
People with small-sized life-cycles with small amounts of savings are the most vulnerable and disadvantaged population affected by this aftermath. Those who make money and spend it daily will be the most affected ones. As landscape architects, we can help encourage people to strengthen their food supply chain by intensifying the use of land, soils, and water to produce more edible and or consumable vegetation so that they need less buying and less money spent on buying food. They can grab what is provided in their balcony, isles, or even roof. Some who have more free space can do more with permaculture concepts, as what our ancestors have been doing for centuries before us. We also have alternatives by entering the digital era. We can produce much information regarding our disciplines that others can develop for business purposes. This will lead us to new kinds of businesses.
In what ways would you improve your city to enhance the way of life for people in your country post-pandemic?
As a Bandung citizen, I realized that this city has too many automobiles that produce pollution and traffic jams that lead to a waste of resources. Bandung needs to transform to be a more pedestrian-oriented city. To come to that point, these could be the steps:
Prohibit on-street parking

More enforcement in land use regulation and at the same time, provide more and better pedestrian paths along streets

Provide more shade to improve walking comfort

Provide more pedestrian facilities within reachable and walkable distances. By this reorientation, those who should move in a short distance wouldn't think they need vehicles anymore.
People will have new and better perspectives about outdoor spaces, sunlight, healthier ways of life, and vegetation. People will have more appreciation for them all. There will also be more people (not just landscape architects) or institutions that put more intention on this. There might be some changes in outdoor facilities design, regarding distances and dimensions, materials, forms, and the greeneries. For those, landscape architects could take part as facilitators, or even team leaders to make sure any plans comply with sustainability.
*Please join us in shaping our post-pandemic world and landscape architecture profession, by sharing your thoughts and idea aspirations for the new world you envision. We will be collecting everyone's ideas and sharing them with our Landscape Without Borders Community. It is time, we look forward to hearing from you. https://forms.gle/PEP8nFia17WBAkvK7
---
Produced by: IFLA APR Landscape without Border, Kotchakorn Voraakhom, TALA, and IFLA Secretary team
Text editor: Assoc. Prof. Mike Barthelmeh NZILA
Graphic: IFLA APR Landscape without Border, Watcharapon Nimwatanagul, TALA
Communication: Bosco, So Ho Lung, HKILA
---