LAWB's A Conversation With: PALA's Dr. Nappy L. Navarra
The Philippines | Dr. Nappy L. Navarra
The Philippines Association of Landscape Architects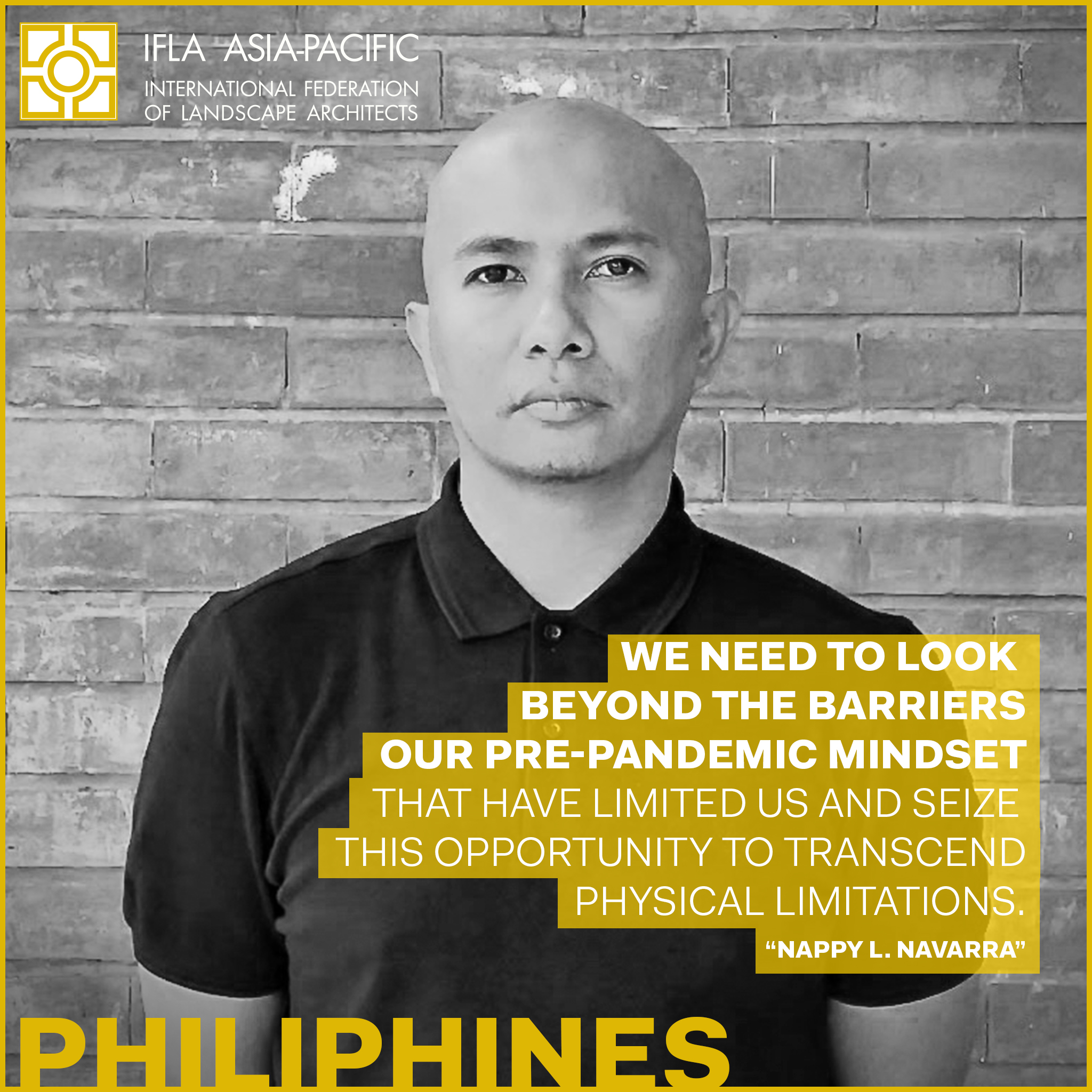 "More than ever, Landscape Architects are very much relevant as we adapt to the challenges."

 

The profession is required to redefine what public spaces are, recalibrate their function, sustain them for public wellness and social bridging, and redesign them to accommodate the requirements of our public. The profession is likewise challenged to rethink how to make business set-up more fluid, flexible, and responsive to dynamic situations. Reducing carbon footprints, shifting from analog to digital modes of communication, and instilling mindfulness in our business ethos are some of the strategies that we need to rethink.
How would you describe the COVID-19 pandemic situation in your country?
The COVID-19 pandemic has stopped the country in its tracks. Major urban centers' buzz and the countryside's way of life have come to a standstill. People's future has become uncertain as the country tries to make sense of what's happening to them, their family, and to their community. 
What are some of the hardest-hitting impacts of COVID-19 for the community of design professionals in your country?
This event presents an opportunity for different educational institutions to revisit their role in society and develop strategies to cope with the new challenges faced by people and the environment. This is an opportunity for institutions to go beyond their classrooms and reach out to more people and their stakeholders. APR Universities can collaborate to deliver talks, lectures, and workshops via online mode, allowing us to learn best practices from each other. Academic curricula can be redesigned where students will be challenged to come up with designs that integrate public health, social relations, landscape justice, and environmental ethics.
Who is the most vulnerable population in your country affected by this aftermath? And what can we as landscape architects do to provide help?
In any event that challenges the elasticity of society, the most vulnerable sector is the economically disadvantaged; those who earn daily wages, no job security, those who commute to work every day, no health benefits, and those living in informal communities. As Landscape Architects, it is important for us to reach out to them, recognize them, capacitate them, work with them, and make them realize that they are important members of society. We can collaborate on how to make their communities safe, healthy, resilient. These can be in the form of community gardening, bikeway networks, and equitable spaces for wellness.
In what ways would you improve your city to enhance the way of life for people in your country post-pandemic?
Philippine cities serve as magnets to many migrants coming from different places, cultures, and identities. As design professionals, it is essential that we strive to strike a balance between the landscape network and the various urban infrastructures. As people in highly-dense communities realized the need for more inclusive open spaces during the quarantine, designers need to redesign these spaces that can accommodate the different social, religious, gender, and age requirements of their stakeholders and community members. The stressful living conditions exacerbated by the lack of severe limitations of existing open spaces of many communities have forced some people to defy quarantine protocols, making them more vulnerable to the effects of the pandemic. People also realized the need to strengthen food security, in which, as typical in many highly-urbanized areas, food supply is very much dependent on produce from farms outside the urban centers. Design professionals should be able to provide design options for various scales of urban gardening and community food banks. People should be empowered to produce the food that they consume, while at the same time, be mindful of the resources and efforts needed to provide food on their table. Further, urban mobility, using non-motorized transport requires the designers' contribution in creating an extensive and safe infrastructure that takes into account universal accessibility, climate comfort, contact with nature, sustainability practices, disaster resilience, defensible spaces, and urban and cultural aesthetics.
How can we maintain our sense of community and togetherness during this time?
As the name suggests, The Landscape Without Borders community unites all Landscape Architects from various locations. We are in a very interesting situation where we can look at our current situation as a springboard to realize the potential of our members, develop platforms, and strengthen advocacies. We need to look beyond the barriers that our pre-pandemic mindset has limited us to and seize this opportunity to transcend physical limitations. As people realized the commonality in our experiences and challenges, we can engage many of our members to contribute to the discourse, collaborate on efforts, and transcend distance in sharing lessons learned and adaptive strategies. 
What would you like to say to the world?
At this point in our history, we need to see and experience our humanity, a kind of collective consciousness that allows us to see, empathize, and validate how we are as a species. Our world requires more sharing, cooperation, and mindfulness for us to evolve and to rediscover our roots to chart our future in a world shared with other species.
With our experience with the coronavirus pandemic, will we be ever ready for another global disruption? As a species, we tend to forget. We knew we forgot our lessons when we realized how important our health is as an individual as well as to our community. We forgot to recognize that our wellbeing is tied to another person's capacity to live a decent life. We led our lives as if our resources are inexhaustible, that time will never run out, and everyone important to us will always be with us. We forget when we rush with our busy schedules and fail to appreciate the wonders of life around us. Until such time that these lessons will be ingrained in us, we will never be ready for another disruption.
*Please join us in shaping our post-pandemic world and landscape architecture profession, by sharing your thoughts and idea aspirations for the new world you envision. We will be collecting everyone's ideas and sharing them with our Landscape Without Borders Community. It is time, we look forward to hearing from you. https://forms.gle/PEP8nFia17WBAkvK7
---
Produced by: IFLA APR Landscape without Border, Kotchakorn Voraakhom, TALA, and IFLA Secretary team
Text editor: Assoc. Prof. Mike Barthelmeh NZILA
Graphic: IFLA APR Landscape without Border, Watcharapon Nimwatanagul, TALA
Communication: Bosco, So Ho Lung, HKILA
---