LAWB's A Conversation With: TALA's Pok Kobkongsanti
Thailand | Pok Kobkongsanti
Director and Founder, Trop Company Limited (Thailand)
Thai Association of Landscape Architects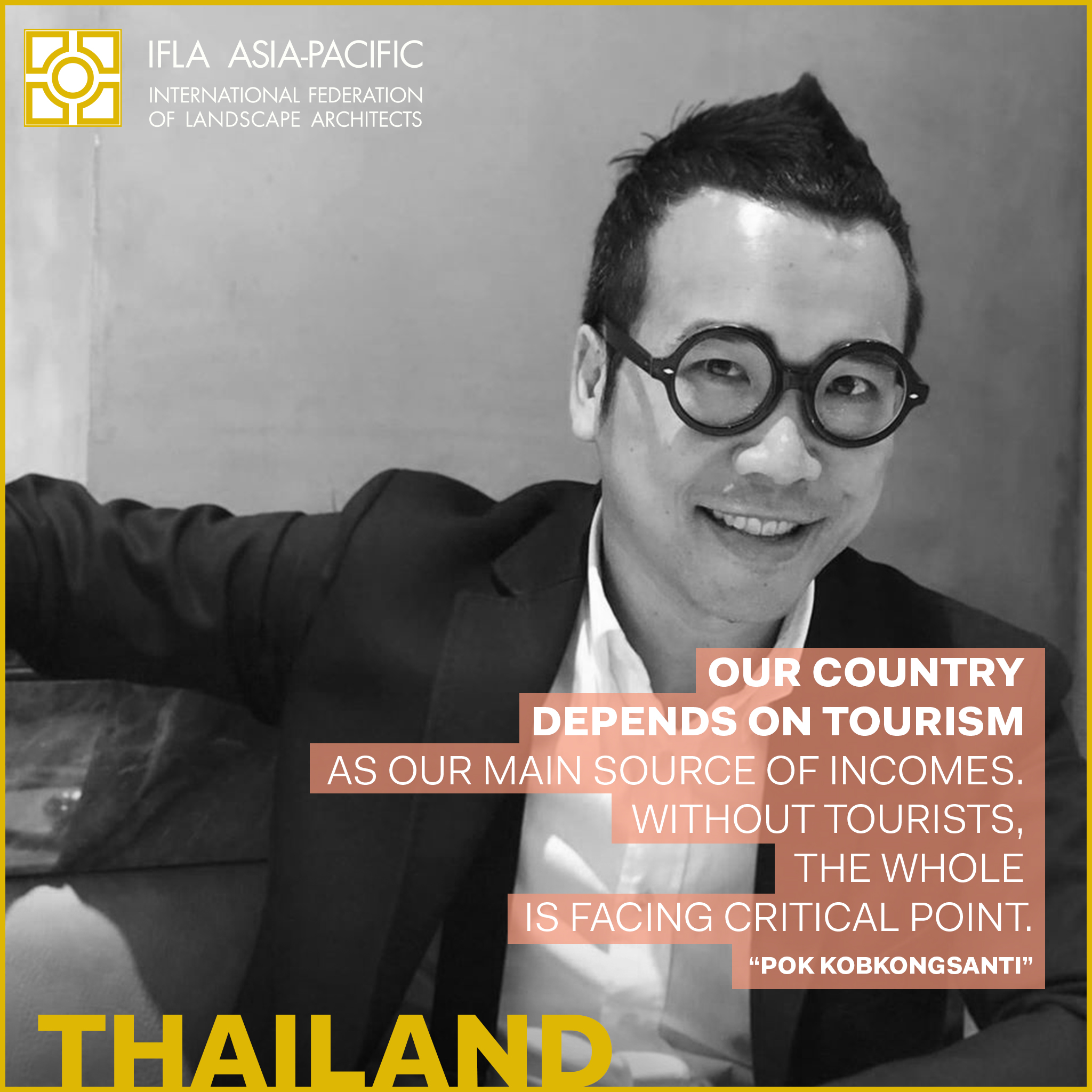 "Design professionals have no choice but to learn to adapt and adapt, and try to create new designs that answer to new requirements."

 

I think it is about balance. In the past, balance probably means balancing between budget and cost. Now I think it is more about balancing our needs and nature's. We do not live alone on this planet. We have to learn how to live with nature and other species. Once we learn to improve, I think we will do better than we are doing now.
How would you describe the COVID-19 pandemic situation in your country?
In terms of casualties, we do have fewer losses compared to other countries. However, I think it does cost us a lot more financially. Overall, we have great help from those heroes in our hospitals. Also, Thai people are doing very well protecting ourselves. So, I do have good hope that we will survive this all together.
What are some of the hardest-hitting impacts of COVID-19 for the community of design professionals in your country?
As mentioned, COVID-19 does destroy our economy greatly. Thailand is a hospitality-based country. Our country depends on tourism as our main source of income. Design professionals also depend on those hospitality projects. Without tourists, the whole industry is facing a critical point. So does our profession. The major challenges are already at our doorstep.
Who is the most vulnerable population in your country affected by this aftermath? And what can we as landscape architects do to provide help?
COVID-19 does impact almost everyone on this planet, financial wise and living wise. However poor people got hit the hardest. In the past few months, our government basically shut down the whole country. It does make us safe from COVID-19 but it costs us a lot more, especially those poor people who have to earn their food daily. During this crisis, I think landscape architects can help by using planting that can provide food for people who really need it. In the past, Thai people had kitchen gardens in every household. Maybe it is time to bring it back. 
How can we maintain our sense of community and togetherness during this time?
Well, at least, working from home nowadays is much easier than 10 years ago. Now people are more connected digitally than physically. I think if we have enough people who want to discuss the same issues, an internet meeting is a much better way. It saves time and money and also allows us to be a lot more productive.
Thailand is a Buddhist country. Buddha once said the only thing certain in life is uncertainty. Life is all about changes. In the past we had to adopt and adapt to survive different crises. COVID-19 is a difficult one but we have no choice but to live through it anyway. Instead of being panicking and paranoid, better prepare ourselves as best as we can.
*Please join us in shaping our post-pandemic world and landscape architecture profession, by sharing your thoughts and idea aspirations for the new world you envision. We will be collecting everyone's ideas and sharing them with our Landscape Without Borders Community. It is time, we look forward to hearing from you. https://forms.gle/PEP8nFia17WBAkvK7
---
Produced by: IFLA APR Landscape without Border, Kotchakorn Voraakhom, TALA, and IFLA Secretary team
Text editor: Assoc. Prof. Mike Barthelmeh NZILA
Graphic: IFLA APR Landscape without Border, Watcharapon Nimwatanagul, TALA
Communication: Bosco, So Ho Lung, HKILA
---