Navigating through the AV Landscape
The rise of autonomous vehicles is an opportunity to make our streets more human, to prioritise the needs of people before vehicles this time.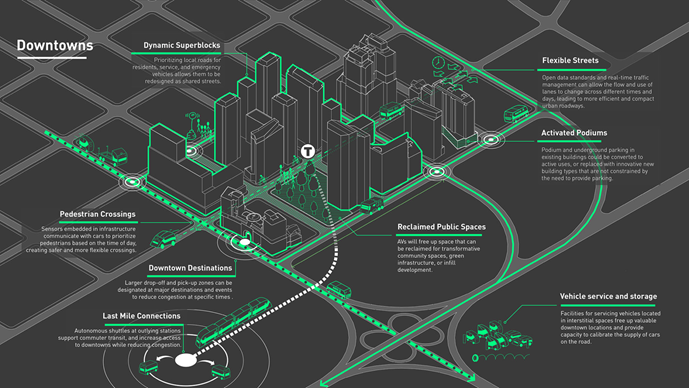 Streets are the largest piece of infrastructure that landscape architects can appropriate and manipulate. And for the longest time, there has been a call to redefine streets as sanctuaries; as liveable places; as communities; as resident territory; as places for play, greenery and local history. (Appleyard, 1981) In a terrain where the pace of technology seems to be exceeding the pace for speculative urban policy and planning- tension stemming from the design of urban form and transport flows is materialising, and out of it, an opportunity to reformulate socio-economic and ecological resilience in our cities.
The cycling cities of Amsterdam and Stockholm have been greatly successful in introducing principles of a "bicycle-oriented development" (Fleming, 2011). Dedicating cycling infrastructure to streets has been a promising and cost-effective answer to traffic congestion and carbon emissions. On the other end of the spectrum, the recent success of the human ride test in the futuristic Virgin Hyperloop caused much buzz, leaving people to wonder if and how this mode of transport can be woven into the urban fabric. Regardless of the type of travel, the nature of transport flows impacts how the city is shaped, and the planning and design of urban form influences travel behaviour. (Maheshwari, 2018) How then, do we implement flexible street environments in order to preserve a more human-centred approach alongside new technology-centered modes of travel? Navigating through the AV landscape, here are the anticipated opportunities and challenges to consider in order to harness AV-friendly streets as liveable streets.
Opportunities:
Enhanced road safety and a reduction in collisions
Factoring in a smaller body width and higher trip intervals, AVs will take up fewer lanes. This means streets can be narrowed, freeing up space to be converted to ecological and people-centric spaces like parks
Ideally, the introduction of AVs will be equitable and inclusive- improving accessibility, encouraging mass transportation use and lowering personal travel costs for all
Achieving sustainability via lightly resourced yet high-capacity transit corridors. Ability to enhance traffic recapture to commercial zones, stimulating the economy
Connect individuals to jobs
City space can be optimised if there is no need for parking. Construction costs for structural parking can be reduced since AVs can pack tighter together
Challenges:
Ethical and safety concerns over life and hidden biases behind machine learning algorithm
If policies surrounding AVs are exclusive and favour that which is privately-owned roads will remain or grow to be even more packed with vehicles. Pedestrians may very well be walled off onto the narrow footpaths again 
Centralised control may unintentionally cause exclusion or class segregation. Governments can block access to sections of the city to immobilize citizens
Sustainability comes from sharing AV services, not technology (Merlin, 2019)
The threat to workplace livelihood (taxi drivers)
There is a risk that even more space will be dedicated as street real estate to support privately-owned AVs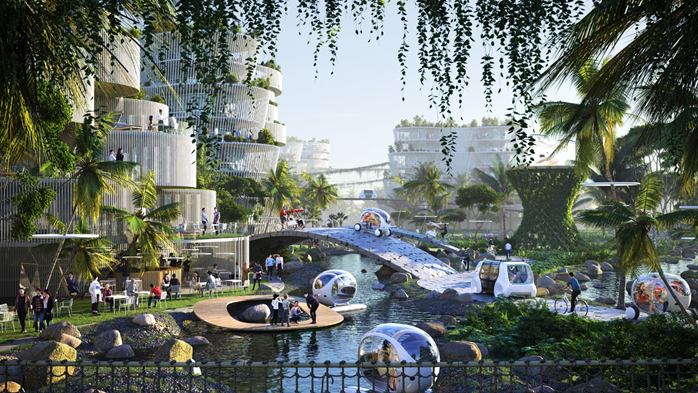 While it is inspiring to see beautiful renders of autonomous transport networks from the industry, we also need to push for the physical design of existing streets to embrace liveability and human-centred design ahead of the rapid advances in AV technology. In an era of autonomy, we cannot stand by to wait and see what will happen to our streets and urban environments as vehicle technology continually advances. If we do so, car-centred road design may dictate the design of our cities again.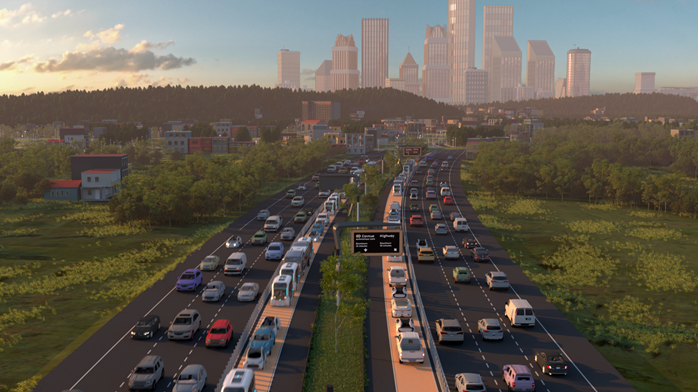 ---
About the Author
| | |
| --- | --- |
|       | Crystal is an aspiring landscape architect and urban designer at the National University of Singapore. She is passionate about designing cities for high levels of liveability and understanding how cities interact with their environment at the macro and micro scale. In an ideal world, Crystal believes that all systems should be concerned with achieving a sustainable balance and resilient design in the face of climate change. |
---