Park City, Garden of Dream:Online Final Review of the Design Competition for 2022 Chengdu Park City International Garden Season and the 5th BFU International Garden-Making Week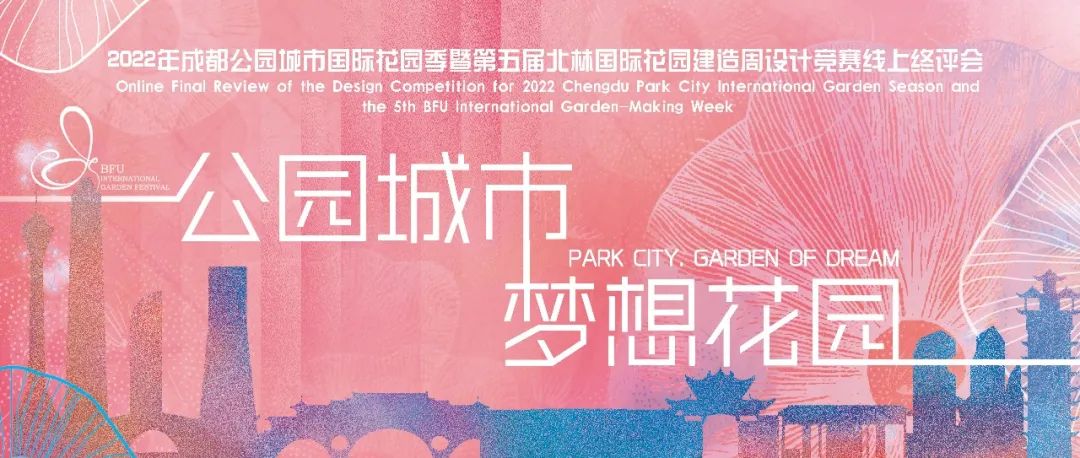 The 2022 Chengdu Park City International Garden Season and the 5th BFU International Garden-making Week in summer of 2022 are scheduled to be held in the summer of 2022. The Competition is designed to stimulate the creation in LA design and practical construction ability of students and industry practitioners in the spirit of craftsmen. The theme is "Park City, Dream Garden" echoing the slogan of the Universiade "Chengdu makes dreams come true".
The garden season has been held for 5 years since 2018, up to 12000 of students have joined the competition, and altogether 88 teams have realized their own garden in person. The competition this year was launched in January, encourages competitors to design and build a "Dream Garden" embedded with the charm of plants and nature on a limited plot of land with bamboos and flowers as the main materials. Twenty-six works were selected from 244 entries after preliminary and secondary review by experts from well-known universities and design institutions in the landscape architecture. 
On the afternoon of March 27, 2022 (Sunday), the organizing committee is planned to organize the online final evaluation inviting the panelists and the 26 shortlisted teams, and eventually select the 16 finalists into the construction stage through fierce defense and the two rounds of voting by judges. These finalist gardens will be built on-site by the teams in Chengdu Botanical Garden in July 2022, please stay tuned.
The final evaluation will be webcast, and the audience can watch it online. By the time, the total number of views and clicks of the online conference exceeded 10,000, and messages exceeded 2,000.
More information please refer to the following links:
https://mp.weixin.qq.com/s/6L7sv38lusEv7vuh0NquOQ
https://mp.weixin.qq.com/mp/appmsgalbum?action=getalbum&__biz=MzA3OTA5MjYwMQ==&scene=1&album_id=1928399434459971587&count=3#wechat_redirect
https://mp.weixin.qq.com/mp/appmsgalbum?action=getalbum&__biz=MzA3OTA5MjYwMQ==&scene=1&album_id=1446550568398553090&count=3#wechat_redirect