"Young" Landscape Architects in the Conversation of...Communication and Sharing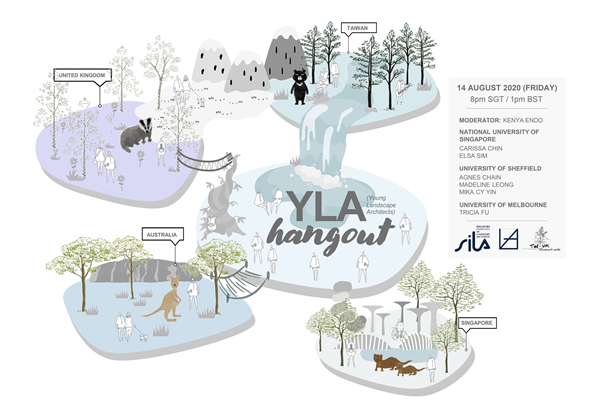 Covid-19 has brought opportunities to tie us together regardless of the physical distances. Singapore-based LA-future (a spin-off group from Singapore Institute of Landscape Architects) and 駐英台-景觀筆記 (Taiwan UK Landscape Architecture Notes) hosted an online hang-out session on 14th August for young LAs to share studio/class projects and learnings from their school-life, spreading across the continents (UK, Singapore, Australia). The idea of further studying (or subsequently working) abroad could often be a life-changing step or an adventure of exploring new career-path. How did our seniors decided to get out of their comfort zones and ventured out for a new environment? What types of projects were they dealing with, in their respective schools? This initiative helps to share the experiences and findings along the way, together with their personal excitement and struggles during the learnings. Each of their video-clip presentations, as well as round-table discussion sessions, are available from the FB page.
Another similar sharing platform is organized by U2W (short for "You to the World" initiated by a number of active Japanese young landscape architects), which started their online event in June 2020, inviting guest speakers from all over the world weekly, to share their experiences to the young LA community in Japan. 10 series in total, educational/cultural diversity was quite impressive from their presentations, spanning across USA, Canada, UK, Denmark, South Africa, China, and Australia. In-depth sharing of their study, personal life, and motivation of studying abroad must have inspired many young LA members who are thinking about such a career path. It also gave a clear contrast among every country/school's identity, rooted in their local people's perception of the natural environment.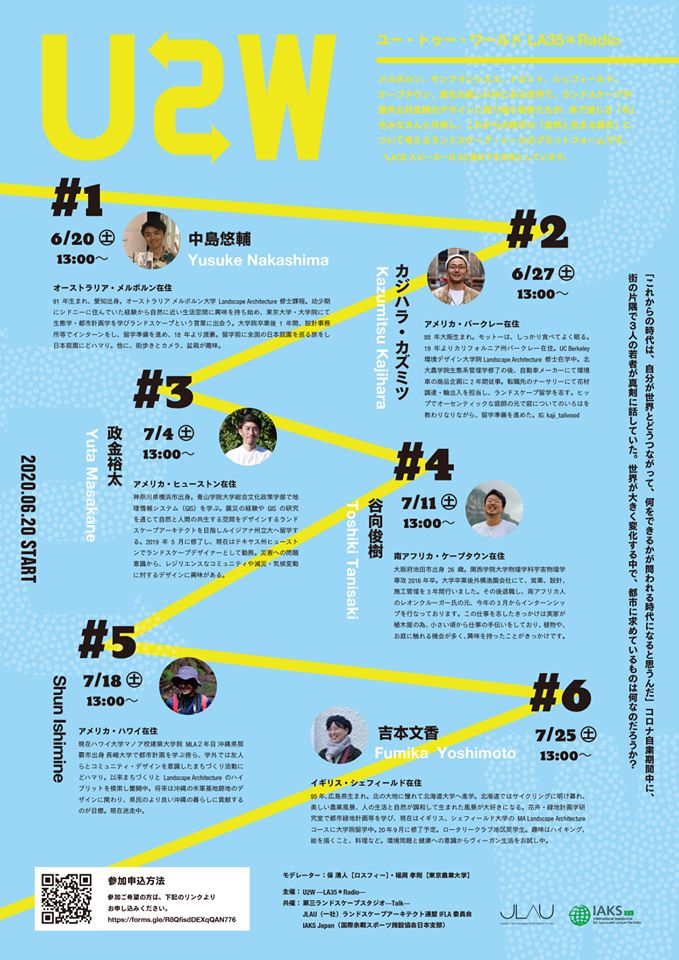 I feel these sessions would not come to light without the new norm of working/studying from homes, and more usage of online devices to support our communication. Because of this new situation, it facilitated a new community, new eco-system within LA members to share and discuss their experiences. I like these sessions are somewhat casual, but informative, and always a multi-way interaction—it brings good insights to all the participants joining the session. I hope these platforms continue to facilitate new types of synergy. 
---
About the Author
| | |
| --- | --- |
| | Kenya Endo is a landscape architect and educator at the National University of Singapore, Department of Architecture. He is interested in designs interrelated with landscape infrastructure and urban hydrology. During his 6 years of practice in Singapore, Kenya has worked on several interdisciplinary projects in South-East Asia, with the focus on creating livable spaces that integrate infrastructural, ecological, and social values. |